Rebecca (Miner) Danison
(1799-1882)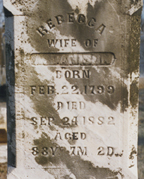 Mt. Perry Methodist
Cemetery
Rebecca (Miner) Danison was born in 1799 in (probably) Maple Summit on the mountainous border of Fayette-Somerset Counties, PA, the daughter of Daniel and Mary Minor Sr. As a girl, she moved with her parents to Sego, Perry County, OH.
With her parents, Rebecca was a member of the Hopewell Church Sunday School class in 1812-1813. Tragically, though, in 1813 her mother died, and a few years later her father married again, to Margaret 'Peggy' Fluckey.
On Dec. 10, 1822, Rebecca married Absalom Danison (1799-1883). The Danisons were pioneer settlers of what is now the town of Mt. Perry, OH. Absalom had been born in Allegheny County, MD on Feb. 6, 1799, and had moved with his parents to Ohio when he was about 13.
Their four children were Mary Schofield, Daniel Danison (the first known cousin to live in Canada), Lucy Bowman, and Sarah McFarland.
Part of their sizable farm was sold to the trustees of what was then the Summerfield Methodist Episcopal Church for a place of worship and burial. The site sits today amidst gently rolling hills, as the re-named Mt. Perry Methodist Church and Cemetery.
When the federal census was taken in 1870, the Danisons lived at Mt. Perry, with granddaughter Harriet McFarland making her home with them and assisting with chores. They lived next door to married daughter Mary Schofield.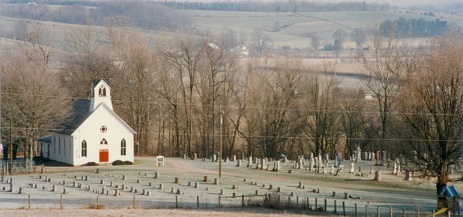 Summerfield Methodist Episcopal Cemetery, later renamed Mt. Perry Methodist Church and Cemetery, on land donated by the Danisons.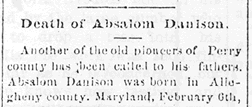 New Lexington Tribune, 1883
Rebecca died on Sept. 25, 1882, at the age of 83. Her obituary was carried in the New Lexington Tribune, saying she "was an old resident of the county and upwards of eighty years of age."
Just six months later, on March 7, 1883, at the age of 84, Absalom was swept away at home by the Grim Reaper. The New Lexington Tribune eulogized that "Another of the old pioneers of Perry County has been called to his fathers…. The aged men and women whose eyes looked upon Perry county when it was almost an unbroken wilderness, are fading away, passing on to that undiscovered country from which no traveler returns."
At the funeral, said the Tribune, "Rev. Tibbles, pastor of the M.E. Church at Somerset, officiated, and preached an able and appropriate discourse that is spoken of in the highest terms by those who heard it." They are buried at the Mt. Perry Methodist Church Cemetery.
Absalom and Rebecca are mentioned in the 1883 book, History of Fairfield and Perry Counties, Ohio, compiled by A.A. Graham.
Copyright © 2000, 2005-2006, 2019 Mark A. Miner