Kissin' Cousins
Extensive Intermarriages Between the Minerd-Miner Family and the Younkin, Harbaugh and Mayle Clans of Southwestern Pennsylvania and West Virginia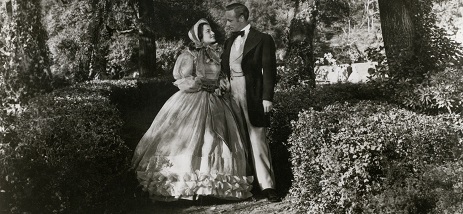 In the film Gone with the Wind, as expected by the family, Ashley Wilkes (played by Leslie Howard) marries his cousin Melanie Hamilton (Olivia DeHavilland).
In the opening scene of the epic film Gone With the Wind, the ravishing Scarlett O'Hara is being wooed by two lovestruck men on the front porch of her family home, Tara. One of them gossips that their friend Ashley Wilkes has become engaged to a cousin, Melanie Hamilton.
Scarlett pouts, because of course she's secretly in love with Ashley. The suitor, not understanding Scarlett's disappointment, says that "The Wilkes and Hamiltons always marry their own cousins."
Sound familiar? Many Minerd-Miner-Minor relatives married their own cousins too! And also those in the Younkin, Harbaugh and Mayle-Male families.
Later in the film, Scarlett confronts Ashley and demands to know why he is marrying the other woman. He responds, "She is like me, part of my blood, and we understand each other."
Ashley's comments offer insights about why many Minerd- Minard- Miner- Minor descendants married their cousins in Southwestern Pennsylvania and West Virginia in the 19th and early 20th centuries. Although marriages of first cousins today are illegal in many states, they were commonplace then, especially in rural communities where clusters of families lived on adjacent farms and were of the same ethnic background and cultures.
The founder of this website is descended from one such marriage -- Henry Minerd (1809-1890) who married his mother's cousin, Mary "Polly" Younkin (1815-1886). Their son Ephraim, in turn, married twice, both times to cousins of the Younkin and Harbaugh clans.
Today, the popular image of cousin marriages is of illiterate, hormone-happy mountain hicks whose cross-eyed children had six fingers on each hand and webbing between their toes.
But people of the 1800s had no knowledge of modern genetic research (which became a recognized science in the early 1900s), nor were there laws to prohibit intra-family unions. In fact, cousin marriages were considered to have value as a way to ensure that like-minded couples with similar values and heritage stayed together.
It may be surprising to learn how many noted couples were related. Among them were President Franklin Roosevelt and Eleanor; Albert Einstein and Elsa Löwenthal; On the Origin of Species author Charles Darwin and Emma Wedgwood; poet Edgar Allen Poe and Virginia Clemm; author H.G. Wells and Isabel; the grandparents of President John F. Kennedy (John F. and Mary J. [Hannon] Fitzgerald); and Pittsburgh department store owner Edgar Kaufmann Sr. and his wife Liliane, who commissioned Frank Lloyd Wright to design their country home Fallingwater.
President Thomas Jefferson urged both of his daughters to wed cousins. In Dawn Brodie's biography, Thomas Jefferson: An Intimate Portrait, she writes:
Jefferson encouraged his daughters to 'marry within the family.' Martha married her distant cousin, Thomas Mann Randolph ... [and] Maria married John Eppes, the son of her mother's half sister. Jefferson's younger brother Randolph married his first cousin, Anne Jefferson Lewis. Today it all looks fairly incestuous, but no one then seems to have been in the least troubled by the inbreeding.
In the 1930s and early '40s, extensive family history research and publishing conducted by Charles Arthur Younkin of Charleroi, PA and Otto Roosevelt "Pete" Younkin of Masontown, PA, in connection with the First Younkin National Home-Coming Reunion further documented the intermingled marriages between the Minerd-Miner-Minor, Harbaugh and Younkin cousins. Additional investigations in the 2000s have identified a staggering count of more than 200 marriages between the Minerd and Mayle/Male clans of Philippi and Grafton, WV.
To learn more about these early Minerd/Minerd, Minerd/Harbaugh, Minerd/Younkin and Minerd/Mayle marriages:
~ Minerd to Minerd Marriages Before World War II (18) ~
~ Minerd/Younkin Marriages Before World War II (31) ~
~ Minerd/Harbaugh Marriages Before World War II (10) ~
~ Minerd/Mayle Marriages (200+) ~
~ Further Reading
A portion of this article originally was published in the Younkin Family News Bulletin. Copyright © 1993, 2000, 2002, 2006, 2011, 2013-2014, 2020 Mark A. Miner