Sarah Jane (Carroll) Everly
(1840-1900)

Absalom H. Everly
Sarah Jane (Carroll) Everly was born on Jan. 27, 1840 either in the Valley District of Preston County or in Monongalia County, WV, the daughter of James M. and Elizabeth (Burke) Carroll.
Her husband was an Army veteran who was wounded in the Civil War, and who named several of his children after famous Union Army commanders.
On July 16, 1862, Sarah married Absalom H. Everly (1839-1917), the son of Peter and Margaret (Brandon) Everly. The ceremony took place at the home of her parents near Masontown, Preston County and was performed by Rev. Ball.
(An interesting sidebar on Absalom -- he and two brothers and their father Peter Everly all served in the Civil War, with Peter captured at Harper's Ferry. Absalom's grandfather, Henry Everly, was a soldier in the War of 1812, and his great-grandfather Peter Everly Sr. was a veteran of the American Revolution.)
Sarah and Absalom had nine children, several named after prominent Civil War generals -- Robert C. "Milroy" Everly, William Tecumseh Sherman Everly, Edwin Coleman Everly, Cora Alena Calvert, John Amaziah Everly, James Jones Dolliver Everly, Oliver McGrew Everly, May Elizabeth McCreery and Foster Kemble Everly.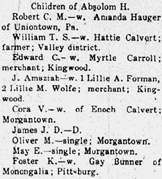 Preston County Journal
The Everly genealogy is spelled out in the July 9, 1908 edition of the Preston County Journal, one of a series of articles that year on the "Pioneers of Preston." A copy of this article is in the Minerd.com Archives.
The family resided in the Fairfax Manor and Herring sections near Kingwood, Preston County for several years each and were "well known" before moving to Morgantown, Monongalia County, WV. They were "devoted" members of the Methodist Episcopal Church.
During the Civil War, on June 28, 1861, Absalom went to Newburg, Preston County to enlist in the Army. He was assigned to serve in Company C of the Third WV Infantry, under the command of Capt. Dennis B. Jeffers. His regiment later was changed to the Third West Virginia Cavalry and later, in January 1864, it was changed again to the 6th West Virginia Cavalry.
Absalom came down with the mumps at either the end of February or early March 1862. Fellow soldier Noah Gross recalled that the sickness was "contracted while on the march to Elkwater, West Va. … Sleeping on the ground during a severe snow storm after a hard day march."
While in action at Bull Pasture Mountain at McDowell, WV on May 8, 1862, Absalom was shot through the left thigh, though "not dangerously," in the words of the regiment's surgeon. According to a memoir penned many years later by a granddaughter, the bullet "passed through his leg above the knee. He drew his handkerchief through the wound to wipe out the blood." He was treated at Camp Franklin in Pendleton County WV. The battle at which he was wounded also has been referred to as "Cloyd Mountain."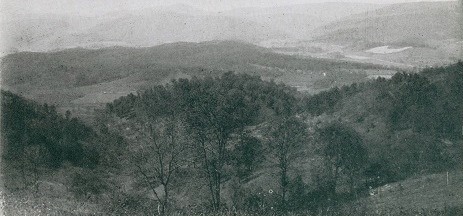 Mountainous Civil War battlefield at McDowell, WV where Absalom was wounded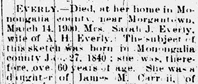 Absalom H. Everly
Absalom was mustered out of his regiment on Aug. 17, 1864.
After returning home from the service, Absalom was a manual labor with neighbors John W. Radabough and A.D. Field, in or near Herring, Preston County. He had a persistent cough, as well as sharp pain in his testes and his back, which he told his co-workers was due to wartime sickness.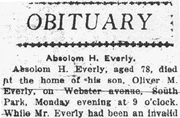 Obituary, 1917
Absalom enjoyed attending local Civil War veterans' reunions, which often were led by his wife's uncle, John S. Murdock. He is known to have attended one such reunion in September 1888. Absalom was "highly respected by his comrades in [Morgantown]," said the Morgantown New Dominion. In their later years, they lived on the Pickenpaugh Farm, near Morgantown, where the Kennedy Youth Center was later built.
In about 1890, Sarah came down with cancer, and suffered with it for more than a decade. On March 14, 1900, she died in their residence "on the old Dorsey farm" near Morgantown. She was buried at the Fairview Cemetery in the Pisgah section of Bruceton Mills, WV. An examination of the section on Fairview Cemetery listings in the book, In Remembrance: Tombstone Readings of Preston County, West Virginia (authored by Janice Cale Sisler) shows no entry for Sarah, suggesting that either she rests in an unmarked grave, or her remains were removed at some point.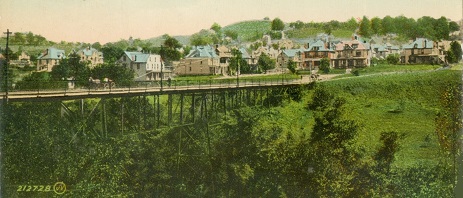 Morgantown's South Park, where Absalom spent his final years

East Oak Grove Cemetery
In his last years, Absalom resided with son Oliver at 98 Webster Avenue in Morgantown's South Park. His son William would bring the grandchildren to visit. "I loved grandfather Everly," wrote granddaughter Jessie (Everly) Shafer in a memoir published in the 1979 book, Preston County West Virginia History, published by the Preston County Historical Society. "I used to visit him as a 'teenager' when he was living with his son's family in Morgantown."
East Oak Grove Cemetery, Morgantown
Absalom passed away from a stroke of paralysis on June 18, 1917 at Oliver's home, at the age of 78. His remains were laid to rest at East Oak Grove Cemetery in Morgantown. Said the New Dominion, "While [he] had been an invalid for many years he had been in his usual health until a short time before his death, which was very unexpected."
Sarah and Absalom are mentioned in lengthy profiles of their son J. Ami Everly, and Absalom's brother William H. Everly, in The History of West Virginia, Old and New, published in 1923 by the American Historical Society, Inc. (vol. II. pages 412 and 415).
We are indebted to James H. Shaw and his 1993 book, The Family of Peter Everly (c1749-1819) of Preston County, WV with Collateral Branches. He has traced the Everlys back to England and France circa 1680, to immigrants who came to America to settle in 'Penn's Colony' (Pennsylvania).
Copyright © 2002-2004, 2006-2008 Mark A. Miner