James Warren Farabee
(1868-1915)

James W. Farabee
James Warren Farabee was born on Valentine's Day 1868 in either Washington County, PA or in West Virginia, the son of Spencer and Nancy (Minor) Farabee. He is one of many Minerd-Miner-Minor cousins to have been killed in a railroad or streetcar accident.
In 1892, at the age of 24, James married 21-year-old Della Jane Shultz (1871-1946), a native of Whiteley Township, Greene County, PA, and the daughter of Valentine and Alice (Dulaney) Shultz.
They did not reproduce.
James was a longtime farm laborer. When the federal census of 1910 was taken, James and Della were residing near Waynesburg, Greene County, on the road leading from Short Creek to Sweggan.
In 1915, their home was about a half mile from Hackney, Washington County, PA, near the station of the Waynesburg and Washington Railroad. The W&W was a 28-mile rail spur of the Pennsylvania Railroad which ran between the county seats for which it was named.

Horseshoe bend of the Waynesburg & Washington Railroad, near Waynesburg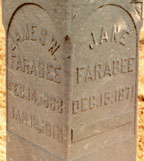 Oakmont Cemetery
Tragedy took James' life at the age of 48 on Jan. 12, 1915, while he was en route from Hackney to Pittsburgh. He was struck and killed by a moving passenger train on the Chartiers Valley Railroad, in Scott Township, Allegheny County, near the Woodville Station of the Pittsburgh, Cincinnati, Chicago and St. Louis Railroad. In the collision, he suffered a fractured skull and internal injuries. The Waynesburg Republican reported:
[He] had started to Pittsburgh, but got off the train at Woodville for some purpose. He started to cross the railroad track and stopped in front of a fast train, whose approach he had failed to notice. He was dead when picked up, both legs being broken and his skull was crushed, besides other injuries. He was unidentified, and his body was taken to the Pittsburgh morgue on the next train. It was not known that it was Farabee who had been killed until Saturday, when two of his brothers, Clinton and Oliver Farabee, of Morrisville, went to the city in search of him and visited the morgue, where they identified his body.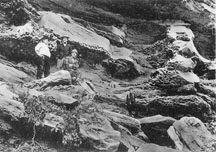 Sand Rocks in Carmichaels
James' funeral was held in his parents' home, and his mangled remains were laid to rest at Oakmont Cemetery. His brother Oliver signed the official Pennsylvania certificate of death.
After the death of her husband, Jane lived on for another three-plus decades and never remarried. For that period of time, she resided at Hackney. In 1946, she wrote a will, stating that she was to be buried at Greene County Memorial Park near her friend, Mrs. Harvey Hughes (connection unknown). She left funds for her sisters, nieces and nephews, presumably all on her side of the family.
Jane later in life moved into the home of her brother in law, John Maple, in Carmichaels, Greene County. A rare old photographic postcard of Carmichaels' famed "Sand Rocks" landmark is seen here.
Suffering from hypertension and hardening of the arteries, Jane was stricken by a cerebral hemorrhage. She died 12 hours later at the Maple home at age 75 on March 28, 1946. Her sister Mrs. John Maple signed the death certificate. Interment was in Greene County Memorial Park.
In her will, she named her sisters, nieces and nephews as heirs.
Copyright © 2001, 2003-2004, 2014, 2016, 2018 Mark A. Miner