Oliver Jasper Farabee
(1871-1959)

Oliver J. Farabee
Oliver Jasper Farabee was born on Jan. 24, 1871 in Hundred, Wetzel County, WV, the son of Spencer and Nancy (Minor) Farabee. His middle name also has been given as "John."
Oliver never married, and resided with his parents for many years and then after their deaths in Franklin Township near Waynesburg, Greene County, PA
In 1910, he worked as a laborer in a local tin mill. Working in the same occupation of his younger cousins William Allen Miner and Harry Orlan Miner, Oliver also became a "well-known" carpenter in and around Greene County.
With his parents having died in 1917 and 1918, the 1920 federal census shows him living alone in East Franklin Township, two doors away from his brother and sister in law, Cleveland and Jessie Farabee. The census taker recorded his occupation as house carpenter.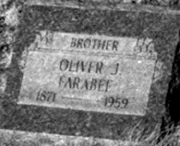 Oakmont Cemetery
Oliver was beloved by his many nieces and nephews, who adoringly called him "Uncle Ol." For more, be sure to read the memoir, Visits with "Uncle Ol" Farabee, by grand-nephew David Walker.
Oliver and his brother Cleveland continued to live near each other during the decade of the 1920s into 1930 in the Morrisville section of Franklin Township. Census records for 1930 show that Oliver was still providing carpentry services for private house-building.
In 1940, living alone at the age of 69, he had no occupation and may have been retired.
Suffering from hardening of the arteries and kidney disease, Oliver was stricken with a heart attack during the Christmas season of 1958 and admitted to the Greene County Hospital in Waynesburg. Hedied there three weeks later on Jan. 2, 1959, at the age of 87. He was buried at Oakmont Cemetery near Waynesburg, following services at the Church-Mariner Funeral Home, officiated by Rev. John P. Doney. His nephew Thomas Farabee of Amity signed the official Pennsylvania certificate of death.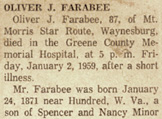 Obituary, 1959
At his death, Oliver's newspaper obituary was clipped by a nephew, William Franklin "Frank" Taylor (son of Ida [Farabee] Taylor), and saved for posterity. The obituary said Oliver "was the last of his family and had never married. Several nieces and nephews survive."
In his will, Oliver named as heirs his nephews Thomas Farabee, Barney Farabee and Charles Farabee, who were to receive $200 each, and his nieces Aldine Gause and Lottie Rankin, who were to receive $100 each.
His brother Clint and nephew Thomas served as executors of his estate.
Copyright © 2001, 2003, 2007, 2018 Mark A. Miner