Charles William Fawcett
(1868-1900)
Charles William Fawcett was born on Sept. 8, 1868 in or near Kingwood, Preston County, WV, the son of John Allen and Narcissus (Feather) Fawcett.
Very little is known about his life, except for his tragic, senseless end, called by one newspaper as "the most cold blooded crime ever committed in this section of the state."
Charles was physically handicapped in some way, but the details are unknown. "He had made his home since he was a small child with his aunts, Misses Sarah and Jane Feather," reported the Elkins (WV) Inter-Mountain newspaper. At some point, the Feather sisters and Charles moved from Kingwood to Elkins, Randolph County.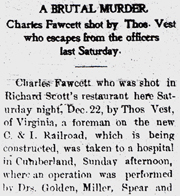 Preston County Journal, 1900
For most of his adult life, Charles worked as a waiter in an Elkins restaurant. Circa 1900, his employer was Richard Scott's restaurant in Elkins. The Inter-Mountain said he had "made a host of friends" and the he was "industrious, well-behaved and ... a popular young man."
On the evening of Sat., Dec. 22, 1900, while at work, Charles waited on a belligerent customer, railroader Thomas Vest, of Virginia. Vest was a "boss" at the new C. & I. Railroad tunnel. Reported the Preston County Journal:
Vest came into the restaurant drunk and ordered something to eat, commanding Fawcett to hurry up. Fawcett, who was badly crippled, did not hurry fact enough to suit Vest, who pulled a revolver, shooting him through the left side, and turning toward the crowd, which filled the restaurant, said 'I will kill any man who attempts to arrest me, and I will die before I will be taken.' Then he cooly walked out.

Maplewood Cemetery
The bullet "entered the left side between the hip and the ribs, perforating the intestines and lodging in the liver," said the Inter-Mountain. He was examined that evening by four local physicians, Drs. Golden, Miller, Spear and Koon. Dr. Golden decided to take him to Baltimore, MD, for surgery, traveling via railroad. Upon reaching Cumberland, MD, Charles was too weak to travel any further, so he was admitted there to the Western Maryland Hospital. Sadly, 10 hours after surgery was completed, he died, on Christmas Eve, 1900
Charles' remains were returned to Preston County, where his funeral was held Christmas Day in the Methodist Episcopal Church, led by Rev. H.C. Howard. Burial was in the Maplewood Cemetery. He rests under an upright shaft marker with his brothers James and Julius, who also died young.
News of the shooting was widely reported throughout the state, including the Wheeling Register.
Vest, the murderer, was captured "after a stiff resistance," reported the Wheeling newspaper. He was held in the jail in Beverly for a hearing before justice Brandley. While the deputy sheriff and constable were escorting Vest "in a carriage, from the jail at Beverly, when they were about a mile from Elkins Vest jumped out of the carriage, where some of his friends were waiting in ambush with guns and helped him make good his escape," said the Inter-Mountain. "The officers being powerless to do anything, as they shot a number of shots warning them not to follow."
Charles' grieving father and brother Elisha rushed from Kingwood to Elkins to investigate, staying with the Feather sisters. Charles' father, said the Inter-Mountain, "is very indignant over the escape of Vest, and hopes that he may be captured." The outcome of the case is unknown.
His passing was noted in the 1980 book, Genealogy of the Jacob and Mary (Connoly) Feather Family, by Edna (Davis) Rogers. His burial is also recorded in Janice Cale Sisler's 1995 book, In Remembrance: Tombstone Readings of Preston County, Vol. 1.
Copyright © 2006-2007, 2019 Mark A. Miner