Elisha Arlington Fawcett
(1880-1959)
Elisha Arlington Fawcett was born on Christmas Day 1877 or more likely in 1880 in Pleasant Dale near Kingwood, Preston County, WV, the son of John Allen and Narcissus (Feather) Fawcett.
He was once described as talking in "whispers." He stood 5 feet, 9½ inches tall and weighed 135 lbs.
Elisha was married twice. His first bride was Elizabeth Armstrong ( ? - ? ). Nothing about her is known. This marriage is mentioned in the 1980 book, Genealogy of the Jacob and Mary (Connoly) Feather Family, by Edna (Davis) Rogers.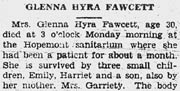 Preston County Journal, 1929
Senseless tragedy struck the family at Christmas 1900, when Elisha's brother Charles was shot and killed in a restaurant in Elkins, Randolph County, WV. The murderer, Thomas Vest, was apprehended but then escaped again. Elisha and his grieving father rushed to Elkins to investigate. The fate of Vest, the murderer, is unknown.
Elisha's second wife was Glenna Hyer (1899-1929), a native of Washington, Washington County, PA, and the daughter of Irving and Maud (Reger) Hyer. Glenna was two decades younger than her husband.
The Fawcetts together produced a brood of three children, Emily Hyer MacCadden, Harriet Jean Shoff and John Allen Fawcett.
At the age of 41, during the World War I era, Elisha was required to register for the military draft. He disclosed that he was a self-employed farmer, and he signed his name with an "X"," indicating that he could not write his own name.
When the federal census was taken in 1920, the Fawcetts resided in Kingwood, where Elisha was a farmer, and Glenna a teacher in the public school.
Sometime between 1923 and 1929, the Fawcetts separated and divorced. Glenna continued in her profession as a teacher in Preston County.

Peaceful Hopemont Sanitarium, in the rolling mountains of Preston County, where Glenna Fawcett died in 1929.
Sadly, on Dec. 9, 1929, Glenna passed away at the age of 30, having suffered from pulmonary tuberculosis. The Preston County Journal noted that she had been a patient at Hopemont Sanitarium in Preston County "for about a month." After a funeral at the Methodist church in Kingwood, she was laid to rest in the Maplewood Cemetery, with pallbearers who were members of her high school class -- Melvin Snyder, Paul Liston, Howard Boylard and Hobart Spindler. Her grave mother today is marked with the word "Mother."
Evidence suggests that one or more of the children was placed for adoption.
Elisha again registered for the military draft in 1942, as World War II raged. He was unemployed at that time, and the regitration agent noted that "one eye out.",
He was burdened in later years with chronic kidney disease. He passed away at the age of 79 at Nella's Rest Home in Elkins, WV on March 19, 1959. He was buried at the Maplewood Cemetery, in brother Bailey's grave plot.
~ Daughter Emily Hyer (Fawcett Tencate) MacCadden ~
Daughter Emily Hyer Fawcett (1919-2007) was born on June 20, 1919 in Morgantown.
At the death of her mother, the 10-year-old Emily and her eight-year-old sister were admitted to the West Virginia State Tuberculosis Sanitorium in Preston County. After being released, they eventually went to live with their uncle and aunt, Frank C. and Louise (Hyer) Tencate, and were adopted by the pair. They all dwelled together in 1940 in Glenshaw, Shaler Township, north of Pittsburgh.
Emily was an alumna of Shaler Area High School. She went on to graduate from the Allegheny General Hospital School of Nursing.
In 1942, when she was about age 20, Emily was united in holy matrimony with Harry E. MacCadden (May 31, 1902-1985), son of Harry E. and Fanny E. (Christy) MacCadden of Wilmington, DE and Millville, NJ. Harriet was pictured in a story about the engagement in the Pittsburgh Press. At the time of marriage, Harry was serving as a captain in the U.S. Army, and was divorced from his first wife. He had attended Penn State University and then received a degree from Ursinis College.
Harry was discharged from the Army with the rank of tech sergeant, in Baltimore, on Dec. 21, 1944.
The couple made their home in 1950 at 217 East Ohio Street in Pittsburgh.
Later, they moved to Gibsonia near Glenshaw. Emily appears to have been active with the Western Pennsylvania Chapter of the Herb Society of America and was named in an October 2002 Pittsburgh Post-Gazette article by columnist Marilyn McDevitt Rubin. She also gave gardening and landscaping talks in the community and in 1985 was a judge for a flower show sponsored by the Town and Garden Club, held at the Connoquenessing Country Club.
Sadly, Harry died on April 12, 1985 as a patient of the Veterans Administration Hospital in Aspinwall. His remains were cremated and placed into rest in Butler County.
Emily outlived him by more than two decades. She passed away on July 13, 2007.
~ Daughter Harriet "Jean" (Fawcett Tencate) Shoff ~
Daughter Harriet Jean Fawcett (1921-2017) was born on May 9, 1921 in Kingwood.
She was seven years old when her mother died. About the same time, she and her sister Emily were admitted to the West Virginia State Tuberculosis Sanitorium in Preston County.
Also with her sister, Jean was taken into the home of her uncle and aunt, Frank C. and Louise (Hyer) Tencate, and was adopted by the couple. Circa 1940, she and her sister lived in the Tencate home in Glenshaw, Shaler Township, a northern suburb of Pittsburgh.
She was a graduate of the University of Pittsburgh.
In about 1942, Jean entered into marriage with Ronald E. Shoff (1916- ? ). He was an alumnus of Carnegie Mellon University.
Two sons in this family were adopted twins Daniel Ronald Shoff and David Ronald Shoff.
The couple dwelled in Hampton Township in Pittsburgh's North Hills, where Jean owned her own real estate firm. Sharing an interest in outdoor beautification with her sister, she belonged to the Country Lane Garden Club. In her role as the Club's civic chairman, she helped maintain a triangular-shaped garden at the intersection of Route 8 and Mt. Royal Boulevard in Gibsonia. She was pictured in a related story in a 1968 edition of the Pittsburgh Press.
Ronald was employed as a supervisor with the U.S. Department of Labor's Occupational Safety and Health Administration (OSHA). He held a membership in the Poland lodge of the Masons.
The couple divorced. Ronald went on to marry again to Ruth Wolf ( ? - ? ). She brought three stepchildren to the second union, John J. Wolf, Carol Wanner and Deborah Wolf. Their address in the 1970s was on Cedar Ridge Road in Allison Park. Ronald died in West Penn Hospital on St. Patrick's Day 1978, with a prominent obituary published in the Press.
Jean relocated to Florida in 1983 and settled in Jacksonville.
Jean died at home in Jacksonville on Feb. 28, 2017 at the age of 95. An obituary appeared in the Florida Times-Union. Burial was in Forrest Cemetery in Gadsden, AL.
Son Daniel Ronald Shoff ( ? - ? ) was united in matrimony with Mary Lou.
Son David Ronald Shoff ( ? - ? ) was joined in wedlock with Tammy.
~ Son John Allen Fawcett ~

Preston County Journal, 1971
Son John Allen Fawcett (1923-1971) was born on March 9, 1923 in Kingwood.
As an adult, he stood 5 feet, 10 inches tall, and had blue eyes and brown hair.
John was a veteran of the U.S. Army in World War II, having enlisted on May 18, 1945 and serving as a private. He was honorably discharged after three-and-a-half months on Aug. 31, 1945.
He was joined in the bonds of wedlock with Daisy Marie Lee (1932-1999), daughter of Isaac Jacob and Susie A. (Friend) Lee and a native of Crellin Garr, MD. She apparently resided in Florida circa 1951, prior to marriage.
The couple resided in Bruceton Mills, Preston County.
Together, the couple bore a family of eight children -- Charles Fawcett, William Fawcett, Betty Fawcett, Rosemary Zirkle, Peggy Jean McLain, Fred Allen Fawcett, Sally Jean Fawcett and John Henry Fawcett.
Grief cascaded over the family on Aug. 3, 1965, when daughter Sally Jean died in Monongalia County at the age of one-and-a-half months from the effects of peritonitis.
He died at the age of 48 on on July 10, 1971, in the Clarksburg Veterans Hospital in Harrison County, WV. He is buried in the Fawcett plot at Maplewood Cemetery, with his obituary printed in the Preston County Journal.
Daisy outlived her husband by 28 years. Evidence suggests that she married a second time to George Calvin Lam. Her final residence was in Morgantown, Monongalia County, WV. Death swept her away in Morgantown May 21, 1999.
Son Charles Fawcett was deceased by 2020.
Son William Fawcett was deceased by 2020.
Daughter Betty Fawcett resided in Bruceton Mills in 2012. She was deceased by 2020.
Daughter Rosemary Fawcett ( ? - ? ) was born in (?). She was joined in wedlock with (?) Zirkle ( ? - ? ). The pair bore a son, C.J. Zircle. They dwell in Broadway, VA.
Son Fred Allen Fawcett (1952-2020) was born with special needs on Sept. 28, 1952 in Bruceton Mills, Preston County. At the age of 18, he moved to nearby Morgantown, Monongalia County. In an obituary, his family wrote this of him:
Fred found a way to learn with the "Fred system." Fred would refine and perfect his system his entire life. He would use it to every advantage to survive and thrive. Every policeman, fire fighter, downtown Morgantown store owner, physician, nurse, etc. was indoctrinated into the Fred system. Many times, Fred would slow down the busy physician or nurse and cordially say, "We're going to do this my way…step by step…got it?"
Fred earned income by performing odd jobs for the owners of downtown stores. One Christmas, the volunteer firefighters purchased a pair of cowboy boots as a gift. He loved to ride his bicycle in the Fourth of July parades, and in 2018 was named grand marshal of the annual Christmas parade. In his spare time he played checkers and cards, worked puzzles and watched movies, especially those starring Chuck Norris and John Wayne. His special friend Mike George helped guide and mentor him for nearly half a century so that he could live with "significant" independence and "financial accountability." Sadly, at the age of 67, suffering from congestive heart failure, he passed away on March 27, 2020. Interment of the remains was in the sacred soil among the generations of his Fawcett ancestors in Maplewood Cemetery.
Son John Henry Fawcett (1960-2012) was born on March 11, 1960 in Bruceton Mills, Preston County. He was only about 11 years of age when his father died. He moved as an adolescent to Elkton, VA and spent the rest of his life in the community. John entered into marriage with Kathi S. ( ? - ? ). The couple dwelled on Blose Rose in Elkton and appears not to have reproduced. He earned a living over the years through his work for Skyland Lodge, Pike Cabinet Shop, Stanley Furniture and Avtex Fibers, a manufacturer of synthetic fabrics on a former Superfund site in Front Royal, VA as part of a program to return the site to productive use. He enjoyed sports and rooted for the Washington Redskins football and Boston Red Sox baseball teams. The couple were members of Elkton's Evangelical United Methodist Church. Sadly, at the age of 52, John died on July 10, 2012 as a patient in the University of Virginia Medical Center in Charlottesville.
Daughter Peggy Jean Fawcett (1964- ? ) was born in March 1964 in West Virginia. At the age of 21, she resided in Staunton, VA at 100 South New Street. On Nov. 22, 1985, she was united in matrimony with 50-year-old divorcee William Franklin McLain (Feb. 23, 1935- ? ), a native of Virginia and the son of Harry Truine and Leola May (Armstrong) McLain. The wedding was held in or near Front Royal, Warren County, VA. William lived at the time at 301 Gooch Street in Staunton and was 29 years older than his bride. By 2012, Peggy had migrated to New York City and then in 2020 was in Rochester, NY.
Copyright © 2006-2007, 2010, 2019, 2021 Mark A. Miner