John 'Allen' Fawcett
(1840-1917)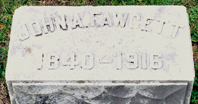 Maplewood Cemetery
John "Allen" Fawcett was born in 1840 in Preston County, WV, the son of Charles B. and Phoebe (Miner) Fawcett.
Allen married Narcissus Amelia Feather (1838-1918), the daughter of Jacob and Mary (Silgens) Feather.
The Fawcetts had six children -- Marcellus "Bailey" Fawcett, Martha Aurilla Shomaker, Charles William Fawcett, James Allen Fawcett, James "Orval" Fawcett, Elisha Arlington Fawcett and Julius K. Fawcett.
Sadly, three of their sons died at relatively young ages, while Allen and Narcissus were still alive -- Orval, Julius and Charles.
Son Charles was physically handicapped in some way, but the details are unknown. "He had made his home since he was a small child with his aunts, Misses Sarah and Jane Feather," reported the Elkins (WV) Inter-Mountain newspaper. At some point, the Feather sisters and Charles moved from Kingwood to Elkins, Randolph County.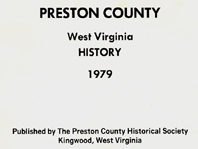 Book naming the Fawcetts
During the Civil War, Allen "served in the Army by driving supplies," according to a memoir authored by two granddaughters in the 1979 book, Preston County West Virginia History, published by the Preston County Historical Society. He "was thrown in prison for a few weeks, accused of harboring two Confederate spies, he was later proven innocent and released."
Allen and his parents served as stewards of the Preston County Poor House for a combined four decades. He and Narcissus are said to have owned several farms, where today sits the Preston Memorial Gardens Cemetery. One tract, of 20 acres, was purchased in 1878, and sat along the Kingwood and Morgantown Turnpike. Another was a 107-acre tract inherited from Allen's father, called the home place. The latter property was about three miles from Kingwood, along the Morgantown and Kingwood Turnpike. It was bounded by such landmarks as "the head of a little hollow, where a hack is cut in a log lying on the South side of said road…" and also "a flat called Kelsoes Folly near to some marked saplings, on the South side of said road…."
In March 1869, after a great fire destroyed much of the town of Kingwood, including the county courthouse, a man named Elihu Gregg was accused of the crime. Allen was asked to testify about what he knew. He "stated that he lived 2 1/4 miles from Kingwood, and that Gregg came to his house Wednesday night and said his name was Crebs, and he was going to Morgantown for oats." A neighbor, Isaac Teets, testified that Gregg "passed and inquired how far it was to Allen Fawcett's." Evidence later showed that Gregg traveled to Kingwood on the Morgantown Road, "just to the left in the wood, near Allen Fawcett's, where a horse had been hitched for some time." Gregg's footprints in the snow were a key clue in the case, and he was convicted.
Sleepy Kingwood, ca. 1908

Preston County Journal, 1880
When father Charles died in 1874, Allen was bequeathed "the farm on which he now resides, being the land purchased ... from B. Ross and W.G. Brown, to be held and enjoyed…." The farm is now part of the Preston Memorial Gardens Cemetery, where many branches of our cousins rest for eternity.
During 1878-1879, when a new house of worship was being planned and erected for the Kingwood Methodist Episcopal Church, Allen contributed funds for the work. The dedication service was held on May 25, 1879. Several cousins also made financial contributions to the effort, including his brother in law Henry Harrison Gribble, uncle John S. Murdock and cousins James Eyster Murdock Sr., Marcellus Hugh Murdock and James Miner Carroll.

Preston County Journal, 1886
Tragically, son James "Orval" Fawcett, aged five, died on May 25, 1880. The May 27, 1880 Preston County Journal reported that "He was recovering from an attack of scarlet fever, when he was taken with fits."
Six years later, in 1886, the Shadow of Death continued its devastating work, when "little" son Julius passed away at age four. "The funeral was preached in the M.E. Church, ... by the pastor, the Rev. E.H. Orwen, after which the remains were interred in the Kingwood cemetery," reported the Journal.

Maplewood Cemetery
Senseless tragedy rocked the family just before Christmas 1900. Son Charles, who at age 32 was living in Elkins, Randolph County, WV, was employed there as a waiter in a restaurant. On the night of Dec. 22, a belligerent customer, dissatisfied with the speed of Charles' service, pulled a gun and shot him in the side. The bullet punctured Charles' intestines and "lodged in the liver," reported the Elkins Inter-Mountain newspaper. He was taken to Cumberland, MD for treatment, with the hope that he could be saved by surgeons in Baltimore. Too weak to stand the rest of the trip, he was operated on at the Western Maryland Hospital. Sadly, he died 10 hours after surgery, on Christmas Eve. His remains were returned to Kingwood, with the funeral held on Christmas Day, and burial at the Maplewood Cemetery in Kingwood.
Charles' murderer, Thomas Vest, was arrested, but then escaped with the help of armed friends. Allen and son Elisha rushed to Elkins, where they stayed with Narcissus's sisters Sarah and Jane. Reported the Inter-Mountain, Allen was "very indignant over the escape of Vest, and hopes that he may be captured." The tall, upright grave marker for Charles and his brothers James and Julius is seen here.
Allen died on Oct. 11, 1916 at his farm about three miles west of Kingwood, "on the Morgantown pike." The Journal called him "an aged and respected citizen of this section…. [He] had been in ill health for several years but not until a short time ago did he break down."
Narcissus suffered from organic heart disease during the last decade of her life. She died at Kingwood on Jan. 18, 1918, a few weeks shy of her 80th birthday. The Journal said she "was a consistent member of the M.E. church," and that her funeral services were held at her former home, conducted by Rev. T.E. Gainer, pastor of the United Brethren church. "The funeral services were largely attended by a host of friends, who came to pay the last tribute to a life-long friend, after which her remains were laid to rest in the Kingwood cemetery, to await the great day when the earth shall give up its dead."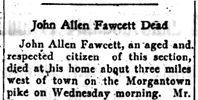 Preston County Journal, 1916
The Preston County Journal said she "was a consistent member of the [Methodist Episcopal] church…. The funeral services were largely attended by a host of friends, who came to pay the last tribute to a life-long friend, after which her remains were laid to rest in the Kingwood cemetery, to await the great day when the earth shall give up its dead."
Daughter Martha and her husband Levi S. Shomaker bought the 107-acre "home place" in 1912.
The Shomakers' daughters, Jane (Shomaker) Shaffer Watson and Sarah Ann (Shomaker) Shackelford authored the family memoir published in the 1979 county history.
Copyright © 2000, 2006, 2008, 2019 Mark A. Miner