Marcellus 'Bailey' Fawcett
(1863-1939)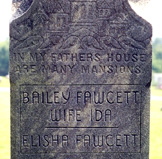 Maplewood Cemetery
Marcellus "Bailey" Fawcett was born on March 29, 1863 in Preston County, WV, the son of John Allen and Narcissus (Feather) Fawcett.
In about 1900, ,when he would have been age 37, Bailey married 43-year-old Ida May Shields (1857-1950), the daughter of William Shields, and a native of Wheeling, Ohio County, WV. It was her second marriage.
The Fawcetts resided in Kingwood, Preston County. Evidence suggests that they did not reproduce.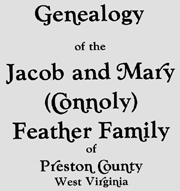 Book naming the Fawcetts
The couple is named in Edna (Davis) Rogers' book, Genealogy of the Jacob and Mary (Connoly) Feather Family of Preston County, West Virginia (Parsons, WV: McClain Printing Company, 1980).
Reflecting a common occupation in the region at that time, Bailey labored as a coal miner circa 1910.
Bailey earned a living as a fruit farmer in 1920 as shown in U.S. Census records.
Circa 1930, when the federal census enumeration was made, Bailey and Ida were marked in Kingwood, with Baily's occupation listed as proprietor of a merchant grocery store. Their home that year was along the Morgantown Road.
Bailey died at age 76 on Feb. 23, 1939, at the Monongalia County Hospital in Morgantown, WV, after suffering from prostate cancer for several years. After funeral services held at their "old home," said the Preston County Journal, his remains were laid to rest at the Kingwood Cemetery. He was survived by his brother Elisha "and several nieces and nephews."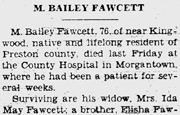 Preston County Journal
Ida May outlived her husband by 11 years. She moved to Bridgeport, Harrison County, WV in about 1940, settling near Maple Lake.
She died at the age of 93, of a cerebral hemorrhage, on June 13, 1950. She was buried beside her husband at the Maplewood Cemetery in Kingwood.
Inscribed on their grave marker is the Scripture verse, "In my Father's house are many mansions."
Copyright © 2006-2007, 2019 Mark A. Miner