Home

Jane Duff (Hayden) Quintard
(1867-1904)
Jane Duff "Jennie" (Hayden) Quintard was born in 1867 in Columbus, Franklin County, OH, the daughter of William B. and Matilda (Langdon) Hayden. She was named for her maternal grandmother, Jane Ann (Duff) Langdon Minor.
At the age of 17 Jane served as a bridesmaid in the wedding of her sister Estella to Dr. Edward Quintard in 1894 and was mentioned in a related story in the New York Times. She must have admired her new brother in law, because just a year later, she married his brother.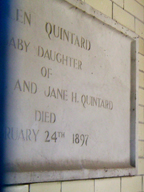 Kensico Cemetery
On Nov. 19, 1895, when she was age 28, Jane wed William Isleworth Quintard (1869?-1899), who had been born in England when his parents, Edward Augustus and Mary (Skiddy) Quintard, were traveling. He was related through his mother to President Zachary Taylor. William's father was president of the Citizens' Savings Bank on the Bowery, and had passed away just a few months before William and Jane's wedding (on June 26, 1895).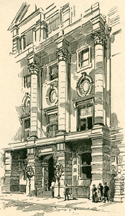 Union Club, New York
Rev. George H. Houghton, rector of the Church of the Transfiguration -- and the same man who had performed the earlier Hayden-Quintard wedding -- led the nuptials at the church. The best man was Appleton Clark, and the ushers were Miln Palmer, John A. Carter, Edwin Tatham and C. Allen Hayden (brother.) Maids of honor were Annabel Green and Mabel Elise Hayden (sister), and bridesmaids Mary Mongague Billings, Agnes Layng, Gertrude Quintard (sister in law) and Josephine Roset (of Chicago). The bride wore a gown of white satin trimmed with duchess lace, said the New York Times, and on her skirt were flounces of lace and garlands of orange blossoms. The maids of honor wore white faille, and carried bunches of pink roses, while the bridesmaids wore rose-colored gowns and black velvet hats, trimmed with ostrich feathers. For their honeymoon, they sailed to Europe on the steamship St. Louis.
The Quintards bore two daughters, Helen Quintard and Jane Quintard Clark.
Sadly, daughter Helen died in infancy on Feb. 24, 1897. Details are inscribed on a monument mounted on the inner, yellow brick wall of the Quintard mausoleum in Kensico Cemetery near White Plains, Westchester County, NY.
William was employed as a bond broker with offices at 3 Broad Street. Said the New York Times, "He was a member of the Union League and St. Nicholas Clubs and of the St. Nicholas Society. He was formerly a member of the Seawanhaka-Corinthian Yacht Club and of the American Yacht Club, and took an active interest in yachting." The impressive edifice and entrance to the Union Club building is seen here.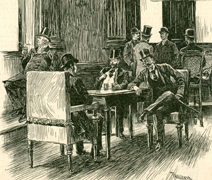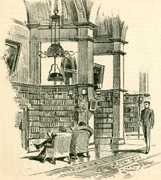 The Union League cafe, left, and library, from Harper's Weekly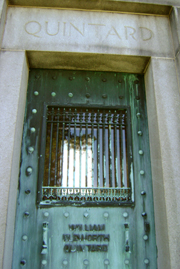 Kensico Cemetery
Tragedy struck the young family in the spring of 1899, when William suffered a severe attack of pneumonia. "He never fully recovered," said the Times, and went to the family retreat in the Thousand Islands to recover. Sadly, he died in the Thousand Islands on Sept. 20, 1899, when he was just 30 years of age. Following a funeral held at the Church of the Transfiguration, where he had been married just a few years earlier, William was laid to rest in their own mausoleum in Kensico Cemetery. An obituary also appeared in the New York Tribune.
The bronze mausoleum doors marked "William Isleworth Quintard" are seen here.
William's death was the second major blow for Jane in two-and-a-half years of time. The work of the Grim Reaper left Jane a young widow with an infant daughter.
When the census was taken in 1900, widow Jennie lived with her parents and young daughter in Manhattan. She is known to have passed the time boating, and on the Fourth of July 1901, booked a day trip with two-year-old Jane on the Barbarossa.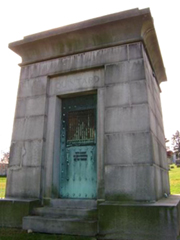 Kensico Cemetery
Just a few weeks later, on July 17, 1901, while en route with her daughter and two nurses to Rutland, VT, Jane became ill on the Saratoga special train of the Hudson River Railroad. She had to leave the train at Poughkeepsie and was rushed by ambulance to a hospital. In reporting on the incident, the New York Times reported that Jane "had been suffering from nervous prostration for some time."
Tragically, Jane did not regain her health. She died on Aug. 26, 1904, in New York, at but the tender age of 36. Her remains were placed at rest with her husband and daughter Helen in the Quintard mausoleum in Kensico Cemetery, near White Plains.
Their daughter Jane was left an orphan at the age of five, and immediately was taken into the home of relatives, most likely her Hayden grandparents.
Overwhelmed with grief, Jane's 65-year-old father told newspapers that he would erect a memorial cross at Fairyland. It would be illuminated at night, as was the custom in the Thousand Islands. A July 1916 article in the Watertown (NY) Daily Times disclosed that the cross would be placed in between the homes of William and his brother Charles.
The working of the cross is now being tried out in the Catskill mountains. There are 15 lights in this cross, which measures eighteen by ten feet. The lights will take current from a storage battery, which is easily charged from a small generator. The cross will arrive at Alexandria Bay within a fortnight and will be erected at once. This cross is the largest at the Thousand Islands, and when completed will be most illuminating and very beautiful.
The outcome of the project is not yet known, and it is not clear if the project ever was completed.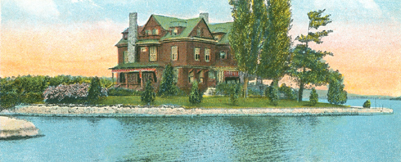 The Haydens' summer home, Fairyland, where the memorial cross to Jane Quintard was to have been built following her untimely death.
~ Daughter Jane (Quintard) Clark ~
Daughter Jane Quintard Clark (1899-1971) was born in 1899.
In 1910, at the age of 11, the orphaned girl lived with her Hayden grandparents in Catskill, Greene County, NY. She later went to live with her uncle and aunt, Edward and Estella (Hayden) Quintard, in New York City. She spent a lot of time at the family's country home at Knollybrook.
In August 1919, when she was age 20, Jane wed Cyrus Clark Sr. (1898-1975), son of Howard F. Clark of Great Neck, Long Island, Nassau County, NY and grandson of Cyrus Clark of Riverside Drive, NY. Following a family tradition, the wedding was held at the Church of the Transfiguration in Norwalk, CT, led by Rev. Henry Lubeck of New York's Church of St. Timothy and Zion. Said the New York Times, the bride "wore a pearl-trimmed white satin gown with a court train." Attendants included Marian W. Kerr (maid of honor), Polly Mariner (of Milwaukee), Gertrude Hopper (of Englewood, NJ), Ruth and Alice Marden (of New York), Rosalie Clark (of Great Neck, Long Island) and Mrs. Allen Brehm (of Buffalo). The best man was Henry Thompson (of Wilmington, DE) while the ushers were Safford Quintard and Howard Coxe (of New York), Walter Clark (of Flushing), Frank Tweddell and Howard Clark (of Great Neck) and Edwin Adriance (of Englewood, NJ).
The Clarks had three children -- Cyrus Clark Jr., Jane Q. Byers and Rosalie "Lee" Hayden Jones Sturgis.
Cyrus attended Princeton University. His education was interrupted by America's entry into World War I. Cyrus joined the Army and was sent overseas, where he "was an ambulance driver in France.... first for the French and then for the American Field Service."
Upon returning home after the war, Cyrus did not return to Princeton. Instead, he went to work for Burton Bros., a cotton merchant firm. Then, in 1925, he founded Cyrus Clark, Inc., an upholstery manufacturing band converter business. He was president of the company until the day he died, some five decades later.
They lived at 419 East Shore Road at Kings Point, Nassau County, and later at Great Neck, Nassau County. Jane was a member of the Daughters of the American Revolution (DAR), the Junior League and was a member of the Great Neck School Board. Cyrus enjoyed golf and for 15 years chaired to board of appeals of the village of Kings Point.
The day after Christmas 1946, Jane was named in a legal advertisement printed in the Catskill Examiner-Recorder as an heir-at-law of her late uncle, Cotton Allen Hayden. At the time, her address was given as 419 East Shore Road, Great Neck, Nassau County, NY
Jane passed away at the age of 72, following a heart attack, on Feb. 22, 1971. Her obituary was published in the Times.
Cyrus outlived her by four years. He died at home at the age of 77, on July 29, 1975, "apparently of a heart attack," reported the Times. An obituary was published in the Princeton Alumni Weekly.
Son Cyrus Clark Jr. (1923-2006) was born in 1923. At the age of 23, he married Joan Fox ( ? - ? ), daughter of Ada (Thorne) Fox of Columbus, OH, on Aug. 30, 1946. The ceremony was performed by Rev. Dr. Wendell Phillips, rector of the Episcopal Church of the Transfiguration. In covering the wedding, the New York Times said that the "reception was given for members of the families and intimate friends at Quintard Cottage, the Clark home here." Joan was a graduate of the University of Cincinnati, while Cyrus was a student at Hobart College who left school to join the Army during World War II. During the war, he served with the Eighth Air Force overseas as a flight engineer. After the war, he joined his father's textile firm, where he apparently spent the remainder of his career. The Clarks had three children -- Cyrus Clark III and Cynthia Clark. Cyrus Jr. died in November 2006 in Katonah, NY, at the age of 83, as reported in the Hobart and William Smith Colleges alumni publication.
Daughter Jane Quintard Clark (1926- ? ) was born in 1926. She was a graduate of the Brearly School, attended Cornell University and graduated from Barnard College. When she was age 22, she married George "Edward" Byers Jr. ( ? -2006), son of Mr. and Mrs. Byers of Canaan, CT. The wedding took place on June 26, 1948, at All Saints Protestant Episcopal Church at Great Neck, LI, performed by Rev. Alexander McKechie. They had three children -- Jeannette Byers, George Edward Byers III and Polly Byers -- and made their home in Hamden and Norfolk, CT. After long suffering with Parkinson's Disease, George passed away on March 2, 2006. His funeral was held at Yale University's Dwight Chapel.
Daughter Lee Hayden Quintard (1929- ? ) was born in 1929 and was married thrice. Her first spouse was Foxhall Parker Jones ( ? - ? ), son of Arthur Russell Jones of Far Hills, NJ. The wedding took place on April 30, 1949 at the All Saints Protestant Episcopal Church at Great Neck, followed by a reception at the Creek Club in Locust Valley. They had three children -- Parkie Baker, Casey Jones and Molly Jones. The Times said Lee was a graduate of the Friends Academy and Pine Manor Junior College at Wellesley, MA. Foxhall was an alumnus of Westminster School at Simsbury, CT, and attended the University of Virginia, following military service with the Marine Corps in the Pacific Theatre during World War II. The Times later reported that Foxhall was a book publishing representative with Harper & Row, Inc., in New York. After a divorce, Lee was married again twice, to (?) Sturgis and to (?) Buckhout.
Copyright © 2009-2010, 2015 Mark A. Miner
Union League sketches originally published in Harper's Weekly, March 15, 1890. Quintard mausoleum photographs courtesy of Linda Burton Kochanov.