Home

Mabel Elise (Hayden) Burr
(1874-1945)

Calvin Burr Sr.
Mabel Elise (Hayden) Burr was born in 1874 in Columbus, Franklin County, OH, the daughter of William B. and Matilda (Langdon) Hayden. Her husband was a stockbroker who died far too young.
She grew up in Columbus but moved with her parents to New York City. In 1894, she served as maid of honor in the wedding of her sister Estella to Dr. Edward Quintard, and was mentioned in a related story in the New York Times.
At the age of 25, Mabel married Calvin Burr Sr. (1872-1918) on Dec. 7, 1898, at her parents' home in New York City. He was the son of banker Charles Porter and Frances Powers (Beardsley) Burr, and the grandson of Nelson and Frances (Powers) Beardsley.
The affair was gaily covered in the New York Times. The "entire surpliced choir of the [All Angels' Protestant Episcopal] church preceded the bridal party to the improvised altar singing the Lohengrin wedding march, and during the ceremony the tenor soloist sang a selection from the oratoria of 'Ruth and Naomi.' Part of the Damrosch Orchestra furnished the instrumental music." The Times observed that Mabel wore a cream satin gown and tulle veil, with her sister Mrs. Raymond T. French as maid of honor, adorned in "a white corded silk skirt, worn with a lace corsage. A long sash of apple green chiffon, a coiffure aigrette of white, and a bouquet of white roses were the finishing touches to this costume." The other bridesmaids were Emma Wilder (of Rochester, NY), Elizabeth Burr (sister in law, of Auburn, NY), Katherine DeFord Thueman and E.E. Haldeman (of Harrisburg, PA). The best man was Nelson Beardsley Burr, and ushers included John Harold Hayden (brother), Cotton Allen Hayden (brother), Charles Rufus Knapp (of Auburn, NY), Frank Lyon Polk, Frederic Curtus Perkins and Philip Hamilton McMillan (son of Senator McMillan).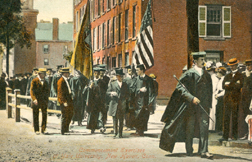 Yale commencement exercise
The Burrs went on to have one son, Calvin Burr Jr., born Sept. 12, 1899, in New York City.
Prior to marriage, Calvin received college preparatory education at Phillips Academy in Andover, MA, completing his studies there in 1890. He went on to study at Yale University, receiving his bachelor of arts degree with honors in 1894. Among other Burrs who attended Yale, where a legacy of family enrollment was highly valued, were his brother Nelson B. Burr (Class of 1893), John H. Woodruff (1863), Alonzo G. Beardsley (1875), Porter Beardsley (1886), Harry S. Beardsley (1900), Carleton H. Woodruff (1900), S. Glover Beardsley (1903) and Douglass Woodruff (1905).
He then studied law at Harvard Law School from 1894 to 1896, and, upon graduation in 1896, established a law office in Catskill, NY. He was a member of the New York State Bar Association and the Union Club of New York City, and of the Episcopal Church. When the Old Home Week parade was held in October 1908 in Catskill (then known as "Catskill-on-Hudson"), he "acted as grand-marshal of the school children," according to a note in his Phillips alumni newspaper, The Phillipian.
In a profile about Calvin in the Quarter-Century Record, Class of 1894, Yale College, it says that "On his return from a trip abroad in 1909-1910, he became associated with William Salomon and Company, bankers of New York City, but severed his connection with them in 1912."
Apparently a lover of flowers, Calvin was a member of the American Rose Society, with his name published in its 1917 yearbook.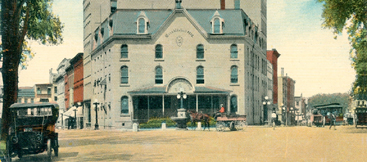 Corner of South and Exchange Streets in Auburn, the Burrs' town of residence in the 1910s
Mabel's resting place, Kensico Cemetery
Sadly, Calvin died in Auburn, Cayuga County, NY on Aug. 14, 1918, at the age of 42. Details are not yet known. He was laid to rest in Auburn's Fort Hill Cemetery.
Circa 1921, Mabel resided in New York City and Catskill.
Mabel and her brother Langdon and his wife Ysabel traveled together to warmer climes in the winter of 1929. In its "Personal, Home and Abroad" column, the Catskill Recorder noted that they would leave "Catskill next month for a Winter 'somewhere in Arizona'."
When the federal census was enumerated in 1930, Mabel resided on Prospect Avenue in Catskill, Greene County, NY. She had no occupation, and when she declined to or could not disclose her worth, the census taker wrote: "Don't know." Living next door was her married brother and sister in law, Allen and Ida Hayden, whose estate value also was recorded as "Don't know."
Mabel passed away in New York City on Aug. 5, 1945. In a short obituary, the Auburn (NY) Citizen Advertiser, said she had "visited from time to time in Aurora" and that she would be laid to rest at Kensico Cemetery. Her remains rest directly between her parents in respective crypts in the family mausoleum at Kensico, seen here, under the stained glass window and directly behind the urn.
~ Son Calvin Burr Jr. ~
Son Calvin Burr Jr. (1899-1932) was born in 1899.
He was rendered fatherless at the age of 19. In 1921, at the age of 22, he married 22-year-old Katharine Stillman Morrison (1899-1950), daughter of William Brewster and Lillian B. (Fay) Morrison. The engagement was announced in the Auburn Citizen.
Calvin Jr. and Katharine had two children -- Elizabeth Hannum and Calvin Burr, III. They lived in Auburn at 66 South Street. When the federal census was taken in 1930, the Burrs' residence was Auburn, with Calvin Jr.'s occupation listed as a salesman of automobiles.
Sadly, Calvin Jr. died at the age of 33 in New York in December 1932. Details are not known. He was laid to rest at Fort Hill Cemetery.
Son Calvin Burr III (1925-1946) was born in 1925. He was considered a "prominent young Auburnian" as a young man. Tragically, Calvin III was killed in an automobile accident on Dec. 6, 1946, a few miles east of Auburn. His funeral was held at St. Peter's Episcopal Church, led by Rev. Albert A. Chambers, followed by burial at Fort Hill Cemetery. At the funeral, the ushers (or "seaters") were William R. Mintop, Douglass Woodruff, Glenn J. Hungerford, Archibald W. Green, Edward C. Avery, Kennard Underwood, John E. Benson and John Nolie.
The day after Christmas 1946, Elizabeth and Calvin III (dead for only 20 days) were named in a legal advertisement printed in the Catskill Examiner-Recorder as heirs-at-law of their late uncle, Cotton Allen Hayden. At the time, the address for both was given as 66 South Street, Auburn.
After Calvin Jr.'s death, Katharine remarried again, in January 1948. Her second husband was Glenn Girard Hungerford, son of Mr. and Mrs. Ralph Hungerford of 19 Havens Avenue in Auburn. The marriage took place in Wallingford, CT. They made their home at Powers Place in Catskill.
Katharine died in Catskill at the age of 53 on Nov. 21, 1950. A requiem mass was held at St. Luke's Church, followed by burial beside Calvin Jr. and their son Calvin III in the Burr Circle at Fort Hill Cemetery. The funeral was led by Rev. Robert Spear. An obituary was published in the Greene County Examiner-Recorder.
Daughter Elizabeth Burr (1924- ? ) was born in 1924. She married F.J. Hannum ( ? - ? ). Circa 1950, they had three children and lived in Douglas, Cochise County, AZ.
Copyright © 2009-2010, 2015 Mark A. Miner
Calvin Burr's photograph courtesy of Google Books. Hayden mausoleum photograph courtesy of Linda Burton Kochanov.