John William Shepard Jewell
(1877-1939)
John William Shepard Jewell was born on Sept. 10, 1877 in Haskins, Wood County, OH, the son of William and Sarah (Minerd) Shepard. He was one day old when his mother died.
John was taken in and raised by his mother's sister and brother in law, William L. and Pera (Minerd) Jewell.
John's first wife was Julia Hannah Rohrbaugh (Feb. 2, 1879-1928), daughter of George and Amillie (Wentz) Rohrbaugh. She was a native of Illinois, Pennsylvania or Kansas. (Records differ.)
They produced three children together -- Clarence Levern Jewell, Ivan Donald Jewell and Robert Morris Jewell.
They resided in Center Township, Wood County in 1909 when his adoptive father died.
When the federal census was taken in 1910, the Jewells lived in Granger Township, Medina County, OH. By 1920, the Jewells had moved to a farm along North Township Line Road in Portage Township, Wood County.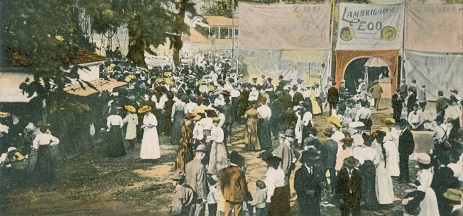 The annual Wood County Fair, which the Jewells likely attended
The Jewells relocated to Michigan and settled on a farm near Milan, where John's brother George Levi Jewell and family also are known to have moved.
Sadly, stricken with cancer, Julia underwent surgery in September 1927. Doctors noted she had lost her reflexes. She died at the age of 49 three days before Christmas 1928 in or near Milan, York Township, Washtenaw County. Burial was in Marble Park Cemetery, Milan.
John married his second wife, Kittie Kinzie (1876- ? ), daughter of John and Sarah (Jones) Kinzie.
He suffered a heart attack and passed away while sleeping on a couch overnight on March 14, 1939. Robert Jewell of Milan was the informant for the official Michigan certificate of death. Burial was under the sod of Marble Park Cemetery, Milan.

John is listed in the excellent 1996 book by Ivan Stearns, The History/Genealogy of John and Nancy McCullough Jewell. The volume is available for sale through the Wood County Chapter of the Ohio Genealogical Society.
~ Son Clarence Levern Jewell ~
Son Clarence Levern Jewell (1898-1937) was born on July 1, 1898 in Bellevue, OH.
Clarence in young manhood attended Otterbein College in Westerville, OH, where he studied military training starting in late September 1918. It's believed this was credited toward military service during World War I, covering the period Oct. 15, 1918 to Dec. 11, 1918.
He returned to Bowling after he completed his education and initially dwelled in Bowling Green. By the early 1920s he moved to Toledo, OH and worked as a packer.
At the age of 25, on May 15, 1924, Clarence entered into the rite of marriage with 19-year-old Dorothy Frankforther ( ? - ? ). She was the daughter of Thomas and Alma (Lasenbeigh) Frankforther and, at the time of marriage, was employed as an inspector. The nuptials were held in Monroe, MI, by the hand of Rev. Reuben Crosby. Alice M. Crosby and Bertha Edwards, also of Monroe, were witnesseds.
He later earned a living as a truck driver.
For the final year of his life, Clarence was burdened with chronic heart disease. Sadly, at the age of 38, he died in York Township, Washtenaw County, MI on April 8, 1937. Burial was in Marble Park Cemetery in Milan, with John Jewell of Milan signing the death certificate. Traveling from Wood County to attend the funeral, reported the Bowling Green Daily Sentinel-Tribune, were Mr. and Mrs. Charles Jacobs, Mrs. Nelson Hall, and Mrs. Ben Shepherd and her daughter Betty.
~ Son Ivan Donald Jewell ~
Son Ivan Donald Jewell (1905-2004) was born on May 13, 1905, reputedly in Canton, Stark County, OH.
Circa 1932, Ivan was joined in holy wedlock with Pauline Hammond (1912-1995), a native of Ypsilanti, MI.
They did not reproduce.
The Jewells resided in 1950 in Ypsilanti, where both were employed in an automobile factory, he as a repair man and her performing office work. Later, they moved to Foley, Baldwin County, AL and were members of St. Paul's Lutheran Church.
Pauline passed away in a Foley-area health care facility on June 27, 1995. Her funeral was held in the family church, officiated by Rev. Chris Morales. In an obituary, Ivan asked that any memorial contributions be made to the American Heart Association.
Ivan died at the age of 99 on Aug. 14, 2004. His obituary was published in the Robertsdale (AL) Independent.

Interment was in Pine Rest Cemetery in Foley, AL.
~ Son Robert Morris Jewell ~
Son Robert Morris Jewell (1913-1977) was born on May 2, 1913 in Bowling Green.
He grew up in Wood County. Then as a young man, he obtained work as a body bumper and relocated to Milan, MI.
On Oct. 16, 1937, when he was 24 years of age, he wed 23-year-old Mildred Elizabeth Hoeft (Sept. 5, 1914-1976), daughter of Albert and Laura (Jedele) Hoeft. The marriage ceremony was conducted in Saline Township, Washtenaw County, MI, by Rev. A. Lederer of the Evangelical Lutheran Church, with Robert's brother Ivan along with Doris Hack attending as witnesses. Mildred was a native of Saline and earned income as a beauty operator at the time.
Two daughters borne of this union were Linda Jewell and Christine Jewell.
Mildred passed away at the age of 61, in Ann Arbor, MI, on Feb. 24, 1976.
Death spirited him away on Jan. 29, 1977 in York Township, Washtenaw County. The Battle Creek Enquirer reported that he died "of an apparent heart attack Saturday after shoveling his sidewalk." The remains are asleep in Oakwood Cemetery in Saline.
Daughter Linda Jewell (1947- ? ) was born in about 1947 in Michigan.
Daughter Christine Jewell (1949- ? ) was born in about 1949 in Michigan.
Copyright © 2002, 2007, 2022, 2023 Mark A. Miner