John William Jewell
(1877- ? )
John William Jewell was born on Sept. 10, 1877 in Wood County, and was raised by his mother's sister and brother in law, William L. and Pera (Minerd) Jewell. His birth mother has not been identified specifically, but she is believed to have been one of Pera's sisters.
John's first wife was Julia (?) (1880- ? ). She was a native of Kansas.
They had three children -- Clarence Levern Jewell, Ivan D. Jewell and Robert Jewell.
When the federal census was taken in 1910, the Jewells lived in Granger Township, Medina County, OH. By 1910, the Jewells had moved to a farm along North Township Line Road in Portage Township, Wood County.
He resided in Center Township, Wood County in 1909 when his adoptive father died.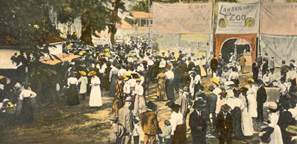 Wood County Fair, which the Jewells may have attended
Sadly, Julia died sometime between 1920 and 1930, but the details are not known.
Later, John married his second wife, Kittie (?) (1876- ? ). Their fates are not known.

John is listed in the excellent 1996 book by Ivan Stearns, The History/Genealogy of John and Nancy McCullough Jewell. The volume is available for sale through the Wood County Chapter of the Ohio Genealogical Society.
Son Clarence Levern Jewell ( ? - ? )
~ Son Ivan D. Jewell ~
Son Ivan D. Jewell (1905-2004) was born in 1905.

He resided in Baldwin County, AL.

Death swept him away in 2004.

~ Son Robert Jewell ~
Son Robert Jewell ( ? - ? )
Copyright © 2002, 2007, 2022 Mark A. Miner