Home

Friedrich Meinert Jr. (Meinder)
( ? -1816)
Nines by the Numbers
book naming Frederick
Frederick Meinert Jr. was born in the late 1730s or early 1740s in the Oley Valley of Philadelphia County, now Berks County, PA, the son of Friedrich and Eva Maria (Weber) Meinert Sr.
Probably out of an inability to spell German names, local officials frequently wrote the name of this branch of the family "Meinder." Some members of this family who moved west to Wisconsin and Iowa in the 1850s eventually dropped the "e" and spell the name "Minder." In addition to these two spellings, on some of the land records in Berks County the name is spelled "Miner" or "Meiner."
In 1763, Friedrich was united in holy matrimony with Catherine Nein ( ? - ? ), the daughter Casper and Barbara Nein, German immigrants of the Oley Valley. (The two families were close, and Friedrich's brother Jacob Minerd Sr. married Catherine's sister, Maria Nein.)
Catherine's known adult siblings, in addition to Maria Minerd, were Sylvester Nein, Susanna Margaretha Leinbach, Barbara Schwartz, Daniel Nein and Elizabeth Schwartz.
Frederick and Catherine produced a family of six known children -- among them Elizabeth Meinter, Burkhart Meinder, Susan Sigfried, Sarah Friedrich, Anna Maria Wertz and Friedrich Meinert (Frederick Miner) III.

Nearby Reading, Berks County, 1840s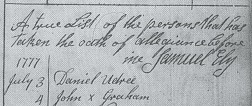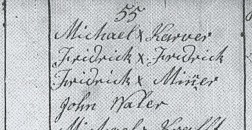 Record of "Fridrick Minner's" oath,
sworn to Samuel Ely on June 1, 1777
Frederick owned a farm in Rockland Township, which was created out of the larger Oley Township in 1758. On his tract, he ran a grist mill and a saw mill and also labored as a "cordwainer" -- a shoemaker. In September 1769, he purchased a 290-acre farm in Oley Township from a group of investors in London, known as the Pennsylvania Land Company. In 1775 he acquired additional tracts. One of the contracts was written completely in German. Over time, the total amount of land he owned was l,108 acres.
When the Revolutionary War broke out, Frederick joined the Berks County militia. He was in the First Battalion of Captain Focht's company. The militia was composed of civilians, men who could not reasonably be called upon for any prolonged tour of duty or for travel far from home. Such men could give but limited service and were used chiefly to garrison nearby forts, guard prisoners, serve in local campaigns, or temporarily support the Continental Army.
Avoiding militia calls was not difficult. A man who failed to report for drill paid an "exercise fine." On the Berks County list of fines most of the men paid 20 to 60 species, the monetary unit used in the colonies during this time.Frederick "Meinter," as he is listed, paid only 6 species which indicates that he was a responsible man and took his civil obligations seriously.
When the Revolutionary War ended, all males had to sign the oath of allegiance to the new government. Frederick Meiner, as his name was written, is listed in the book The Names of Persons Who Took the Oath of Allegiance in Berks County Pennsylvania, and signed June 1, 1778. Since he was illiterate, someone else wrote out the name, spelling it "Fridrick Minner." Frederick made an "X" between his first and last names as his mark. The original book containing this record (Book D, Volume 1) is on file today at the Berks County Historical Society in Reading, PA.
Tax records of 1780 show that Frederick's fortunes must have fallen after the war. That year, he only owned two horses and no cattle. But he apparently continued to operate his grist mill for many years afterward.

Example of an allegiance oath Frederick would have sworn. This example is from New Hampshire. Courtesy Lilly Library.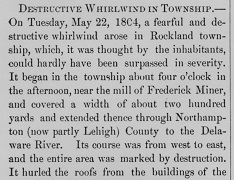 History of Berks County, 1886
The family's prosperity again was threatened by a freak storm which developed in the spring of 1804, when Frederick would have been in his 60s. The incident was published in the 1886 book History of Berks County, Pennsylvania, authored by Morton L. Montgomery:
On Tuesday, May 22, 1804, a fearful and destructive whirlwind arose in Rockland Township, which, it was thought by the inhabitants, could hardly have been surpassed in severity. It began in the township about four o'clock in the afternoon near the mill of Frederick Miner, and covered a width of about two hundred yards and extended thence through Northampton (now partly Lehigh) County to the Delaware River. Its course was from west to east, and the entire area was marked by destruction. It hurled roofs from (several) buildings of the following persons in the township: Peter Bauer, mills, saw-mill, barn and house; Paul Grosscup, barn; Henry Hoffman, barn and house; Daniel Fry, barn, stable and house. Many other buildings were injured. It uprooted nearly all the fruit and other trees, turned over fences, etc. At some places large hailstones fell, destroying much growing grain. It continued about ten minutes and was accompanied with severe rain, thunder and lightning.
The fate of Frederick's farm buildings in the storm is not known.
He died in 1816, leaving no will. Longtime family friend Jacob Egolff was named to administer the estate, settling debts and paying due taxes.
Because many of their children were baptized and took communion at the Mertz Bieber Church in Rockland Township, in all probability Frederick and Catherine, and perhaps other family members, are buried there, but no grave markers exist there today.
Frederick and Catherine are named in the book Nines by the Numbers, and also are mentioned in a newsletter of the Nein family, 9's in America, both published in 1993 by the late Jacqueline Nine.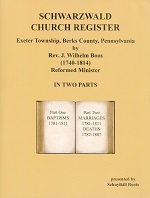 Book citing the Wertz marriage
~ Daughter Anna Maria (Meinder) Wertz ~
Daughter Anna Maria Meinder ( ? - ? ) was born in (?).
As a young woman, she dwelled in Ruscomb Manor Township, Berks County.
On Aug. 30, 1801, she was united in holy wedlock with Joh. Wertz ( ? - ? ). Officiating at their wedding ceremony was Rev. Johann "Wilhelm" Boos of the Schwartzwalt (Schwarzwald) Church in Exeter Township, Berks County. The pastor kept a record of the event which was published nearly two centuries later in 1997 in a book entitled Schwarzwald Church Register (Closson Press).
The couple and marriage information also were cited many years later in the 434-page book Wertz, Wirt, Wuertz, Etc. Families of Pennsylvania, 1400's-1990, published in 1990 by Heritage Books and authored by Carolyn Cell Choppin.
Nothing more about the couple is known.
Copyright © 2000, 2011-2013, 2015, 2019-2020 Eugene F. Podraza and Mark A. Miner
Sketch of Reading by Thomas Sinclair, Philadelphia, from History of the Counties of Berks and Lebanon, by I. Daniel Rupp, printed by G. Hills, Lancaster, PA., 1844.