Elizabeth (Minard) Shook
(1839-1936)

Elizabeth Shook
Elizabeth Jane (Minard) Shook was born on Nov. 19, 1839 in either Harrison County, OH or Goshen Township, Tuscarawas County, OH, the daughter of Solomon and Rachel (Little) Minard Sr.
As a young girl, Elizabeth moved with her parents and siblings to Knox County, OH. Sadly, Elizabeth's father died when she was about age 18. After that, she may have been under the care of an older brother, Thomas (who is mis-identified as her father in her death certificate).
On July 31, 1867, Elizabeth gave birth to a boy in Millville, OH, whom she named Edwin Minard. The identity of the child's father is not known. The baby was taken into the household of neighbors David and Mary Eva (Landis) Zimmerman, and they apparently raised him as their own. Later, he took the name "Zimmerman" for himself.
On Aug. 19, 1869, in Knox County, Elizabeth married Jonathan Shook (1838- ? ), an Ohio native. The ceremony was overseen by Rev. J.H. Hamilton, who also performed the weddings of Elizabeth's sisters Electa Walker and Margaret Smale.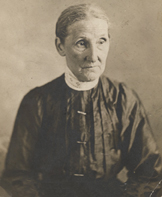 Elizabeth Shook
They had one daughter, Mary C. Easterday.
The federal census of 1870 shows that the Shooks were residing in Monroe Township, Knox County. Jonathan, age 28, worked as a farm laborer. The Zimmermans, living nearby, had two-year-old "Edwan Minard" in their household.
When the census was taken in 1880, the Shooks resided in Jefferson Township, Knox County, and Jonathan was listed as a laborer.
Little else is known about the Shooks' married years. Sadly, Jonathan's fate is unknown.
At some point, Elizabeth sent a photographic portrait of herself to her brother Albert Everett Minard, who was residing in Iowa. The back of the image is inscribed, "To Albert from sister Elisabeth." The photo today is in the collection of one of Albert's descendants.
There is some discrepancy about Elizabeth's year of birth. Researcher Sue Sohn has tracked her birth years as listed on federal censuses from 1850 to 1920, and has found that the years range from 1843 to 1845. However, on Elizabeth's death certificate, one of her heirs said she was born in about 1840.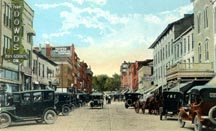 Mt. Vernon, Knox County, circa 1925
When the federal census was taken in 1880, she and Jonathan and daughter Mary were living in Jefferson Township, Knox County, where she gave her age as 36. On that census, presuming that she was the one who gave information to the census taker, she was unable to name the states where her parents were born.
In 1910, when she would have been about 66 (or 70), Elizabeth was residing with her daughter and son-in-law, Mary and David Easterday, in Knox County. Also in the household were the Easterdays' sons, Albert Easterday and Carliss Easterday.
Ten years later, in 1920, Elizabeth was living in the home of grandson Albert Easterday and his wife Laury in Clinton Township, Knox County. Also residing in the household were great-grandsons J.D. Easterday and Charles Easterday, as well as Elizabeth's 16-year-old niece, Rita Hogle.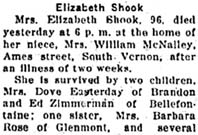 Mt. Vernon Republican News
Elizabeth spent her final years in the Knox County Almshouse, where she was residing in 1930 when the federal census was taken. She died at age 96 on Jan. 14, 1936 of a ruptured gall bladder. She is buried in Mound View Cemetery in Mt. Vernon, in the plot of graves owned by her sister and brother in law, Margaret and Samuel Smale. The informant for Elizabeth's death certificate was her niece, Mrs. William McNally of Mt. Vernon.
Elizabeth's obituary in the Mt. Vernon Republican News-Daily Banner said "She is survived by two children, Mrs. Dave Easterday of Brandon and Ed Zimmerman of Bellefontaine." The obituary also named Elizabeth's half-sister, Barbara Rose.
~ Son Ed Zimmerman ~
Son Ed Zimmerman (1868-1948) was born in 1868.
He married Nettie (?). They were farmers who resided near Salem, Columbiana County, OH.
They are thought to have had a son or grandson named Raymond Zimmerman.
Ed suffered for endocarditis for years. In the fall of 1948, just a few days before his 78th birthday, he came down with a terminal case of bronchial pneumonia, and passed away on Sept. 23, 1948. He was buried at Hope Cemetery near Salem.
Nettie's fate is unknown.
~ Daughter Mary Catherine (Shook) Easterday ~
Daughter Mary Catherine Shook (1871-1940) was born in 1871 in Stark County, OH.
She was joined in wedlock with David Elmer Easterday (1867-1940), the son of David and Susan (Brown) Easterday.
They were farmers and lived at Mt. Vernon.
David died of a blood clot in his spinal cord at the age of 72 on Jan. 12, 1940.
After being widowed, Mary Catherine continued to make her home in Mt. Vernon. Sadly, though, she died just two months later, of tuberculosis at the age of 68 on March 9, 1940, while apparently visiting her son Carlos in Columbus, Franklin County, OH. She was buried at the Baptist Cemetery near Tiverton or Brinkhaven, OH. Carlos Easterday was the informant on her death certificate.
~ More ~
Researcher Barb Valley also has investigated this branch.
Copyright © 2002-2005, 2020 Mark A. Miner