Margaret (Minard) Smale
(1849-1897)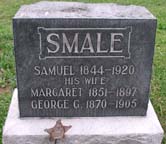 Mound View, Mt. Vernon
Margaret (Minard) Smale was born in 1849 or 1851 in Goshen Twp., Tuscarawas County, OH, the daughter of Solomon and Rebecca (Metzler) Minard Sr.
As a young girl, Margaret migrated with her parents and siblings to near Gambier, Knox County, OH, just three miles east of the county seat of Mt. Vernon. Later, they moved to near Jelloway, Knox County.
When she was age 19, on Nov. 26, 1868, she wedded Samuel C. Smale Jr. (1844-1920), a veteran of the Civil War and the son of Samuel S.S. and Sally Smale, who were immigrants from North Pethwerin, near Cornwall, England. Samuel S.S. was "well known" and ran shoe and boot making shop in Mt. Vernon for many years.
The ceremony was led by Rev. Joseph H. Hamilton of the Methodist Church, who also performed the weddings of Margaret's sisters Electa Walker and Elizabeth Shook. On her marriage license application, Margaret's maiden name was spelled "Minarde."
Samuel stood 5 feet, 7 inches tall, with a fair complexion, grey eyes and black hair. During the Civil War, on Feb. 28, 1864, 20-year-old Samuel joined the 96th Ohio Volunteer Infantry, and was assigned to Company A. He served as a private in the infantry. Among other campaigns, the regiment took part in capturing Confederate positions in Mobile, AL during the 1864 expedition of Admiral Farragut.
On about April 15, 1864, while on the Red River Campaign, and "during the march before and directly after the battle of Sabine Cross Roads, ... by reason of severe marching, insufficient food, impure water and exposure without shelter, he was attached by dysinteria or bloody flux, which finally ran into chronic diarrhea and piles," he said. Fellow soldier George S. Fuller recalled that they both were sick together and "were frequently at the sinks together ... and [Samuel] had great difficulty to get his bowel back to place after going to the sinks." He was "quite sick for about two weeks," recalled the regiment's surgeon, Dr. George W. Ramage," and he had to be hauled in the ambulance on the return trip to the Mississippi River. During the month of May his diseases assumed more the character of chronic diarrhea and continued thus through the summer." Samuel was treated at the regimental hospital in Baton Rouge, and then was released.
A few months after the war ended, he was transferred to the 77th OH Volunteer Infantry, Company D. He remained in the Army and at one point was stationed at White River, AR. He was discharged on March 8, 1866, at Brownsville, TX. Suffering also from lumbago of the back, Samuel then returned home. A friend who saw him soonafter his homecoming said he "was then very much emaciated, the skin of his face was sallow and wrinkled..."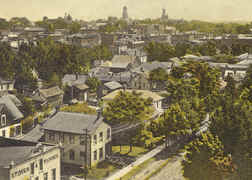 Bird's eye view of Mt. Vernon
The Smales had six children, born in the 20-year span between 1869 and 1889 -- George C. Smale, Mary Hagins Hutchins Hogle Schriver, James A. "Bert" Smale, Charles A. Smale, Clara Elizabeth McNally Kirtley and Samuel J. Smale.
They were farmers who resided near Mt. Vernon, Knox County.
In 1870, when the federal census was taken of Knox County, Samuel was working as a house painter. Living next door were Samuel's parents, Samuel (age 64) and Mary Smale (age 47). He also worked as a teamster. His labors as a house painter required lifting heavy ladders and "similar hard work," said friend Alden S. Bunn of Mt. Vernon. Because of the chronic diarrhea, recalled friend Joseph C. McKenzie, he "would have to leave his work and go to the privy several times a day, even when they were working on a scaffold high up on the side of a building."
After house painting proved too rigorous, Samuel worked for about five years driving a huckster wagon, buying butter and eggs from local farmers. He also ran a package express wagon for several years.
When the federal census was taken in 1880, the Smales were in Pleasant Township, Knox County.
During the postwar years, Samuel suffered increasingly from his illnesses, which kept him from working. He also suffered from heart trouble, preventing "any active movement."
He applied for and received a pension from the federal government as compensation. Testifying on his behalf were Leander S. Matticks, James Anderson, William A. Wilson, Charles Rose, Jacob Styers Joseph A. Harris, all of Mt. Vernon. Friend Hugh Lauderbaugh of Mt. Vernon, who was the cook of the 96th Ohio Infantry, wrote that Samuel "is an energetic, industrious man -- that there never was a lazy trait about him, and he tries to work whether able or not, but his diarrhea and piles keep him weak at all times, and his spin has become so sore and lame from the small of his back to the back of his head that he cannot stoop over and complains of pain in his back at all times so that he is unable to sleep nights, or work daytimes, and when any active exertion his heart flutters so that he is unfit for any exertion."
Samuel himself said he was "unable to eat fat meats or boiled meats, or green vegetables of any kind -- cannot drink coffee." Circa 1885, Samuel was employed in a local railroad's round house near Mt. Vernon, with his tasks "not so hard on him as teaming, -- but even now he has to lay off several days in each month by reason of said disabilities." Among his duties for his employers, including the Pennsylvania Railroad and the C.A. & C. Railroad) were washing boilers and using a bolt cutting machine. Son Samuel Jr. recalled going to meet his father when coming home from work, and also that Samuel's income provided "abundantly for the family, all of us having plenty to eat and wear."
Sadly, Margaret died an untimely death at the age of 46, in 1897. The cause of her death was cancer. Family friend Newton Beck was present at the deathbed. She was laid to rest in Mound View Cemetery in Mt. Vernon (Section 6, Row 8).
Samuel outlived Margaret by more than two decades. On New Year's Eve 1898, after only a year as a widower, he married again, to Elizabeth Howell ( ? - ? ). Rev. J.H. Hamilton performed the ceremony. They resided in Samuel's home, at 220 Coshocton Avenue in Mt. Vernon, which had been owned by Margaret before her death.
Elizabeth was divorced from her first husband, Smith Howell, and brought at least seven children to the marriage -- Leonard M. Howell, Smith Howell Jr., Emma Bathwell, Rosa Johns, Joseph Howell, John Howell and Daisy Howell.
A medical checkup in 1903, when he was 57, records that Samuel weighed 134 lbs., with bald-grey hair. All his teeth had been removed, and he wore no dentures.
They lived together for nine years. At first, recalled Elizabeth's grandson who boarded there, "they got along pretty well for awhile although he would take spells of pouting for four or five days at a time." She took odd jobs doing washing for others, to help pay expenses, allegedly including Margaret's funeral bills.
Occasionally, Elizabeth would show "a violent temper and at times would curse [Samuel] and also strike him," wrote an investigator. She once hurt him badly in the hip by striking him with a galvanized milk bucket, and also threatened to kill him. She in turn said he called her vile names, was physically abusive and ordered her to leave the house during their arguments.
Daughter Mary once recalled:
My step mother was of a very quarrelsome disposition, -- never (almost) in a good humor ... constantly finding fault. -- was very jealous of us children. Just before I was married, I had asked my father for money to buy a new pair of shoes, and one morning before he left for his work, he came to my room (I had not yet got up from Bed) and gave me $3.00 to buy my shoes, -- and for this she quarreled and abused my father, cursing and swearing at him, and abusing him in every way she could. One one occasion when I was staying home for a few days, when I was washing the dishes, my step mother who was still at the table was making complaint to my father about the matter of me having exchanged blankets on the bed of my brother, and when I undertook to explain to my father, she threw a plate at my head, when I threw up my arm and it struck me on the elbow, cutting my elbow, and I had to go to a doctor to have it treated. My arm was stiff for several weeks... She said she didn't mean to strike me on the arm -- that she intended to spoil my face.
According to Elizabeth, Samuel's children objected to her and her children and grandchildren residing in the Smale house. "They considered it their home and objected to my being there," Elizabeth wrote. "They quarreled among themselves and with their father and made things very disagreeable. Finally a married daughter, whose husband did not support her, came there with her children to live. She caused much trouble, finally she left; but always wanted to get back and they all wanted me out so she could come back which she did as soon as I left."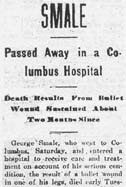 Son George's obituary, 1905
Adding to the family heartbreak, son George (1870-1905) met a tragic end. at the young age of 35. It's possible he was the same George Smale who married Lila Bosner in 1896 and had a son named Harry C. Smale. He was involved in a feud with Tony Manesia, an Italian immigrant employed at the C.A. & C. shop yards in Mt. Vernon. During a fight, Manesia shot George in self defense with a small-calibre revolver. The bullet hit George in the leg but "dropped out of the wound which appeared to be of little consequence," said the Mt. Vernon Republican News. "Later it was found that a blood vessel had been cut in two and Smale suffered considerable loss of blood. He declined rapidly the past two weeks, and was advised to go to Columbus for treatment." Two months after the incident, despite care from his stepmother, George died in a Columbus hospital, on Oct. 2, 1905. His remains were brought back to Mt. Vernon for burial. Manesia, who fled to Akron, was not expected to be charged since the shooting was in self defense, the newspaper predicted.
After the son's death, Samuel apparently turned his sorrow against his wife. They fought constantly, and he often would stay overnight at a daughter's home. They kept two cows, and sold milk, and fought over the fact that she sold his cow and kept the money for herself.
Elizabeth left home for about two months in 1904, but returned, though their problems did not end. On Sept. 14, 1907, the Smales separated for good. Loading up two wagon loads of furniture, including a new cook stove, all carpets, bedding and dishes, Elizabeth moved to a new home in Urbana, Champaign County, OH. Later, she filed to receive a portion of Samuel's Civil War pension.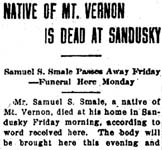 Samuel's obituary, 1920
The federal census of Knox County in 1910 shows Samuel residing in Mt. Vernon. In his household also were living his widowed daughter Mary Hogle and two granddaughters. As a condition of receiving his military pension, Samuel had to undergo annual medical examinations. Copies of these and the other pension papers are still on file in the National Archives in Washington, DC, with a copy in the Minerd-Minard-Miner-Minor Archives.
In April 1913, having battled over the division of their marital estate, Samuel and Elizabeth agreed on terms. She received his lot and house in Mt. Vernon, and dropped her claim for his pension in return for alimony.
Samuel eventually went to reside in the Soldiers' Home in Sandusky, Erie County, OH. It's not known how long he spent there.
He suffered from double lobar pneumonia, and passed away at the Soldiers Home at age 76 on Feb. 20, 1920. His death occurred "after three months' illness of a complication of diseases," said the Mt. Vernon Republican News. His remains were brought back to Mt. Vernon for the funeral at their old Coshocton Avenue home, where son Samuel was living. He was buried beside Margaret at Mound View.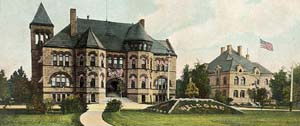 Soldiers Home in Sandusky, where Samuel died
~ Daughter Mary (Smale) Hogle Ayers Hutchens Schriver ~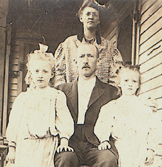 Mary and Edward Hogle
Daughter Mary Smale (1873-1953) was born on Nov. 28, 1873 in Mt. Vernon.
She was married four times. Her first husband was Edward S. Hogle (1878- 1909), with their wedding taking place on April 25, 1899.
They were the parents of twins born in 1903, Rena and Reta Hogle.
Circa 1904, Mary moved back into her father's home. Tragically, Edward died in 1909 from what was known as "black cancer, a very rare disease," said a local newspaper. He "had been living on a farm near Croton, Licking county until some weeks ago, when he was compelled to give up work on account of his health and returned to Mt. Vernon." He was laid to rest in Mound View Cemetery.

Mound View Cemetery
The Hogle twins at age 8 both came down with scarlet fever in the winter of 1911. Tragically, Rena died of the fever on March 17, 1911, at the age of 7, and was buried at Mound View Cemetery. Reta fortunately survived the illness, and as a 16-year-old in 1920 resided in the household of her cousin, Albert Easterday, in Gambier.
On July 1, 1911, after two years as a widow, Mary married 39-year-old laborer William Burtnett Ayers (1871- ? ), a resident of Mt. Vernon who was twice divorced previously. He was the son of Massom and Hannah (Howe) Ayers and had been born in Shreve, OH.
After divorcing Ayers, Mary wedded 33-year-old Ora Delbert Hutchens (1883- ? ), who was six years younger, on Jan. 13, 1917. He was the son of John M. and Jeruhsha U. (Rockwell) Hutchens. A native of New Carlisle, Clark County, OH, Ora was a laborer in Mt. Vernon at the time of marriage. On her marriage license application, she fibbed about her age and gave it as 39 instead of 44.
Finally, she married Ora Schriver (circa 1925), and they apparently moved to Columbus, Franklin County, OH.
Mary passed away of an "apoplectic attack" on Feb. 6, 1953 in the Marshall Rest Home in Columbus. Her grave marker in Mt. Vernon is inscribed with her first married name, "Hogle."
Daughter Reta Hogle (1903- ? ) was born in 1903. She married Carlous A. Freeland (1901-1986). In a strange twist of fate, Reta died at age 22 in Columbus on Aug. 16, 1925, of myocarditis. She was laid to rest beside her twin in the family plot at Mound View. Rena's grave is marked, but not Reta's.
~ Son James Smale ~
Son James Smale (1877- ? ) was born in 1877.
He lived in Hubbard Woods, IL in 1925.
By 1953, he was residing in Encinitas, CA.
His fate is not known.
~ Son Charles Arthur Smale ~
Son Charles Arthur Smale (1883- ? ) was born on Sept. 10, 1883 in Mount Vernon.
He left home prior to marriage, and may have been known as "Skinny." He resided "down the street" from the family.
On Nov. 2, 1914, at the age of 30, he and Ada Fowler (July 21, 1890-1918) were united in marriage. Rev. J.A. Lang officiated. She was the daughter of Richard and Mary (Trott) Fowler and a native of Walhonding, OH.
Charles worked as a barber on Main Street in Mt. Vernon for 50 years. Circa 1913, he worked in a shop owned by R.E. Hess on West High Street, as reported by the Mount Vernon Democratic Banner. He and his father served as president and vice president, respectively, of the Barbers' Union No. 69 in Mount Vernon.
They dwelled at 302½ West Curtis Street.
Heartbreak cascaded over the family in the first moth of 1918 when Ada contracted a deadly case of pulmonary tuberculosis. She succumbed on Feb. 12, 1918, at the age of 26. Her remains were placed into repose in Mound View Cemetery.
Charles lived for more than three decades and married again. He eventually went into a business partnership with a barber named McKay. His residence n 1950 was 909 West High Street
As he aged, Charles was burdened with an enlarged prostate. Then in mid-August 1950, he was stricken with a perforated duodenal ulcer which led to peritonitis. He was admitted to Memorial Hospital, but unable to rally, he succumbed on Aug. 14, 1950, at the age of 66. Interment was in Mound View Cemetery.
~ Daughter Clara Elizabeth (Smale) McNally Kirtley ~
Daughter Clara Elizabeth Smale (1887 - ? ) was born on May 6, 1887 in Mt. Vernon.
Just three days before Christmas 1906, at the age of 19, she wedded 26-year-old William L. McNally ( ? - ? ), a native of Fort Wayne, IN but a resident of Mt. Vernon at the time. He was the son of James and Mary (Dodrick) McNally. Rev. William E. Hull, rector of St. Paul's Church, officated.
William earned a living as a box maker in Mt. Vernon. When asked at the age of 19 about her occupation, she replied "None special."
Circa 1925, the McNallys resided in Mt. Vernon.
After William's death, Clara made a home in rural Newark, Licking County, OH.
On June 26, 1941, the 54-year-old Clara married 52-year-old farmer Harry Kirtley (May 25, 1889- ? ). He was a native of Negley, OH, the son of John and Maria (Little) Kirtley, and had been divorced from his first wife. Rev. Wayne L. Snider led the ceremony.
Their fates are unknown.
~ Son Samuel J. Smale ~
Son Samuel Smale (1889-1975) was born on March 12, 1889 in Mt. Vernon.
He "was a lifelong resident of Mount Vernon and was a barber here for 50 years," said the Republican News.
The identity of Samuel's first wife is not known.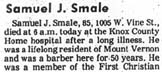 Obituary, 1975
The couple produced a daughter, Margaret Johnson.
At some point, they divorced.
On Nov. 23, 1933, when he was age 44, he wedded 39-year-old Pearl B. (Taylor) Siebenschuh (March 20, 1894- ? ), a native of Jackson County, OH and the daughter of Benjamin and Martha (Eby) Taylor. Rev. Hugh Wayt led the nuptials.
At the time, Pearl's address was 1005 West Vine Street in Mt. Vernon.
Pearl had been married twice before, and was the widow of George Siebenschuh. She thus brought three daughters to the marriage -- Adealia Hurlow, Betty Botkin and Flossie Pennybaker.
Samuel died at age 85 after a long illness the day after Christmas 1974.
Pearl outlived him by 15 years and passed away at age 96 in about 1989.
Daughter Margaret Smale was joined in wedlock with (?) Johnson. She resided in Minneapolis circa 1974.
For more information on the Hogle family, contact Barb Valley, a grand niece of Edward S. Hogle.
Copyright © 2002, 2005-2006, 2011, 2019 Mark A. Miner