Ida (Minard) Armstrong
(1868-1895)


Ida and John Armstrong
Ida J. (Minard) Armstrong was born on July 5 (or Aug. 5), 1868 in Brown Twp., Knox County, OH, the daughter of Clenon C. and Mary (Kunkle) Minard. She and her brother Samuel Byron Minard were twins.
On Aug. 27, 1891, Ida married John Armstrong (1869-1950). The Minard and Armstrong families were close, and John's brother Hugh married Ida's sister Samantha "Jennie" Minard.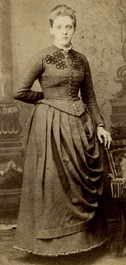 Ida Armstrong
They bore at least one daughter, Vada Armstrong.
A studio portrait of Ida is seen here, date unknown.
Sadly, just four years into the marriage, Ida passed away at the young age of 27. She died just three days after Christmas 1895.
She is buried in Bigelow Cemetery, Knox County. The cemetery is located on the east side of Nunda Road about four miles southeast of Jelloway.
John outlived his wife by many years. One of their nieces recalled that later in life, he would stop by for visits:
He never let us know and I would go to the door and there he was. He seemed to like our little boys and would spend much time talking to them about their grandfather and great-grandfather. It was always a joy to see him. When we were small we would spend a weekend each summer at their home and his daughter, Vada, cooked such good food. We could go over to the school across the street from where he lived in Butler and play on the playground. He had an 'out lot' where he kept a cow and we could help bring her over to the barn to be milked.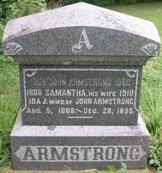 Bigelow Chapel Cemetery
After some time as a widower, John married again, to Samantha J. (?) (1868-1910).
Samantha surrendered to the spirit of death in 1910, of an unknown cause. She was laid to rest beside Ida, in the Armstrong plot where John later would join them in eternity.
John passed away on March 14, 1950, after more than half a century as a widower. He was buried with Ida at Bigelow Chapel Cemetery.
Their grave marker is seen here as photographed in August 2005.
~ Daughter Vada Armstrong ~
The fate of daughter Vada Armstrong ( ? - ? ) is unknown, but will be reported here when learned.
~ More ~
We are grateful to Ida and John's niece, longtime genealogist Mary Jane (Armstrong) Henney (granddaughter of Samantha 'Jennie' [Minard] Armstrong), for the information in this biography.
Copyright © 2002, 2005, 2020 Mark A. Miner