Samuel 'Byron' Minard
(1868-1896)


Byron and Cora Minard
Samuel "Byron" Minard was born on July 5 (or Aug. 5), 1868 in Brown Township, Knox County, OH, the son of Clenon and Mary Ann (Ruby) Minard. He and his sister Ida were twins.
On Jan. 25, 1893, in Richland County, OH, the 24-year-old Byron married Cora Kiner ( ? - ? ).
An article in the Butler (OH) Enterprise said that Byron "was converted when 14 years of age and joined the Methodist Protestant Church in which he lived a faithful member until the fall of 1889 when he came to Richland County and united with the Presbyterian Church in the year 1892." The article added that Byron "was a kind, loving husband and an earnest christian..."
Sadly, Byron became ill in early 1895. After 16 months of suffering, he passed away at age 27 on June 13, 1896, in Richland County, OH. He and Cora had only been married for a little over three years. The Butler Enterprise said he "was ever cheerful, patient and happy" in his illness.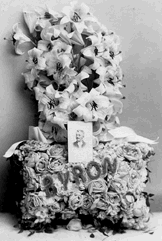 Byron's floral tribute
For Byron's funeral, Cora ordered the ornate flower arrangement, encircling his photo portrait. His name is spelled out in a diagonal row of flowers underneath his photo.
After more than seven years as a widow, on June 28, 1900, Cora married again, to John Jenner McBride ( ? - ? ) of Lexington, OH.
The fate of the McBrides is unknown.
We are grateful to cousin and longtime genealogist, the late Mary Jane (Armstrong) Henney (granddaughter of Samantha "Jennie" [Minard] Armstrong), for the information in this biography.
Copyright © 2002, 2009, 2020 Mark A. Miner