Clenon C. Minard
(1838-1912)
Clenon and Mary Ann Minard
Clenon C. Minard was born on July 22, 1838 near Scio, Harrison County, OH, the son of Solomon and Rachel (Little) Minard Sr.
As a young boy, Clenon and his parents and siblings moved to Goshen Township, Tuscarawas County, OH.
On July 9, 1860, in Knox County, at the age of 22, Clenon married 24-year-old widow Mary Ann (Kunkle) Ruby (1836-1899), the daughter of Samuel and Magdalena (Bulyer) Kunkle. The ceremony was performed by Rev. L.L. Larimore.
Mary Ann's first husband, John A. (or William) Ruby, had died three years earlier in 1857, and she brought two children to the marriage, Bertha Ruby and John "Alfred" Ruby.
Clenon and Mary Ann bore a brood of seven children of their own -- Francis D. "Frank" Minard, William E. Minard, Samantha Jane "Jennie" Armstrong, twins Ida J. Armstrong and Samuel Byron Minard, Elza Loran Minard and Arvilla Marshall.
During the Civil War, Clenon registered for the military draft, but was never selected for duty. The draft registration entry, dated June 1863, shows that he was age 25, his occupation was "Farmer," that he was married and born in Ohio, and that he resided in Brown Township, Knox County. The handwritten entry spells his name "Minard."
Sadly, son William died at age 21 months on Dec. 5, 1861. He is buried at the Cumberland Presbyterian "Mount Zion" Cemetery near Nunda. It is located on the east side of Swendal Road, and north side of Reed Road, about 3.5 miles west of Jelloway in Knox County. (Note -- a "Jacqueline Minard" -- age 3 years, and the daughter of "Rev. J.H. and S.E. Minard" -- is marked as being buried there as well. This will be investigated further since the relationship of Jacqueline and her parents to our Minards is not precisely known.)
The Mansfield (OH) News once said that Clenon was "identified with the Methodist Protestant Church in various capacities and his efforts have always been for the uplifting of his fellow men."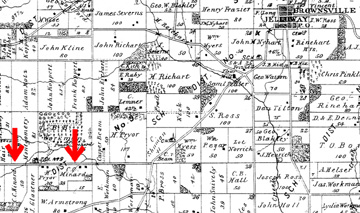 Red arrows point to Clenon's farms southwest of the towns of Jelloway and Brownsville (at upper right) in an 1871 atlas
The Minards resided on a 35-acre parcel of the farm once owned by Clenon's father near Jelloway in Brown Township, about 15 miles northeast of the county seat of Mt. Vernon. He also owned a nearby 50-acre farm. Both tracts are noted in Clenon's name in Caldwell & Starr's 1871 book, Atlas of Knox County, Ohio.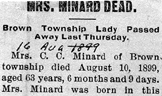 Loudonville Democrat
Sadly, Mary Ann suffered from tuberculosis. She died of its effects at age 63 on Aug. 10, 1899 in Knox County. She was buried at Bigelow Chapel Cemetery in Brown Township, Knox County. Her obituary was carried in the Loudonville (OH) Democrat.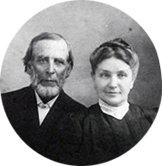 Clenon and Amanda
Clenon later married his widowed sister in law, Amanda (Freehafer) Kunkle (1847-1935), the daughter of Jonathan and Mary A. (Kramer) Freehafer. They were nine years apart in age, and likely had known each other for a long time, as Amanda had previously made her home in Jelloway.
They signed a prenuptial agreement, whereby she was to receive $500 cash if Clenon were to die first. A circular portrait of Clenon and Amanda is seen here. Was it their marriage photograph?
Amanda had been married before, to William Kunkle ( ? - ? ) in 1862, and brought three grown children to the marriage -- George "Emerson" Kunkle, John E. Kunkle and Alice Farst.
The Minards relocated to Butler, Richland County.
A May 1903 article in the Butler Times reported that "C.C. Minard's barn is about completed and they will then begin the erection of a house for their own occupancy. They say with the assurance of an eternal home for those who love and obey the Lord, 'Blessed be the Lord from whom all blessings flow'."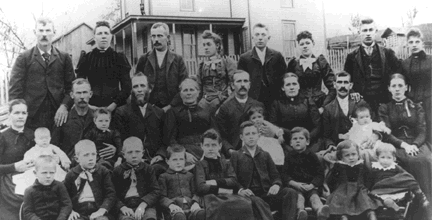 Clenon and Mary Ann in the middle row, third and fourth from left, at a family reunion sometime before the end of 1895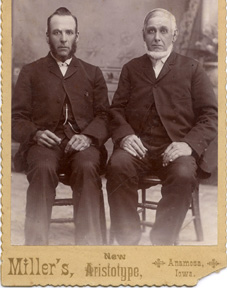 Clenon and brother Andrew
Despite the fact that his brothers lived in midwestern and western states, Clenon must have stayed in touch. In December 1910, he and Amanda traveled to Topeka, KS, where he was reunited with his brother Nathan and was hosted at a dinner by niece Emma Frances Dumars. Grand-niece Myrtle Cole -- daughter of Ida Bell (Minard) Cole -- also attended. Reported the Topeka Daily Capital, "Fifty years have past since the brothers ... have met."
Evidence from photographs shows that brother Nathan returned to Mt. Vernon later in life, where he posed for photographic portraits. It's also clear that Clenon visited his older brother Andrew at some time in Iowa, where they had their likeness made together at Miller's photography studio in Anamosa, IA. Demonstrating the closeness of the brothers, when Andrew wrote a will in 1901, he made a provision for Clenon to potentially inherit a portion of the estate.
Clenon suffered from bladder problems and wrote his own last will and testament on June 1, 1910, witnessed by George Cramer and Jonathan Kramer. He passed away from the illness on Sept. 1, 1912 in Knox County, at the age of 74. He was buried with his first wife, Mary Ann, at Bigelow Cemetery.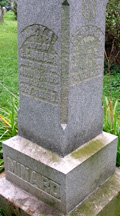 Bigelow Cemetery
Their tall, handsome grave marker is seen here, as photographed in August 2005.
Clenon's will named sons Elzie and Frank as executors. It directed that Clenon's widow Amanda retain "full use and control" of 5 3/4 acres of the land and buildings where they resided. She was to have "all the income from the same instead of the $500 which was named in an article of agreement entered into before the marriage." She also was to receive $700 cash, and in a codicil made just seven months before Clenon's death, another $400 in cash. As well, Amanda's daughter by the first marriage, Alice Farst, was to receive $200 after Amanda's eventual passing.
The will also bequeathed 35 acres of the home farm to his daughter Arvilla Marshall, with the provision that she not mortgage or sell it, but rather leave it to her children at her death. Son Frank Minard was to receive the remaining 50 acres of the home farm, and to make cash payments be made to the motherless children of Frank's deceased sister, Jennie Armstrong.
A sale of Clenon's estate was held. Among the assets sold were mare colts, a red heifer and spring calf, nearly 400 shocks of corn, as well as bushels of wheat and oats, and 3½ tons of hay.

News obituary, 1935
Amanda outlived her husband by 23 years. She died of uremic poisoning at age 88 on May 12, 1935, at the home of her daughter Alice. She was buried at Bunker Hill Cemetery. Her obituary said she "was a life-long resident of this vicinity and was a member of the Evangelical church."
~ Stepson Alfred Ruby ~
Clenon's stepson Alfred Ruby (1857-1924) was born in 1857 on a farm in Knox County.
He was a longtime farmer who resided near North Liberty, OH.
In about 1922, he retired due to failing health and moved to Butler, OH.
He was married and had six children -- Howard Ruby of Mansfield, OH; Perry Ruby of Keokuk, Iowa; Mrs. Elmer Hetler of Mansfield; Mrs. Floyd Frasher of Jelloway; Mrs. Lloyd Kline of Mt. Vernon; and Mrs. C. Cunningham of Butler.
Alfred passed away on Oct. 8, 1924 of "a lingering illness with a complication of diseases," said a local newspaper. He was laid to rest in Four Corners Cemetery.
~ More ~
Great-granddaughter Mary Jane (Armstrong) Henney performed a tremendous amount of research on this line. A retired teacher, she also was a longtime member of the board of directors of the Ohio Genealogical Society and Library in Mansfield, OH, and helped plant chapters in every county in the state. She graciously shared her Minard photos and research with the founder of this website during the summer of 2002.
Copyright © 2002, 2005, 2007, 2010, 2013 Mark A. Miner