Jason Chaledian 'Jay' Minard
(1853-1924)
Jason "Jay" Chaledian Minard was born in August 1853 in Knox County, OH, the son of Solomon and Rebecca (Metzler) Minard Sr.
Jason was four years of age when his father died. As a young man, Jason pushed westward to Iowa, following a migration path of some of his brothers and sisters. Siblings Andrew, Nathan, Solomon Jr., Electa Walker, James 'Forbes' and Barbara Ellen Rose all lived in Iowa or Missouri at one time or another.
By the year 1880, when he was 27, Jason was boarding on the farm of the Michael and Eliza Hayes family in Washington County, IA.
Circa 1885, at the age of 32, Jason was joined in wedlock with 36-year-old Ohio native Theresa (?) (1849-1935), and settled in Polk County, IA.
The following year, their daughter Norma Minard was born. They are believed to have had five more children, but all of their names are unknown.
In 1895, when the Nebraska State Census was taken, Jason, Theresa and Norma were living in Farmington, Van Buren County, IA.

Corner of Elm and Second Streets, Farmington, IA
The Minards later moved to Des Moines, Polk County, IA, where they were enumerated when the federal census was made in 1900. That year, Jay labored as a coal miner.
In 1910, they were in Valley Township, Polk County, and Jason was employed as a railroad laborer. He was a member of the Brotherhood of Railway Carmen of the United States, an early union that had been founded in Cedar Rapids, IA in October 1888, and today is part of the Transportation Communications Union. According to the TCU website, "In 1890, repairers made 10 or 15 cents an hour. There was no compensation for injury, and there were no pension, and no laws protecting worker rights. The work week was usually seven days, 12 hours a day. there was no overtime."
A decade later, as shown in the 1920 census, Jason worked as a "day carpenter" on the railroad. He and Theresa were living alone that year, in the Valley Junction community of Polk County.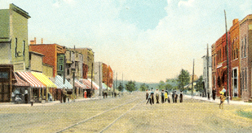 Valley Junction, MO
A rare old postcard photograph of Valley Junction is seen here, showing Fifth Street looking north from Maple Street.
Jason passed away at age 68 on May 3, 1924. He was laid to rest in Glendale Cemetery, presumably in Des Moines. Theresa is believed to have received a death benefit payment from the Railway Carmen of $250. The payment is recorded in the book, Railway Carmen's Journal (date unknown).
Theresa outlived her husband by 11 years. She died on June 28, 1935, and is also buried at Glendale.
~ Daughter Norma Minard ~
Daughter Norma Minard was born in July 1886 in Iowa.
Circa 1900, when she was age 13, she lived with her parents in Des Moines.
Nothing more is known.
~ More ~
We are grateful to researcher Sue Sohn for sharing her findings of this family.
Copyright © 2004-2006, 2009, 2012, 2015 Mark A. Miner