Home

Jason Chaledian 'Jay' Minard
(1853-1924)
Jason "Jay" Chaledian Minard was born in August 1853 in Knox County, OH, the son of Solomon and Rebecca (Metzler) Minard Sr.
Jason was four years of age when his father died. As a young man, Jason pushed westward to Iowa, following a migration path of some of his brothers and sisters. Siblings Andrew, Nathan, Solomon Jr., Electa Walker, James 'Forbes' and Barbara Ellen Rose all lived in Iowa or Missouri at one time or another.
By the year 1880, when he was 27, Jason was boarding on the farm of the Michael and Eliza Hayes family in Washington County, IA.
Circa 1885, at the age of 32, Jason was joined in wedlock with 36-year-old Ohio native Theresa Wiggins (1849-1935), and settled in Polk County, IA.
The following year, their only daughter Norma C. Hutchison was born. They are believed to have produced five more children, but all of their names are unknown.
In 1895, when the Nebraska State Census was taken, Jason, Theresa and Norma were living in Farmington, Van Buren County, IA.

Corner of Elm and Second Streets, Farmington, IA
The Minards later moved to Des Moines, Polk County, IA, where they were enumerated when the federal census was made in 1900. That year, Jay labored as a coal miner.
In 1910, they were in Valley Township, Polk County, and Jason was employed as a railroad laborer. He was a member of the Brotherhood of Railway Carmen of the United States, an early union that had been founded in Cedar Rapids, IA in October 1888, and today is part of the Transportation Communications Union. According to the TCU website, "In 1890, repairers made 10 or 15 cents an hour. There was no compensation for injury, and there were no pension, and no laws protecting worker rights. The work week was usually seven days, 12 hours a day. there was no overtime."
A decade later, as shown in the 1920 census, Jason worked as a "day carpenter" on the railroad. He and Theresa were living alone that year, in the Valley Junction community of Polk County.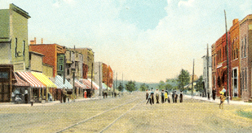 Valley Junction
A rare old postcard photograph of Valley Junction is seen here, showing Fifth Street looking north from Maple Street.
Jason passed away at age 68 on May 3, 1924. He was laid to rest in Glendale Cemetery, presumably in Des Moines. Theresa is believed to have received a death benefit payment from the Railway Carmen of $250. The payment is recorded in the book, Railway Carmen's Journal (date unknown).
Theresa outlived her husband by 11 years. She died on June 28, 1935, and is also buried at Glendale.
~ Daughter Norma Chloe (Minard) Hutchison ~
Daughter Norma Chloe Minard (1886-1971) was born in July 1886 in either Farmington, IA or Altoona, IA.
Circa 1900, when she was age 13, Norma lived with her parents in Des Moines. Then as a young woman she lived in Valley Junction, considered West Des Moines, IA
On July 19, 1904, when she was 20 years of age, she entered into marriage with John Lynn Hutchison ( ? - ? ), son of J.B. and Ellen (Carson) Hutchison and a native of Stanley, KS. The wedding was conducted in Des Moines by justice of the peace F.E. Duncan, with Belle Ellis and O.C. Riddle serving as witnesses. At the time, John L. was a machinist living in Valley Junction, IA.
Two sons known to have been borne into this union were Gerald L. Hutchison and Walter J. Hutchison.
The family dwelled in Kansas in 1905-1907 when the sons were born. By 1910, they moved to a farm in Webster, Polk County, IA. United States Census records for 1910 show John's unmarried sisters living under their roof, Luella Hutchison (age 37) and Beulah Hutchison (age 34).
Through the 1910s, the Hutchisons remained in Webster, with John employed as a machinist for the Des Moines Union Railway. He belonged to Local 479 of the Machinists Union.
The 1920 federal census enumeration shows that John's bachelor cousin, Roy M. Beck, was in the household. Their address in the early 1950s was 1238 22nd Street. In all, he worked for the DMUR for 23 years and retired in 1945.
John endured heart problems and was stricken in February 1952 and was admitted to the Nelson Nursing Home. At the age of 71, he surrendered to the angel of death on July 1, 1952. His photograph accompanied his obituary in the Des Moines Tribune. Burial was in Ridgedale Cemetery in Camp Dodge, Polk County. His obituary said that he had been a Des Moines resident for 48 years and previously dwelled for 21 years in Greensburg, KS.
Norma held a membership in the West Des Moines United Methodist Church. Her final residence was at 329 Fifth Street in West Des Moines.
Suffering from hardening of the arteries, she was admitted in the summer of 1971 to live in the Rest View Good Samaritan Center. She died eight weeks later, on Aug. 14, 1971. Burial was at Ridgedale Cemetery. She was pictured in an obituary in the Tribune and was survived by five grandchildren and two great-grandchildren.
Son Gerald Lynn Hutchison (1905-1973) was born on July 12, 1905 in Kansas or in Valley Junction, West Des Moines, IA. In his early 20s, he worked as a stock boy in Des Moines and had an address of 68 Douglas Street. He was twice-wed. On Dec. 17, 1926, when he was age of 23, he married 20-year-old Lovina Beltz ( ? - ? ), daughter of Welda and Rachel (Cain) Beltz. Their ceremony was conducted at Adel, IA, by Rev. R.E. Harvey of the Methodist Episcopal Church. At the age of 36, Gerald made a home in Valley Junction and worked as a serviceman. His second spouse was 22-year-old Hulda Darline Taylor (1919- ? ), of Des Moines, the daughter of James Edwin and Amelia Gertrude (Kemp) Taylor. They tied the knot on Aug. 31, 1940, by the hand of Rev. Edward Boone. A trio of sons produced in this marriage were John Hutchison, James Hutchison and Sam Hutchison. The couple relocated to San Diego, with Gerald moving first. When Hulda joined him in August 1941, a potluck supper in her honor was held at the home of their girilfriends, the Killam sisters. Their elder son was born in California in 1943. They appear to have returned to Des Moines, with Gerald working in 1950 as a motorman with the Des Moines Railway Company. He made news in the Des Moines Register in 1950 when charged with reckless driving of his streetcar after striking the rear of an automobile on Ingersoll Avenue between 18th and 19th Streets. They moved to Alexandria, MN and were there in 1952. By 1956, the pair returned to California and made their residence in Fullerton, CA, and stayed put. Hulda in 1965 is known to have helped host a 60th wedding anniversary dinner for her parents back home in Des Moines. Gerald is believed to have died in Fullerton on April 7, 1973. His remains were laid to rest in Loma Vista Memorial Park. A drawing of a mountain is etched into his grave marker. Hulda married a second time to (?) Icenhour ( ? - ? ).
Grandson John Lynn Hutchison (1943-2022) was born on March 6, 1943 in San Diego. He was the father of an only son, Timothy Hutchison. He learned the toolmaking and machinist trades and spent his career installing "high end custom machines" for large businesses in the field of automation. Said an obituary, "He traveled the world installing these machines for many years. He didn't always enjoy traveling especially being away from home, but he loved his job." He had a passion for helping others, among them hosting an annual Fourth of July party in the neighborhood, helping people secure housing and producing his own ice cream. He was given the affectionate nickname "Uncle Johnny." John died at the age of 78 in Cookeville, TN on Feb. 1, 2022. His obituary said his remains were cremated.

Great-grandson Timothy Hutchison wed Misty. Their children are Heather Hutchison, Selena Hutchison and Zachary Hutchison.

Grandson James Hutchison (1949- ? ) was born in about 1949 in Iowa. He was deceased by 2022.
Grandson Sam Hutchison ( ? - ? ) was joined in wedlock with Cathy.
Son Walter Jason Hutchison (1907-2004) was born on Feb. 10, 1907 in Kansas or Valley Junction, West Des Moines, IA. He was named in part for his grandfather Minard. Walter was a graduate of West High School. He was trained as an electrician and worked in the automotive field in his mid-30s, living at 3819 69th Street in Des Moines. His first wife's name is not yet known. On June 1, 1941, he was joined in wedlock with his second wife, Myrna Elaine Treimer ( ? - ? ), age 29, of 1251 13th Street, Des Moines. She was the daughter of Herman D. and Nina V. (Isenhart) Treimer, the father a president of the Iowa State Gideon Society and the mother a piano teacher. Performing the nuptials was C. Clifford Bacon, in the First Methodist Church, with Walter's brother Gerald and Elizabeth Swank as witnesses. Myrna was pictured in an engagement article in the Des Moines Register. Then in announcing the actual marriage, the Des Moines Tribune said the bride "wore a floor length white chiffon gown with inserts of lace, fashioned with a long train. Her fingertip length veil of white net edged with lace was held in place with a coronet of pearls and she carried a shower bouquet of white roses." Two offspring produced by this union were Marilyn Jean Herrick and Ray Hutchison. Myrna was an alumna of Roosevelt High School and Drake University, and at the time of marriage earned a living with Dean Studios. The Hutchisons put down roots in Des Moines and remained for good. Over the years, Walter was employed by Electrical Service and Sales Company (1941), Hawkeye Machinery Company and Mainline Equipment Company and then went to work as a warehouse manager for MacMillian Oil Company. In 1956, the family was mentioned in the gossip columns of the Register when moving from 5511 University Avenue to 5915 College Avenue. They belonged to the First United Methodist Church, with Walter a member of the Builders Sunday School class. In his free time he liked to dance, play cards, listen to Lawrence Welk music and spend winters in Arizona with Myrna. Death enveloped Walter at the age of 97 on Sept. 14, 2004. His obituary in the Register included his photograph. Services were held in the family church.
Granddaughter Marilyn Jean Hutchison ( ? - ? ) was born in (?). After high school, she attended Simpson College in Indianola, IA, and then was hired by Meredith Publishing Company. She married Paul Herrick ( ? - ? ). They established their dwelling-place in DeSoto, IA.
Grandson Ray Hutchison wed Christy. Circa 2004, they were in Muscatine, IA.
Copyright © 2004-2006, 2009, 2012, 2015, 2023 Mark A. Miner