He was a pioneer settler of western Ohio, Illinois and Iowa.
On Aug. 31, 1848, in Tuscarawas County, OH, the 21-year-old Andrew married 24-year-old Mary Ann Rummel (1824-1894). The bride was three years older than her groom.
They are known to have produced at least two children -- Jennie Ann Johnson and an unidentified son, and perhaps others.
The federal census of 1850 shows the Minards residing in Goshen Township, Tuscarawas County, with Andrew employed as a carpenter, a skill he apparently had learned from his father. At that time, they had no children. The census-taker spelled their name as "Miner."
The Minards were close with their relatives of the Rummel, Smith and Little families. Mary Ann's sister and brother-in-law, Sarah (Rummel) and John Wesley Smith. (Andrew Minard and John W. Smith also were cousins -- their mothers, who were Littles, were sisters.)
The Minards then migrated further west, embarking for Illinois and settling in Atkinson, Henry County, along with the Smiths, who had arrived in 1855. They were there in 1856, along with Mary Ann's relatives George and John Rummel, as mentioned in the book, The History of Atkinson Township and Village of Atkinson, printed in 1885. While in Atkinson, their daughter Jennie was born in 1859.

By 1860, when the federal census again was enumerated, the Minards and John Smiths were next-door neighbors in Atkinson. Andrew's wealth at the time was estimated at $2,500, as compared to his brother in law's $300. Men named McKee and Reynolds boarded in the household.
Andrew decided to push westward again to Iowa, locating their home near Clarence, Dayton Township, Jones County.
At some point, Andrew's younger brother Clenon came for a visit from Ohio, and the two brothers had their photograph taken together at Miller's studio in Anamosa. The photograph portrait exists today, and is seen on this page. In the view Andrew sits at right, and Clenon at left. It's one of the few hard artifacts of Andrew's life found to date.
By the census of 1870, the Minards had moved again within Iowa, to near Stanwood, Fremont Township, Cedar County. Among their neighbors was Andrew's brother, Civil War veteran Nathan W. Minard, and 32-year-old Josiah Rummel and his wife Isabell.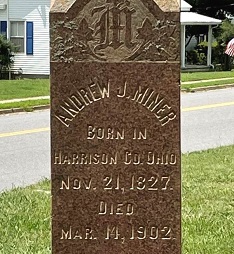 Ash Camp Memorial Cemetery
Courtesy Dorothy McKay Locke
When the federal census was taken in 1880, the family continued to make its home in Clarence. The census-taker recorded Andrew as a "retired farmer" despite the fact that he was only age 53. Mary Ann, age 59, was listed as "keeping house," and 21-year-old daughter Jennie had no occupation.

Sadly, Mary Ann passed away at age 70 on Jan. 18, 1894. She was buried at Olin Cemetery in Rome Township, Jones County. Her grave does not appear to be marked, but this needs to be confirmed.
The widowed Andrew did not wait to wed a second time. Circa 1894, he entered into marriage with Mary Louisa (April 15, 1852-1917), a Virginia native. How they met cannot yet be imagined. The pair established a home in south-central Virginia, settling in the small town of Keysville, Charlotte County.

The federal census enumeration of 1900 shows the couple in Keysville, having been married for six years, with Andrew marked as "retired."
With his health failing, Andrew penned his last will and testament on Oct. 10, 1901. He bequeathed everything to his wife, with instructions that upon her death, nephew Asa Minard -- son of Solomon Minard Jr. -- was to inherite his assets and property. He reserved $500 in cash to be paid to his daughter Jennie Johnson, and in the event she was not living, it was to be subdivided among his brothers Clenon and Nathan. They in turn were to pay on-third of the amount to their nephew Asa.

The Richmond (VA) Dispatch reported in a section datelined "Keysville" in mid-March 1902 that "Mr. Andrew Miner, who has been ill for some time, was removed to Richmond, a few days ago, where he is now under treatment."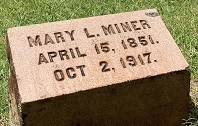 Ash Camp Memorial Cemetery
Courtesy Dorothy McKay Locke

Andrew succumbed to the spectre of death on March 14, 1902. Interment was in in Ash Camp Memorial Cemetery in Keysville. Inscribed on the grave marker are these words: "Born in Harrison Co., Ohio Nov. 21, 1827... He lived as he died, a patient modest Christian."

Mary Louise outlived her husband by 15 years.

Death swept her away at age 66 on Oct. 2, 1917.


~ Daughter Jennie Ann (Miner) Johnson ~

Daughter Jennie Ann Miner (1858-1934) was born on July 29, 1858 in Atkinson, IL.

She made her home with her parents as they migrated to Iowa.

Jennie was living at age 21 with her parents in Cedar County, IA in 1880, when the U.S. Census was made. The following year, she dwelled in Olin, Jones County.

On or about May 31, 1881, when she was 23 years of age, Jennie was joined in holy matrimony with 23-year-old farmer Clark M. Johnson (Sept. 1858- ? ), son of S.M. and Mary P. (Ensign) Johnson, also of Jones County. R.D. McCormick officiated at their wedding.

The Johnsons bore two children, whose identities are not yet known. Both offspring were deceased by 1900 and possibly earlier.

The federal census enumeration of 1900 shows the couple residing in Rome, Jones County. That year, Clark earned a living as a common laborer. The couple held a membership in the local Methodist church, with Jennie a charter member of the Order of Eastern Star, Olin Chapter.

Then in 1906, Jennie and Clark relocated to a farm in Lebanon, LaClede County, MO. The census-taker recorded that Jennie's 57-year-old unmarried cousin Jerome Rummel, lived under their roof.

Jennie was named in her father's last will and testament dated 1901, and was to have received $500 cash from the estate.

After a six-year stay in Lebanon, circa 1912, the Johnsons pulled up stakes again and migrated into Arkansas. The pair made a home in Siloam Springs, Hico Township, Benton County. Jennie joined the local Rebekah lodge.

Their residence in 1920 was on East Street, and Jennie's 68-year-old cousin Jerome remained in the household. In that year, Clark earned a living as a lumberyard laborer and cousin Jerome as a gardener/laborer.

The Johnsons must have felt settled, as they remained for good in Siloam Springs. He earned income that year as a common laborer performing odd jobs.

Sadly, Jennie was stricken with a cerebral hemorrhage on or about April 1, 1934. She lingered for about a month-and-a-half and passed away in Siloam Springs on May 13, 1934. Her remains were transported back to Iowa for funeral services in the home of Fred Lawson, officiated by Rev. Earl Hidgkin, and to rest for all time in Olin Cemetery. On her death certificate, signed by her husband, Jennie's father and mother were named as "Andrew Miner" and "Mary Ann Rummel," both natives of Ohio. An obituary was published in the Cedar Rapids Gazette.

Clark's final home and details of his fate are not yet known.

~ Correction of Errors ~

At one time, we believed that other family members buried in Olin Cemetery were related. These names include W. Miner (1880), Ulysses Minard (died at age 4 months in 1868); William Edward Miner (1930); and Harold W. Miner, a soldier in World War I who was killed just before his 22nd birthday, at the horrific battle of the Argonne Forest in France. However, new research shows that this family of Minard/Miner was of Canadian origin.

Copyright © 2002, 2005, 2009-2010, 2012, 2019, 2022 Mark A. Miner
Minerd.com extends gratitude to Dorothy McKay Locke for going out of her way to furnish the grave marker photos for Andrew and Mary Louise.