John 'Perry' Miner
(1862-1954)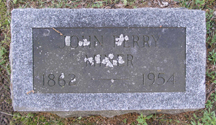 Mountain Home Cemetery, Otsego
John "Perry" Miner was born on Aug. 9, 1862 in Van Wert County, OH, the son of Uriah and Matilda (Bodle) Minerd. A farmer, he was married at least four times.
When he was a boy of age two, in about 1864, Perry migrated to Michigan with his parents and older siblings, settling in Carson City, Montcalm County, MI.
After Perry and his brother Weston heard some preaching by a local exhorter of the Seventh-day Adventist Church, they began attending services regularly, which led to their parents and sister become curious and then accept the teachings of the church. The conversion story was told many years later, in 1935, in a series of memoirs by the sister of their brother in law Benjamin Franklin "Frank Ayars, in the church newspaper, The Advent Review and Sabbath Herald, and is related in detail in Weston's biography.
Perry resided in Battle Creek, MI circa 1898 and was employed that year as a baker. By 1908, he had abandoned that work and labored as a farmer in Otsego Township, Allegan County, MI.
His first wife was Elizabeth "Bessie" McAllister ( ? - ? ), the daughter of Irish immigrant William McAllister.
They had one known son, Alonzo Miner, who died at the age of seven days on Nov. 25, 1891, in Fairgrove, Tuscola County, MI.
Bessie's health was poor, and she died young just a few years after marriage.
In his grieving, Perry was comforted by his wife's sister Sarah E. McAllister (1869- ? ). They became emotionally attached, and were wed on June 25, 1898 in Montery, Allegan County, MI.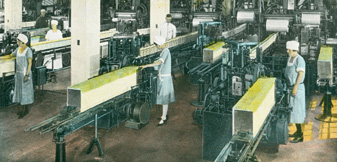 Kellogg Company's food packing operation, Battle Creek
The federal census of 1900 shows Perry and Sarah making their residence on Kendall Street North in Battle Creek. His occupation was listed as "packer (food factory)" -- perhaps of the famed Kellogg Company. Also in the residence that year was Perry's divorce brother Weston (a dentist) and Sarah's widowed father William McAllister. Remarkably, the census taker made a point of spelling Perry's name as "Miner" and Weston's as "Minerd" in their side by side entry on the very same record. But the marriage ended by 1908, either due to death or divorce.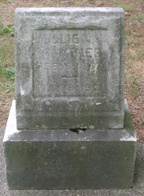 Millie's grave, Otsego
Perry married his third wife, Millie Mae Shepard (1867-1921), on Feb. 6, 1908 in Otsego Township, a ceremony witnessed by his niece Edna Ayars. Millie brought a four year old daughter, Mildred Shepard, to the marriage. Perry then adopted Mildred as his own child, and future censuses give her surname as "Miner."
The 1910 census lists Perry, Millie and Mildred living in Otsego Township, Allegan County, where he labored as a farmer. Boarding in their house that year was 31-year-old fruit farmer Charles Shepard.
In 1916, when John W. Dasef's History of Montcalm County, Michigan was published, Perry, his first two wives and daughter Mildred were mentioned in a chapter in volume II about his father Uriah. Author Dasef identified Mildred as Sarah's daughter, but this is thought to be in error.
A decade later, in 1920, the census enumerated the Miners in Otsego Township, continuing their labors as farmers.
Sadly, Millie passed away on May 19, 1921, at the age of 54. She rests for eternity beside her Shepard kin in Section A, Lot 247 of Mountain Home Cemetery in Otsego. Her badly faded grave marker was photographed by the founder of this website in June 2010.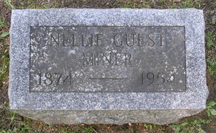 Nellie's grave, Mountain Home Cemetery
On Sept. 21, 1922, when he was age 58, Perry was joined in holy matrimony with his fourth wife, 47-year-old Nellie (Wood) Guest (1875-1954), a Michigan native. The ceremony took place at Otsego. About 11 years separated them in age. Nellie had been married at least once before, having been wed the first time at age 17. It is not known whether or not she brought adult children to her marriage with Perry.
The Miners made their home on Maple Street in Berrien Township, Berrien County, MI, where Perry was a fruit farmer. They are shown in Berrien on the 1930 federal census.
Perry was married to Nellie for the longest timespan of his four wives -- 32 years.
Both Perry and Millie died in 1954 -- he at age 91, and she at age 80. The causes of their respective deaths are unknown, but are being researched. They rest side by side in the Mountain Home Cemetery in Otsego, and their grave markers are blackened with age. Their place of repose is in Section K, Lot 265, not far from the graves of Perry's sister and brother in law, Sarah Caroline (Miner) and Benjamin Franklin Ayars.
Copyright © 2008-2010, 2019 Mark A. Miner