Sarah Caroline (Minerd) Ayars
(1856-1950)


Caroline and Frank Ayars
Sarah Caroline Minerd was born in 1856 in Van Wert County, OH, the daughter of Uriah and Matilda (Bodle) Minerd.
When she was age 10, in about 1866, Sarah migrated with her parents to Carson City, Montcalm County, MI.
In the 1870s, when Sarah was in her teens and away visiting, her younger brothers Weston and Perry began attending services of the Seventh-day Adventist Church. They in turn drew in their parents to become interested, and later they converted to the Christian denomination, finding the observance of Saturday as the truth Sabbath, and the focus on the imminent Second Coming of Jesus Christ, appealing. After Sarah returned home, recalled her sister in law Jennie Ayars-Kellogg, "when she learned about the true Sabbath, she accepted it. She later married my brother, Frank Ayars. They had three children, all of whom are connected with this denomination as workers, one of them being a missionary in South America." The Lake Union Herald reported that Sarah "accepted the Seventh-day Sabbath through the efforts of Elder Brackett and A.O. Burrell."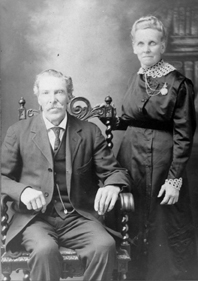 Frank and Caroline Ayars
Sister in law Jennie Ayars-Kellogg published her recollections many decades later in the official church newspaper, The Advent Review and Sabbath Herald. In telling the Miners' conversion story, she also wrote the following:
There is a sequel to this story which I always like. Years later, Ezra Brackett, then an old man, was speaking in a testimony meeting. He was lamenting the fact that to his knowledge he had never been the means of bringing a single soul into the truth. What was his surprise and delight, then, to have Orville Ayars, the son of my brother Frank, get up and tell how his mother, his two uncles, and his grandfather and grandmother had all been converted as a result of the seed sown by Mr. Brackett in the meetings he had had so many years before in a country schoolhouse.
At the age of 22, on Feb. 9, 1878, Sarah married 29-year-old Benjamin Franklin "Frank" Ayars (1849-1917), the son of Hazael Manning and Cornelia (Stanbrough) Ayars. The wedding took place in Ithaca County, MI. The couple is seen at right, in later years.
Sarah and Frank went on to have three children -- Orville Lavant Ayars, Ernest Uriah Ayars and Edna Josephine Ayars.
~ Frank's Deep and Strong Adventist Roots ~
Frank was born on March 13, 1849 in or near Clarence, Erie County, NY, to parents who were ardent Seventh-day Adventist followers and exhorters. The Ayars' ancestors had fled England in 1650 due to persecution because of their religious beliefs. A remarkable history of the Ayars' connection to the early Adventist movement in the United States was published in a series of articles in 1935 in the church's official newspaper, The Advent Review and Sabbath Herald.
Thus Frank was considered to have been "born in the third angel's message" -- a reference to the Bible's Book of Revelation (14:6-12), which warns followers to be prepared for the Second Coming of Jesus Christ. The father sold the family's farm in New York in about 1852 and moved to his old home area of Shiloh, NJ, to undertake a new career of preaching to his extended family as a "self-supporting missionary."
At the time the family moved to New Jersey, Frank was about three years of age. Recalling this momentous event, his sister Jennie Ayars-Kellogg wrote the following:
On our first night out, we visited grandfather in Springville, New York. He suggested that we go to a hotel when we were not near friends or relatives. So the next night we stopped at a hotel. I was old enough to know how to act, but when we went to supper, my little brother, Frank, who had never been in a public dining room before, was so excited he would not eat anything. He just sat and watched the waiters with great big wondering eyes. After that, father said, "We will not go to a hotel again. We will stay at farmhouses instead." And during the rest of the journey, wherever we stopped, we always found a nice farmhouse where the people seemed glad to have us spend the night.
Frank's sister also related a humorous story that captured the family's steadfast discipline of faith:
We were taught to observe the Sabbath very carefully. I remember well when my brother George was born, the nurse came and told Frank that he had a new baby brother, and wanted to know if we should keep him. Frank look at her seriously for a moment, and then asked, "Is he a Sabbathkeeper?" "Yes," replied the nurse, "he has been ever since I knew him." And so Frank said, "All right, we will keep him."
When Frank was age eight, in about 1857, the family returned to New York. Then in 1864, when he was 15, the family moved from New Jersey to Michigan, settling in Gratiot County. At first, they stayed with an aunt, until the father found a home they could rent for the winter, and then explore properties available to buy.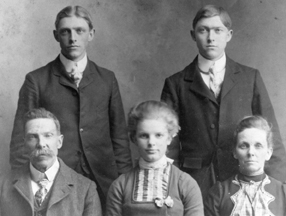 Frank and Sarah, front row, with their children Edna and back row, left to right: Ernest and Orville
~ Married Life and Raising a Family ~
Sarah provided a lifetime of active support for the Otsego church of the Adventists, a tradition that has continued down through many generations, with some of her offspring today serving as ordained clergy in the church. They were longtime subscribers of the Advent Review and Sabbath Herald church newspaper.
Over the years, Sarah and Frank donated funds for "missionary Acres -- an Adventist effort targeting farmers and intended to raise money by planting crops or raising livestock and then donating proceeds to a medical mission fund. They pledged $6.00 in mid-1902, and then that fall pledged one acre of oats, while daughter Edna pledge one "missionary hen."
When the federal census was taken in 1900, Frank, Sarah and 11-year-old daughter Edna resided on a farm in Allendale Township, Ottawa County, MI.

Otsego's unpaved Allegan Street, looking west, early 1900s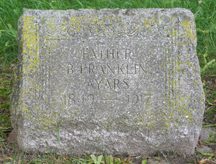 Frank's grave, Mountain Home Cemetery
In November 1906, the Ayarses relocated to Otsego, MI. They moved again by 1910, when the U.S. census shows the Ayarses living on a farm in Gun Plain Township, Allegan County, MI. Living under their roof that year were son Ernest (age 29) and daughter Edna (21) as well as two boarders and a hired man.
Frank died at the age of 68 on Feb. 1, 1917. He was laid to rest in the Mountain Home Cemetery in Otsego. An obituary was published two months later, on April 5, 1917, in the Advent Review and Sabbath Herald, penned by S.B. Horton. His grave marker, which is fading today, gives his name as "B. Franklin Ayars."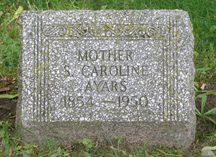 Caroline's grave
Sarah outlived her husband by 33 years. When the censuses of 1920 and 1930 were made, she made her residence with her aged parents (1920, age 65) and widowed mother and brother James Weston Miner (1930, age 75) on Maple Street in Montcalm County, MI.
She passed away on Feb. 1, 1950, at the age of 96, at Edmore Hospital. She was buried beside her husband at the Mountain Home Cemetery, rejoined in eternity after more than three decades of separation. Their graves are located in Section I, Lot 610, not far from where Sarah's brother John Perry Miner reposes in death.
The Union Herald reported in Sarah's obituary that son Orville lived in Kalamazoo, MI; son Ernest resided in Washington, DC after spending two decades in South America; and daughter Edna DeVries lived in Cedar Lake, MI.
~ Son Ernest Uriah "E.U." Ayars ~

E.U. Ayars
Son Ernest Uriah Ayars (1880-1957) was born on Nov. 1, 1880 in Gratiot County, MI, the son of Benjamin Franklin and Sarah Caroline (Miner) Ayars.
He devoted his life to a career as a Seventh-Day Adventist Church missionary and educator. He received a degree from Emmanuel Missionary College -- the first higher education institution begun by the church -- located in Berrien Springs, MI. He served there on the industrial faculty during the 1915-1916 school year, teaching on woodwork and carpentry. (Today the school is known as Andrews University.) He graduated from the college Normal School in 1917 and the Literary School in 1919.
Said the Adventist church's official newspaper, The Advent , he "entered denominational work in 1916, serving as principal of the Fox River Academy. In South America he was principal in the Chillán, Chile Academy, Lima, Peru and River Plate College in Argentina. Upon returning from the mission field he worked at the Review and Herald until ill health forced his retirement."
Ernest married Irene Harriet Campbell ( ? - ? ), the daughter of James Campbell, an active church worker whose influence was in South America.
The Ayarses had three children -- Karen Louise Emmerson of Montevido, Uruguay; Mildred Ayars of Mt. Vernon, Knox County, OH; and Ernest "James" Ayars of Grand Rapids, MI.
The Adventists began sending missionaries to South America, including Chile, in about 1895. By the 1920s, the territory was ripe for Ernest's calling and talents. Most of what we know about this period of their lives is from back issues of the Review and Herald newspaper.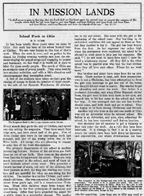 E.U.'s article in the
Review and Herald, 1924
The Dec. 8, 1921 edition of the Review and Herald reported that Ernest and Irene had left the Fox River Academy, "answering the call to Chile, South America, sailed from New York December 2. Brother Ayars will take the principalship of the Chile school." In 1924, the Adventists' training school "is having the best year of its history," said the Review and Herald. "Brother E.U. Ayars ... writes that they have a very fine class of students. This school is new and needs means for completing some very necessary buildings. They have a fine irrigated farm and a good herd of Holstein cows. This school will serve the Chile Conference and the North Chile Mission." Later that year, said the newspaper, "Prof E.U. Ayars and his staff of teachers are doing all they can to train the young people who come to them, for service in that field."
Ernest authored a lengthy article in "In Mission Lands" section of the Oct. 30, 1924 edition of the Review and Herald,entitled "School Work in Chile." Two photographs illustrating the article showed the magazine band and the bungalow, built by students, where the Ayarses lived. Ernest wrote of building a chapel, distributing the Spanish edition of The Watchman ("El Atalaya"), and teaching primary school for children, many of whom were not of the Adventist beliefs. Circa 1925, he was involved with building Colegio Adventista de Chillan, now a university.
Ernest and Irene and their family received occasional furloughs, usually during the rainy season in March, so they could return home for rest and relaxation.
By 1930, they had stepped away from the work in Chile, and focused their efforts elsewhere in South America. The Review and Herald said that they had "accepted a call to return to that field" with Ernest appointed to serve as principal of a training school in Lima, Peru. "They sailed from New York on the S.S. 'Santa Elise'." Ernest was replaced in Chile by John M. Howell, and later by George B. Taylor.
In a letter published in the Review and Herald in August 1932, Ernest wrote:
The prospect of the work with us here is bright. The message goes faster than we can keep pace with it. We have a strong ministerial band in the school, and the boys go out to hold meetings with small groups in near-by places. Two of our student colporteurs began visiting a small group of six interested persons about a month ago. They hold Sabbath school and an after service with them on Sabbath. Now they have eighteen in attendance, and they have moved into larger quarters. We are planning to hold meetings in other places. Our colporteurs out in the field send in reports of interests springing up where our literature has been sold in the past. Thus the work goes on apace.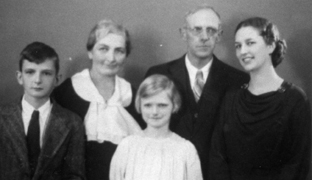 Irene and Ernest Ayars, back row, with their family in Argentina on the eve of World War II. Front, l-r: Ernest James, Mildred and Dorothy Caroline.
Ernest was transferred from Peru to the Rio Plata Junior College in Argentina, reporting there in September 1935 following a furlough home. Circa 1941, at the time World War II broke out, they were working in Cochabama, Bolivia.
The Ayarses retired from their decades of missionary life in about 1951. Ernest worked at the Review and Herald offices throughout the 1950s, until poor health forced him to step away.
Ernest died at the age of 77 in Mt. Vernon, Knox County, OH on June 26, 1957. Their daughter Mildred made her home in Mt. Vernon at the time.
Irene outlived her husband by two decades. Toward the end of her life she made her residence in Takoma Park, a center of Adventist church activity in Maryland. She passed away on Sept. 7, 1977, survived by six grandchildren and 13 great-grandchildren. In her obituary, the Review and Herald said that "With her husband, Ernest, the first president of Chile College, she served as a missionary in South America for 20 years, as director of teacher training in the five major colleges in the Spanish-speaking countries of the South American Division."
Daughter Dorothy Caroline Ayars married K.H. Emmerson, treasurer of the General Conference of the Adventist Church. They spent almost two decades of service in the church's Inter-American and South American divisions. Their daughter Anita was pictured and featured with her husband Robert S. Folkenberg and young son in the Review and Herald edition of Feb. 23, 1967. The accompanying article reported that Robert was ordained on Christmas Eve 1966, and that he and Anita "are looking forward to many years of missionary service in Latin America. As this young couple and their infant son take up their responsibilities in the Panama Conference so strongly laid by those who have gone before, the church of God joins in wishing them much of His blessing, and many souls for their labors."
Son Ernest "James" Ayars (1925-2006) was bornin 1925. He married Carleen Louise Siems (1926- ? ), the daughter of John Klaas and Lilah Marie (Slocum) Siems. The wedding took place in New Orleans, Jefferson Parish, LA on Jan. 20, 1945. They had three children -- Rev. James Arthur Ayars, Karen Foll and Kenneth Allen Ayars. They lived in Grand Rapids, and later moved to Avon Park, FL. James died in Avon Park at the age of 81 on June 27, 2006. He was survived by eight grandchildren and 11 great-grandchildren.
Grandson Rev. James Arthur Ayars received his college degree at Andrews University. He served at the Detroit Metropolitan Adventist Church in the early 1970s, followed by a term of several years as a Bible teacher at Shenandoah Valley Academy in New Market, VA. Today he serves as pastor of Ventura (CA) Seventh-day Adventist Church. His wife Jean (Shoemaker) Ayars is an expert quilt-maker, and in 2005 photographs featuring many of her creations were added to Minerd.com's Online Quilt Museum. (

Click

to start your tour.) Be sure to visit Rev. Ayars' genealogy website,

Ayars.com

.

Orville Ayars
~ Son Orville Lavant Ayars ~
Son Orville Lavant Ayars (1879-1964) was born on Feb. 21, 1887 in Gratiot County, MI.
He married Iva (?) in Nashville, TN on Oct. 10, 1906. They had three children -- Harold Minerd Ayars, Myrtle Josephine Ayars and Howard Norman Ayars.
Said the Review and Herald, Orville "was born into an Adventist family and was a faithful member and church worker all his life. He worked at the Review and Herald in Battle Creek for a number of years."
Emmanuel Missionary College
Orville taught general farming and fruit growing as a member of the industrial faculty of Emmanuel Missionary College. The college's administration building (a newer version) is seen here.
Said the Review and Herald, "He helped to move the college from Battle Creek to Berrien Springs [in 1901], where he was farm manager from 1912 to 1916. On leaving E.M.C., he moved to a farm near Kalamazoo. He was a member of the Paw Paw Church until he moved to Taft, Fla., in 1950."
Orville died in mid-August 1964 in Battle Creek, with burial in Oshtemo Cemetery. At the time of his passing, he was survived by eight grandchildren and three great- grandchildren. A brief obituary in the Review and Herald simply provided a few vital statistics and said that Iva survived him.
~ Daughter Edna Josephine Ayars-Devries ~

xxx
Daughter Edna Josephine Ayars (1888-1979) was born on Oct. 29, 1888.
She married James Edward Devries (1892-1972).
They bore eight children, as follow: Zelma Orlaine Devries, Dolores Irene Devries, Henrietta Caroline Devries, Mary Leona Devries, Fred Miner Devries, Iva May Devries, Walter Leonard Devries and one who may have died in childhood.
Said the Review and Herald, James "attended Cedar Lake Academy and helped his father build Cedar Lake's administration building and the boys' dormitory. He was a literature evangelist in north Florida. He assisted in the building of churches and church schools in Michigan, Florida and California."
James passed away in Carson City on Oct. 20, 1972, at the age of 80. He was survived by seven children, 30 grandchildren and 13 great-grandchildren.
Edna is believed to have died in November 1979, in Carson City.
Copyright © 2008-2010, 2019 Mark A. Miner