Salina Myra 'Lina'
(Miner) Morris
(1848-1920)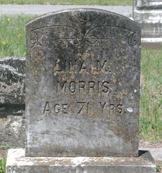 Woodlawn Cemetery
Salina Myra "Lina" (Miner) Morris was born on Nov. 15, 1848 (or 1849) in Columbus, Franklin County, OH, the daughter of Francis and Myra (Jordan) Miner. Named in part after her mother, Lena was a pioneer settler of Illinois, and an early resident of Florida.
When Lina was a young girl in 1854 and 1855, her mother and two sisters died in Columbus, and were buried there. The grieving father and remaining sisters then migrated to Illinois, settling in or near Lewistown, Fulton County.
Lina's father dropped dead unexpectedly on the streets of Chicago in 1864, when she was 16. In his will, he named her as one of his heirs.
Circa 1870, when the federal census was taken, Lina resided in the Lewistown home of her married sister Lucinda Davidson, whose husband was the publisher of the Fulton County Democrat. Lena thus was employed as a typesetter in the newspaper office.
On Oct. 10, 1872, when she was 24, Lina married Joseph C. Morris (1850-1928). They had three children, of whom two sons are known -- Francis J. "Frank" Morris and Harold Miner Morris. Both sons were born in Ohio in the 1873-1878 timeframe.
By 1878, when she was written into the will of her step-mother, Lina and Joseph had migrated eastward, and were residing in the old Miner home village of Cardington, Morrow County, OH. Cardington was where Lina grandfather Daniel Miner Sr. had settled in about 1835, and where a number of aunts, uncles and cousins were still residing. By the terms of the will, Lina was to receive a full share of the estate.
The 1880 census shows the family living in Richland Township, Marion County, OH, with Joseph working as a mechanic and farmer. George Queene was working in their home as a servant. Marion and Morrow Counties shared a boundary line.
The Morrises made a life-changing relocation in about 1883, when they moved to Tampa, Hillsborough County, FL. They remained there for the rest of their lives, more than 45 years in all.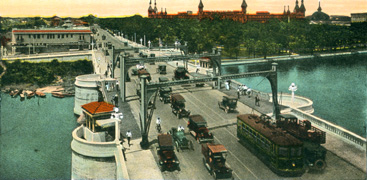 Tampa landmark, the Lafayette Street Bridge, early 1900s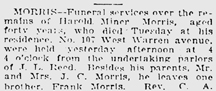 Tampa Tribune, 1919
When Lina's stepmother died in 1888, Lina apparently returned to Lewistown, and in November 1890 was there to receive a cash distribution from the estate.
In a letter datelined Tampa, Dec. 19, 1890, Lina wrote: "We are having quite a cold spell here now. Had frost this morning."
When the federal census was taken in 1900, Lina and Joseph and their sons lived on Tampa Street in Tampa, where Joseph and Francis worked as machinists, and Harold was employed as a cabinet maker.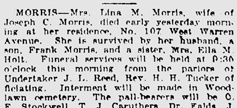 Tampa Tribune, 1920
In 1910, the census shows the Morrises on 107 West Warren Avenue in Tampa. They had been married for 37 years. Joseph worked as a clerk in the United States Post Office, and unmarried 30-year-old son Harold as a stenographer. Newlywed son Francis was residing on the same street with his wife Pearl, and was employed as a "Turner" in a "novelty works."
Joseph was still working as a post office clerk at the age of 70 when the census was enumerated in 1920. They were living on West Warren Avenue. Son Frank and his wife Pearl were next door neighbors, and had three children -- Frances Morris, Dorothy Morris and Frank Morris Jr.
Heartache rocked the family in 1919, when son Harold Miner Morris (1879-1919) died at the age of 40 on March 4, 1919. Harold, who lived with his parents, was buried in Woodlawn Cemetery. The Tampa Tribune named his pallbearers as Joseph Kirk, Clyde Hicks, T.J. Carruthers, Charles R. Sparrow, William Mathews and James Mansfield.
Lina passed away a little more than a year after her son Harold. She died on June 16, 1920, at the age of 71. The Tampa Tribune noted that she was survived by her husband, son Frank and sister Ella Holt. The funeral was held at the J.L. Reed funeral parlor, followed by burial at Woodlawn Cemetery. Pallbearers were O.F. Stockwell, T.J. Caruthers, Dr. Falds, J.E. Matthews, W.D. Burgess and E.T. Gallagher.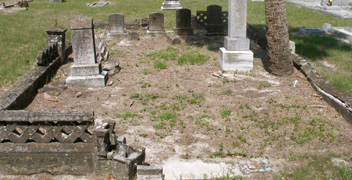 Morris graves in Tampa's Woodlawn Cemetery. The tall upright markers in the foreground belong to Kezia and W.D. Greene (left) and Joshua Morris and Rachel Morris Nichols (right).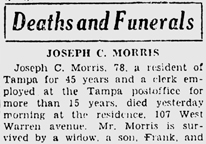 Tampa Tribune, 1928
Joseph survived Lina by eight years. He married again, to his wife's widowed sister Ella Amaret (Miner) Stillman Holt. They were together for several years until Joseph's passing. At the time of Joseph's death, the Tribune noted that he was survived by "a widow" although Ella's name was not printed.
He passed away at his residence at 107 West Warren Street at the age of 78, on April 23, 1928. The obituary in the Tampa Tribune reported that he had been "a resident of Tampa for 45 years and a clerk employed at the Tampa postoffice for more than 15 years." He was laid to rest in the Woodlawn Cemetery in Tampa.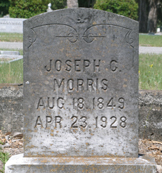 Woodlawn Cemetery
Ella apparently remained in Tampa for the rest of her life. The 1930 census shows her living alone on Tampa Street, at the age of 77. The census taker marked that her father had been born in Pennsylvania and her mother in Maine.
Oddly, another Ella Morris -- with the middle initial "S." -- resided next door, at age 65, and shown as mother in law of William E. Sandlin and his wife Kate C. Sandlin. This family of Morris and Sandlin all were from Arkansas, with no known connection to our Miner-Morris group.
At the age of 84, Ella died in Tampa, on April 3, 1937. She was laid to rest in the Morris family plot in Tampa's Woodlawn Cemetery. Efforts are being made to secure her obituary from the Tampa newspaper.
~ Son Frank Joseph "Frank" Morris ~

Obituary, 1961
Son Francis Joseph "Frank" Morris (1874-1961) was born in 1874.
He and his wife Pearl (?) (1885-1962) were 11 years apart in age, and were married circa 1895.
They resided at 109 West Warren in Tampa.
The Morrises had three children -- Frances E. Wood, Dorothy Morris and Joseph F. Morris.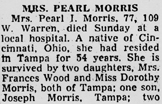 Tampa Tribune, 1962
The census of 1930 lists son Frank and Pearl on West Warren Avenue, with Frank working as a foreman in a lumber company. Their three children were still at home. Daughter Frances at age 19 was an artist who provided home instruction.
Frank died at age 87 in a Tampa hospital on Nov. 10, 1961. He was laid to rest at the Garden of Memories Cemetery.
Pearl passed away at the age of 77 on or about March 19, 1962. The Tampa Tribune newspaper said she was a "native of Cincinnati, Ohio [and] had resided in Tampa for 54 years." She was survived by daughters Frances Wood and Dorothy Morris and son Joseph Morris, all of Tampa, along with two grandchildren and four great-grandchildren.
Daughter Frances E. Morris (1910-1983) is believed to have married Chauncey Wood and to have had two children -- John e. Wood and Mary Margaret Hughes. When Frances died in Tampa at age 73, in late January 1983, she was laid to rest beside her parents at Garden of Memories Cemetery, in Memory Garden Section 9. At the time, said the Tampa Tribune, their son John made his home in Cincinnati, and daughter Mary Margaret in Tampa, and all told there were 11 grandchildren and six great-grandchildren.
During a visit to Garden of Memories in May 2010, the founder of Minerd.com verified that Frank, Pearl and Frances rest together in the Memory Garden section directly adjacent to Martin Luther King Jr. Boulevard. Despite several walk-throughs, no markers were found, suggesting that the Morrises rest anonymously.
Where Frank, Pearl and Frances rest together in the Garden of Memories
Copyright © 2007-2010, 2020 Mark A. Miner