Caroline (Minerd) Halfpenny
(1848-1935)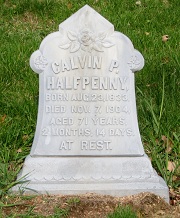 Rohrsburg Cemetery
Caroline (Minerd) Halfpenny was born on Sept. 23, 1848 (or 1847), presumably in Wharton Township, Fayette County, PA, the daughter of William and Elizabeth (Rankin) Minerd.
Her husband briefly was a soldier during the Civil War before deserting.
Other sources have listed Caroline's birthplace as "Virginia" and "West Virginia." Caroline's father is thought to have died in the 1860s, when she reached her teenage years.
In 1869, at the age of 21, Caroline married 35-year-old Calvin P. Halfpenny (1833-1904). Calvin, born in northeast Pennsylvania on Aug. 23, 1833, was the son of an English father and a Pennsylvania-born mother. One of their daughters thought Calvin was a native of Scotland.
How or why Calvin was in Caroline's home region of Fayette County remains a mystery -- as does why he took her so far away from home, and why she was separated from her family for many decades. Some clues, however, identify a motive.
The Halfpennys produced a brood of nine known children of their own -- Alice Halfpenny, Mary "Mamie" Averill, Ira Halfpenny, Anna Beatrice Schreiner, Margaret H. Nagle, Emma I. Miller, Warren Halfpenny, Harriet Catherine "Hattie" Horn Morgan Brior and Myra Halfpenny.
~ Calvin's Early Adulthood and Civil War Service ~
Calvin's whereabouts in 1850 have not yet been located on census records. This is speculative, but that year, at age 14, he may have used the name "Calvin Baker" and boarded with the farming and lumbering family of Lewis and Catharine Chamberlin ("Chamberlain") in Greenwood Township, Columbia County. This is supported by evidence showing that 14 years later, as an adult, he impregnated his landlord's teenage daughter.
During the Civil War, while in Lycoming County, PA, and under the name "C.P. Halfpenny," Calvin enlisted for a term of three years in the 18th Pennsylvania Volunteer Cavalry, also known as the 163rd Pennsylvania Volunteers. Among his mates in the regiment were Henry Ullom of Company A (son of Peter Ullom) who later was captured and died as a prisoner of war in the Confederacy's notorious prison camp at Andersonville; and John Finnegan of Company A.
He was assigned as a private to Company I, and began training at Camp McClellan, located two miles east of Harrisburg, Dauphin County, PA. But he served for only 20 days, from Nov. 10, 1862 until he left the regiment on Nov. 30, 1862.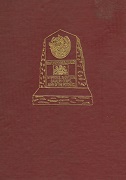 History of the 18th PA Cavalry naming Calvin
According to the History of the Eighteenth Regiment of Cavalry, Pennsylvania Volunteers, authored by Theophilus Francis Rodenbough, Calvin was not the only one who abandoned his post: "The material, of which this organization was composed, represented in part, the patriotic sons of the Keystone State, but also included a number of 'substitutes" -- some of whom rendered faithful service, while others were professional 'bounty jumpers' whose interests were purely commercial and who availed themselves of the first opportunity to desert their colors; this accounts for the frequent occurrence of the entry 'deserted' on the company rolls." In fact, he was one of more than 30 soldiers in his company to desert.
His name continued to appear on the 18th Pennsylvania Cavalry's muster roll, marked as "Deserted Nov. 30, 1862 at Camp McClellan Pa." At the end of the war, the clerk of the regiment noted that Calvin owed the federal government $35.89 for his uniform.
In 1890, when Calvin was age 57, a federal census taker included him on a special enumeration of Civil War veterans. On the entry, Calvin disclosed that he had been a private in the 18th Pennsylvania Cavalry. He said he had enlisted in 1864 and left the army in 1865, but was unable to give specific dates, or any details on the length of his service. The census official wrote: "Taken sick, came home. Received no Discharge."
Calvin is named in the Rodenbough book on page 253. [Full text on Google Books]
~ Controversies ~
No longer with the army, Calvin apparently returned to his home region of Columbia County and likely went back to the farm of Lewis and Catharine (Hunt) Chamberlin. On Dec. 9, 1863, he was one of three local men -- the others being Montgomery Cox and Uriah Chamberlin -- named in a letter to the editor of the Star of the North newspaper of Republican persuasion in Bloomsburg. The letter writer, postmaster F.P. Masters of Sereno, Columbia County, claimed that men's Star newspapers sent to his office were "in the way" because the men did not pick up their mail there.
Circa 1864, the 33-year-old Calvin produced a daughter with the Chamberlins' 16-year-old daughter Sarah "Elizabeth" (1848-1903). The daughter was given the name Leah Elizabeth Halfpenny and was raised by her Chamberlin grandparents.
The 1870 census shows six-year-old Leah, using the name "Halfpenny," and her 21-year-old mother Elizabeth, using her maiden name "Chamberlin," dwelling in the grandparents' home in Polkville, Columbia County.
Evidence also shows that by 1868, Calvin had fled Columbia County and relocated to Iowa before moving again to Pittsburgh and southwestern Pennsylvania. He was involved in 1868 in a fraudulent voting controversy within Dunbar Township, Fayette County. He may have been lured there from Pittsburgh perhaps with cash, drink or other bribe. He disclosed that before that, he had been in Iowa. According to sworn congressional testimony, witness James Holt said that Calvin "came up from Pittsburg, a few days before I did. He said he had been living in Muscatine, Iowa, and at the time he left there, he expected to have been back before the time he was telling me this; said he clothes were there. He said the morning of the election, that he had no right to vote in Dunbar Township." (Index to Miscellaneous Documents of the House of Representatives, Second Session of the Forty-First Congress, 1869-'70.)
Then in 1869, Calvin was united in wedlock with our Caroline. A year after marriage, when the federal census was taken in 1870, the Halfpennys resided in or near Connellsville, Fayette County, with Calvin employed as a "laborer." Also listed in the household in the 1870 census were four-month-old daughter Alice, and laborer Edward Dillon, an immigrant from England. Residing two houses away was Caroline's eight-year-old cousin, Charles McKnight, who was motherless and living under the roof of Andrew and Mary Hiles.
~ Relocation to Rohrsburg, Columbia County ~
Most likely in 1871, the Halfpennys migrated to northeastern Pennsylvania, to Rohrsburg in rural Orange Township north of Bloomsburg, Columbia County. How or why they made the moved to this unusual location is lost to history. However, a family of English-born Halfpennys is known to have operated a woolen mill in Bloomsburg, founded in 1882, and likely were Calvin's relatives. And with the stain of army desertion and an illegal vote investigation, he may have needed to get out of Fayette County, and fast. And he seems to have kept a low profile for the rest of his life.
In Rohrsburg, they rented a farm for many years, and stayed put. After the move, Caroline would not see her sister Mary Belle Dean, some 19 years younger in age, for another 48 years.
When the federal census was taken in 1880, the Halfpennys made their home in Jackson Township, Columbia County, with Calvin earning a living as a laborer. That year, the census-taker marked that Calvin suffered from a disability of his leg. Residing in the house next door was his 16-year-old daughter Leah, in the household of her maternal grandparents, Lewis and Catharine Chamberlin ("Chamberlin").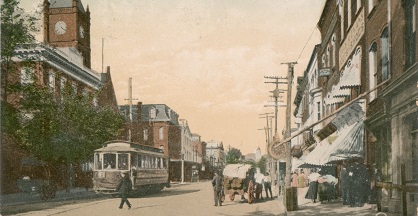 Bloomsburg's Main Street, looking east
When the federal census was taken in 1900, the Halfpennys had been married for 31 years. Calvin was shown as a "farmer," with their 10-year-old son Warren noted as a day farm laborer. Living in their house that year were their four youngest children -- Margaret (born June 1881), Emma (born March 1885), Warren (born July 1889) and Myra (born August 1894). The census-taker noted that of the Halfpennys' 10 children, only eight were living as of that year. He also marked that Calvin and Caroline both could read and write.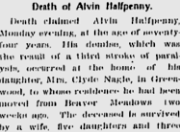 Bloomsburg Morning Press
Calvin suffered a series of strokes of paralysis in the early 1900s, and went to live in Beaver Meadows, Carbon County, PA. After his third such attack, he died at the age of 71 on Nov. 7, 1904, at the home of their married daughter Margaret Nagle, in Greenwood, Columbia County. He was laid to rest at the Rohsburg Cemetery in Rohrsburg, north of Orangeville.
An obituary was printed in the Bloomsburg Democratic Sentinel (Nov. 11, 1904), but in print his first name was misspelled "Alvin." No obituary has been located in the Bloomsburg Morning Press.
In 1910, the widowed, 62-year-old Caroline resided with her married son Ira in Greenwood Township, Columbia County. Oddly, unlike in all other censuses in which she is named, Caroline's birthplace was given as "West Virginia." (In the same 1910 census, but in a separate entry, daughter Emma reported that Caroline's place of birth was "Virginia.") This may suggest that Caroline may have lived in childhood in West Virginia, or otherwise told her children and grandchildren stories of being there as a child in some way.
~ Caroline's Reunion with a Long-Lost Sister ~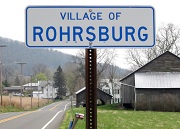 Rohrsburg today
At Thanksgiving in 1919, when Caroline was age 72, she was re-united with her sister Mary Belle Dean, age 53, after a separation of 48 years. The reunion was held at a holiday dinner at the home of her married daughter Emma Miller in Orangeville. By that time, Mary Belle was widowed, having lost her husband in a coal mining accident a few years before, and lived in the old Minerd home region of Uniontown, Fayette County, PA.
The story was published in the local newspaper, and in turn was printed in the Philadelphia Inquirer. The article erred in stating that the sisters lived only 60 miles apart, when in reality the distance was closer to 243 driving miles.
(A search by this website's founder, for the original Bloomsburg article, in the Morning Press, on microfilm at Bloomsburg University, came up empty.)
~ Final Years ~
The census of 1920 shows Caroline as one of three residents in the house of her widowed son in law, 36-year-old farmer Delbert M. Miller (1884- ? ), and her 16-year-old granddaughter Carrie Nagle, listed as a housekeeper. Caroline's age in this census record is given as 65, when in reality it was 72. According to a website of the Quick family, Delbert had married Emma Halfpenny, but after Emma died childless, he then married Emma's niece Carrie.
Caroline is mentioned in the 1921 newspaper obituary of her sister Mary Belle Dean, and was residing in Bloomsburg at the time. In 1923, she was named in the obituary of her brother, James Valentine Minerd, and was reported to be living in nearby Hazleton, Luzerne County, PA. When her son Ira died of kidney cancer in 1924, she was named in the Bloomsburg Morning Press as a resident of Berwick. By 1930, the 81-year-old Caroline made her home with her married son and daughter in law, Warren and Marion Halfpenny, in Centre Township, Columbia County.
Caroline died at the age of 87 in her son Warren's home in New Columbus, Columbia County on Feb. 2, 1935, after an illness of influenza of three weeks added to hardening of the arteries. Her newspaper obituary was published in the Feb. 7, 1935 edition of the Benton Argus, which noted that she "was formerly a resident of Plymouth." At the time, she was survived by 30 grandchildren and 15 great-grandchildren. She was laid to rest in the Rohrsburg Cemetery.
Her official Pennsylvania certificate of death contains several curious facts which seem to disagree with known information. First, her husband was named as "William" instead of "Calvin." Second, her father's name is given as "James Miner" and his birthplace as "West Virginia." The name of her mother was listed as "Unknown."

Gently rolling Rohrsburg farmscape in Columbiana County, PA
~ Stepdaughter Leah Elizabeth (Halfpenny) Sheets ~
Stepdaughter Leah Elizabeth Halfpenny (1864-1933) was born on Aug. 10, 1864 (or in August 1857 or 1863 -- records differ), the daughter of Calvin Halfpenny and Sarah "Elizabeth" Chamberlin. Leah was raised under the surname "Halfpenny."
Leah grew up with her mother in the home of her maternal grandparents in Polkville, Jackson Township, Columbia County, and is shown there in the federal census of 1870, at age six. That same year, 21-year-old farm laborer John Vannatta boarded in the Chamberlin home.
She was about five years old when her father married our Caroline Minerd. Circa 1880, when she was age 16, Leah continued to make her home with her grandparents in Jackson Township, Columbia County, and ironically they lived beside Leah's father and stepmother.
Leah's mother is believed to have wed another of her parents' boarders, John Vannatta (1850-1905). In some records, her name also has been given inexplicably as "Stackhouse." The Vannattas are buried in Picture Rocks Cemetery. [Find-a-Grave]
In about 1884, when Leah was 20 years of age, she married 28-year-old Maynard Wilson Sheets (1856-1919), son of William and Caroline (Bennett) Sheets. Their 11 known children were Lillie June Van Horn, Ellery Milroy Sheets, Lois Caroline Fiester, Corbett Preston Sheets, Enza Gerda Sheets, Lance Maynard Sheets, Zena K. Sheets, Wilda D. Sheets, Clifton Roscoe Sheets, Dulca Sheets and Francis Sheets.
The Sheetses in the 1890s and early 1900s lived in Sonestown in or near Davidson Township, Sullivan County, PA, where Maynard earned a living as a day laborer, and many of their children were born. During the decade between 1900 and 1910, they relocated to a farm near Hughesville, Shrewsbury Township, Lycoming County, PA.

Corn shocks dot the landscape of Hughesville, Lycoming County
Maynard contracted a fatal case of pulmonary tuberculosis and died at the age of 63 on June 15, 1919. Burial was in Picture Rocks Cemetery, with Zena Sheets of Tivoli, PA filling out the death certificate.
Now widowed, Leah moved into the village of Tivoli, Lycoming County. The census of 1920 shows here there heading a household including sons Corbett, Lance, Clifton and Francis and daughter Dulca.
At the age of 76, on June 23, 1933, Leah suffered a stroke -- brought on by hypertension and hardening of the arteries -- and died the following day. She was laid into eternal rest in Picture Rocks Cemetery, and her son Ellery Sheets of Hughesville signed her official Pennsylvania death certificate. [Find-a-Grave]
Daughter Lillie June Sheets (1885-1948) was born on Aug. 9, 1885 in Lycoming County. She wed Lester Raymond Van Horn (1892-1956). They made a home in Picture Rocks, Lycoming County. Lillie was befallen with chronic heart problems and died at the age of 62 on Feb. 5, 1948. She was placed into eternal rest in Picture Rocks Cemetery. [Find-a-Grave] Lester outlived his wife by eight years, and continued to dwell in Picture Rocks. He died there on Dec. 9, 1956.
Son Ellery Milroy Sheets (1887-1961) was born on April 11, 1887. He was united in matrimony with Ocy Etta Newman (1894-1976). They were farmers and in 1920 dwelled in Plunkett's Creek Townshipo, Lycoming County. Later, they moved to a new residence in Blossburg, Liberty Township, Tioga County, PA. They had these known children -- Delisle V. Sheets, Wanda V. Sheets and Darrold L. Sheets. Having become senile, he died in Blossburg Hospital following bronchial pneumonia and heart disease at the age of 74 on Nov. 15, 1961. Burial was in Picture Rocks Cemetery. Ocy lived for another 15 years. She succumbed in 1976 at the age of 82.
Daughter Lois Caroline Sheets (1890-1957) was born on Oct. 13, 1890 in Sonestown, Sullivan County. She married Vernon K. Fiester ( ? - ? ). Their home was located at 409 East Water Street in Hughesville, Lycoming County. Lois was felled by a heart attack and died on Sept. 22, 1957. Her remains were placed into repose in Picture Rocks Cemetery.
Son Corbett Preston Sheets (1894-1951) was born on Feb. 26, 1894 in Sonestown, Sullivan County. In 1920, unmarried, he lived at home in Tivoli with his widowed mother and worked as a furniture rubber in a local furniture factory. Later, his home was in rural Hughesville, Muncy Creek Township, Lycoming County. Corbett was married to Helen ( ? - ? ). He earned a living as a laborer in a furniture factory. Having suffered from chronic heart disease, he passed into eternity on July 3, 1951. He was lowered into eternal rest in Picture Rocks Cemetery.
Daughter Enzie Gerda Sheets (1894-1948) was born on Nov. 1, 1894 in Sonestown, Sullivan County. She was joined in wedlock with Harvey O. Sones (1894- ? ). They lived in Hughesville, Wolf Township, Lycoming County. Sadly, on the fateful day of May 25, 1948, Enzie decided to end her life at home. She pointed a 12 gauge single shotgun at her left breast and fired, killing herself instantly. Her tired remains were buried in Pleasant Hill Cemetery.
Son Lance Maynard Sheets (1895-1950) was born on Aug. 30, 1895 in Sonestown, Sullivan County. When he was age 25, in 1920, he earned a living as a rip sawyer in a local furniture factory in Tivoli, Lycoming County. He was married to Florence ( ? - ? ). They made their home in rural Shrewsbury Township, Lycoming County. Lance earned a living for some years as a gardener and caretaker at local hotels and clubs in the area. Stricken with heart disease, he retired from his occupation and was under a doctor's care for three years. He died at home just five days before his 55th birthday on Aug. 25, 1950. Interment was in Picture Rocks Cemetery.
Daughter Zena K. Sheets (1897- ? ) was born in November 1897. Unmarried at the age of 22, she was employed as a servant in the home of widowed railroad section hand Howard McCarty and his 14-year-old son Glen in the village of Mar Glen, Shrewsbury Township, Lycoming County.
Daughter Wilda D. Sheets (1899- ? ) was born in August 1899. She married Howard A. Parsons (1891-1973). They had one known daughter, Patricia C. Parsons Drake. Wilda passed away in 1967 and was buried in Picture Rocks Cemetery. Howard survived her by six years. He entered eternity in 1973. [Find-a-Grave]
Son Clifton Roscoe Sheets (1903-1962) was born on July 15, 1903 in Hughesville, Lycoming County. As a teenager, he was employed in road work with the state highway department. He was married to Edna Mae Heath ( ? - ? ), a native of Lycoming. They resided in Picture Rocks, Muncy Creek Township, Lycoming County. One of their offspring was Maynard Sheets, who sadly died of a neck inflammation and infectious diarrhea at the age of nine months on Feb. 7, 1938. Clifton and Edna made their home in the early 1960s at 553 West Keen Street in York, PA, where he labored as a shipping clerk. Clifton was taken by a fatal heart attack on July 2, 1962, with diabetes as a contributing factor. Interment was in Picture Rocks Cemetery.
Daughter Dulca Sheets (1905- ? ) was born in about 1905.
Son Francis Sheets (1914- ? ) was born in about 1914.
Copyright © 2000, 2006, 2012-2015, 2018 Mark A. Miner
Many thanks to Barbara Hewitt for graciously sharing information for this biography.