William Minerd
(1819-1860s?)
William Minerd was born in 1819 in either Dunbar or Hopwood, Fayette County, PA, the son of Henry and Hester (Sisler) Minerd.
Little is known about William's life.
He is known to have married Elizabeth Rankin (1826- ? ), whose father (but not mother) was born outside of the United States.
William and Elizabeth initially lived on a farm at Farmington, Fayette County.
Their family of seven children were James Valentine Minerd, Caroline Halfpenny, Maria Minerd, Hester Wortman, Harriet Louise Lowe, Mary "Belle" Dean and Emma J. Geiger. Daughters Belle and Emma were twins.
The Minerds and Rankins were especially tight-knit over the years. Other Fayette County members of these two clans, who married into the other, included Christmas Leonard, who married Fannie Rankin; Hester Ann Minerd, who married Civil War veteran Robert Rankin; Civil War veteran William Minerd, who married Sara Elizabeth Whoolery, daughter of William and Sarah (Rankin) Whoolery; and Elizabeth Virginia Minerd, who wed Charles William Rankin.
It's thought William and his brother John were close. William hosted John's wedding to Elizabeth Livingston in his home in Connellsville, Fayette County in December 1852.
In 1860, William and Elizabeth are listed in the census of Dunbar Township, Fayette County, a community between Connellsville and Uniontown.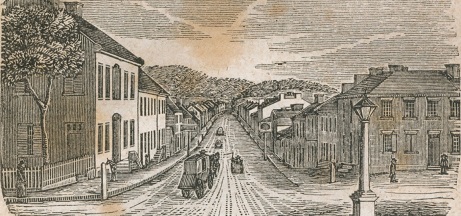 Uniontown, as seen from the east, early 1840s
Evidence hints that William may have passed away during the decade between 1860 and 1870, but this is conjecture based on census records and anecdotal evidence.
By 1870, when the census was again taken, 44-year-old Elizabeth was listed as the head of the household. The residence was in Dunbar Township, with the post office of Connellsville. The census does not say if she was a widow, or that William was living away from the home. Also in the household that year were 24-year-old son James, who was working as a coal miner; 14-year-old daughter Hester; 10-year-old daughter Harriet; and six-year-old twin daughters Mary Belle and Emma. Boarding in the home was 23-year-old Calvin Martin, who worked at the nearby Dunbar Furnace.
Daughters Caroline (age 23) and Mary Belle (age 7) were separated in 1871. The two did not see each other for another 48 years. They only reconnected in person at Thanksgiving 1919, when Mary Belle traveled to Orangeville, PA to share a meal with her long-lost sibling.
The fates of William and Elizabeth are otheriwise lost to history.
Copyright © 2000, 2002, 2005-2006, 2012, 2019 Mark A. Miner
Sketch of Uniontown published in 1843 in Historical Collections of the State of Pennsylvania by Sherman Day.