Frank Benjamin Minerd
(1899-1983)
Frank Benjamin Minerd was born on Aug. 31, 1899 in or near Pittsburg, Crawford County, KS, the son of Levi "Springer" and Mary Marie (Wolfe) Minerd.
He was raised in and around Pittsburg.
During World War I, when Frank was age 19, he registered for the military draft. His registration card gave his eye color as brown, and his hair color as black. At the time, he lived at Mulberry, northwest of Pittsburg in Crawford County, and that he was employed as a coal miner for the Sheridan Coal Company, as was his brother Sam. The card noted that he had "one thumb off."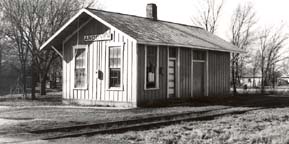 The "Frisco" railroad depot in Andover

Frisco Railroad sign
Frank married Ina L. Turley (1903-1990), and they lived at Andover, Butler County, KS.
The couple bore three children -- Gerald Lewis Minerd, Laura Marie Wilscam and Melvin D. Minerd.
Later, the Minerds moved to Wichita, Sedgwick County, KS.
Frank passed away in Wichita on Feb. 3 1983, at the age of 84. He was laid to rest at Andover Cemetery in Andover, Butler County.
Ina outlived Frank by seven years. She died in Wichita on March 6, 1990, at age 87.
~ Son Gerald Lewis Minerd ~
Son Gerald Lewis Minerd (1929-2005) was born on July 22, 1929.
He served as a Yeoman 3 in the U.S. Navy.
At the age of about 32, on Feb. 11, 1961, he wedded Norma Jean Helms ( ? -2020), the daughter of Onin and Elsie (Malone) Helms of Geude Springs, KS. The nuptials were held in Miami, OK.
The couple did not reproduce.
Norma became a Christian at the age of nine, receiving the rite of baptism in Geuda Springs' First Church of God. She received her higher education at Cowley County Junior College, and as a young woman was employed in the law office of George W. Stanley in Arkansas City, KS.
Over the years, Gerald and Norma resided in El Dorado and Wichita, KS. She helped earn income through her work for Southwestern Bell Telephone Company in Arkansas City and El Dorado. She belonged in adulthood to Central Community Church of God in Wichita, and liked to read, travel and listen to "good Christian music and television," said the Derby (KS) Informer.
He died on Oct. 29, 2005. His remains were buried at Cowley County Memorial Lawn in Arkansas City, KS.
Norma Jean outlived her spouse by 15 years. Toward the end, she went to dwell in Westview Manor in Derby, KS. She succumbed to the Angel of Death at the age of 97 on July 25, 2020.
~ Daughter Laura Marie (Minerd) Wilscam ~
Daughter Laura Marie Minerd (1930-2014) was born on Dec. 21, 1930 in Elk County, KS.
On March 11, 1947, the 16-year-old was united in holy matrimony with 19-year-old Harry E. Wilscam (June 29, 1927-1987).
Evidence strongly suggests that they were the parents of Dennis Michael Wilscam.
Tragedy rocked the family to its core when son Dennis, age 15 and a high school student in Andover, was killed in a one-car automobile accident on Nov. 12, 1966. In reporting on the story, the Parsons (KS) Sun said that the incident occurred on the Butler-Sedgwick County line and that "the brakes apparently locked on the car and it went into a ditch, throwing Wilscam out. He was crushed beneath it." Interment was in Andover Cemetery.
Harry succumbed to death at the age of 59 on Jan. 19, 1987.
Laura outlived her spouse by 27 years. At the age of 83, she died on Feb. 2, 2014. Her remains are in eternal sleep next to her spouse's in Andover Cemetery in Butler County.
~ Son Melvin D. Minerd ~
Son Melvin D. Minerd (1935-1960) was born on July 21, 1935.
On Jan. 18, 1957, he is believed to have married Barbara Jean Whitney (1936-1960).
They lived in the outskirts of Andover, Butler County, KS and produced one son, Samuel Frank Minerd.
Melvin served with the RCT Company E, 2nd Training Regiment in Kansas, during the early part of the Vietnam War era. Circa 1960, he was stationed at Fort Leonard Wood in Missouri, and Barbara may have gone to live with an aunt in McAllen, TX, Dora Whitney.
Grief blanketed the family when he was on leave on the fateful day of Aug. 31, 1960. At the age of 25, after just three years of marriage, following a visit with his parents, he made the decision to end his life. He shot himself in the abdomen and was rushed to a hospital near Wichita, where he died of his wound. Police thought it was a suidice, and the news was reported in the Emporia (KS) Gazette and Salina (KS) Journal. He is buried at Andover Cemetery.
In 1964, the widowed Barbara married Jesse Ray Roberts ( ? - ? ).
Copyright © 2000, 2005, 2008-2009, 2020 Mark A. Miner