Samuel Minerd II
(1897-1959)
Samuel Minerd II was born on May 8, 1897 in Pittsburg, Crawford County, KS, the son of Levi "Springer" and Mary Marie (Wolfe) Minerd.
Samuel was raised in and around Pittsburg. As a young adult, he moved with his parents to Croweburg, Crawford County, where his father worked in the coal mining industry. He stood 5 feet, 7½ inches tall and weighed 145 lbs. His eyes were brown and his complexion dark.
During World War I, at age 21 in 1917, Samuel registered for the military draft. At that time, he was employed by the Sheridan Coal Company of North Croweburg. The registar listed Samuel's eye color as brown and his hair color as brown. He also named his father's birthplace as "Uniontown, Pennsylvania."
He eventually enlisted in the U.S. Navy and, reported the Parsons (KS) Sun, "fought in severral major sea battles."
At the age of 26, on May 15, 1923, Samuel married Della Holcomb (Sept. 6, 1906-1985), daughter of William and Ollie (Barnes) Holcomb. The couple tied the knot in Olathe, KS, or perhaps in Pittsburg.
They were the parents of one daughter, Mary Highsmith.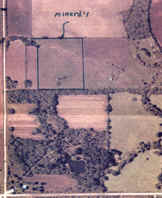 Minerd farm near Croweburg
Samuel and his brother Frank inherited a large farm from their parents at Crowberg, a tiny coal mining community near Pittsburg. Sam and Della lived on this farm, which consisted of several tracts in Section 33, Township 28, Range 25. Their house was within a half-mile of a coal mine of the Crowe Coal Company. An aerial photo of the land, taken in 1984, shows Crowberg is at the lower right hand corner, and the Crowe mine is out of view at the upper right hand corner.
Samuel earned a living as a truck driver in the Pittsburg area for a number of years.
During the World War II era, still in Croweburg, Samuel again registered for the military draft. His employer at that time was Kiewit Condon Paschen of Parsons, LaBette County, KS, a construction contractor formed by the combination of Pieter Kiewit Sons Company, George W. Condon Company and Paschen Contractors Inc.
Then in 1942, they relocated to a farm located six miles north of McCune, Crawford County. The Minerds remained in McCune for good and joined the United Chapel Church.
When about age 47, Samuel began to suffer from a heart condition. He bore the illness for final 15 years of his life.
Samuel endured a heart attack at home and was rushed to Mount Carmel Hospital in Pittsburg, where he shortly after he passed away at the age of 62 on April 5, 1959. He is buried at Girard Cemetery, Crawford County. An obituary was published in the Sun.
Della outlived him by more than half a century and remained in their home in rural McCune. At one time she was employed by the U.S. Census Bureau's Personal Census Service at Pittsburg and also worked at Parsons for the Kansas Army Ammunition Plant.
In June 1964, she and the Highsmiths, and her brother in law Frank, sold the Crowburg farm to Joe and Elizabeth Burnick for a token dollar. At the time, all that was left on the land were fences and a cellar, but no buildings. The new owners then undertook a cleanup effort, removing foundations and trees.
She was inspired to undertake an important project after listening to an in April 1970 late night radio broadcast from San Antonio, TX. She heard that a Wayland Baptist College student, Laryr Park, needed to raise $14,000 to cover the cost of a kidney machine to help keep him alive until a transplant could be secured. She also heard that a national company agreed to donate the machine but asked listeners to "send in a million coupons from one of its products," reported the McCune Herald. She immediately went into action, and asked for assistance from her church, community members and the school where her daughter taught. The effort led to the remittance of two million coupons and $4,400 cash. Added the Herald, "The young man received his kidney transplant and is doing well, she was told. He is expected to be back in college in the fall."
Della passed away on March 8, 1985. Rev. Raymond Folsum preached the funeral service, and the Sun printed an obituary.
~ Daughter Mary (Minerd) Highsmith ~
Daughter Mary Minerd (1924-1993) was born in 1924.
She was joined in marriage with Ira Newton Highsmith (Nov. 12, 1918-1972), son of Oscar Conrad and Minnie E. (Bowser) Highsmith.
The couple bore two sons -- Michael Highsmith and Randall Highsmith.
At one time the Highsmiths lived in Girard, KS. Circa 1959, they were in Howard, KS, and in 1985 in Augusta, KS.
Circa 1970, Mary was a teacher in Wichita.
Ira is believed to have died in 1972 and Mary in 1993.
Son Michael Highsmith was married and in Wichita in 1973.
Copyright © 2000-2003, 2008, 2020 Mark A. Miner