Home

Levi 'Springer' Minerd
(1853-1930)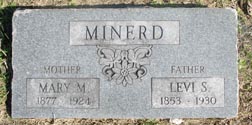 Mt. Olive Cemetery, Pittsburg, KS
Levi "Springer" Minerd was born on May 28, 1853 in Fayette County, PA, the son of Samuel and Rebecca (Smalley) Minerd. A coal miner and inventor of patented technology, he was a pioneer settler of southeastern Kansas and eastern Missouri.
Springer was named for Levi Springer, "one of the most prominent citizens of the community of his day," said the 1913 book, History of Uniontown, Pennsylvania, authored by James Hadden.
The elder Springer may have been a good friend, or customer, of the Minerds as they both had business interests tied to the National Road. He built a large, prominent house on a 389-acre farm in 1817 to function as an inn for travelers on the road, but when the highway was re-routed, the structure was converted into a farmhouse. It stood for many years until burned by vandals in April 2015.
In the late 1870s, Springer purchased a lot of ground in Fountain Mills, Fayette County, a community now known as Everson. When he was unable to pay his debt obligations in 1882, the county commissioners sold the property to Isaac Messmore.
The federal census of 1880 shows that Springer resided with his parents in West Newton, Westmoreland County, PA, where he labored as a coal miner.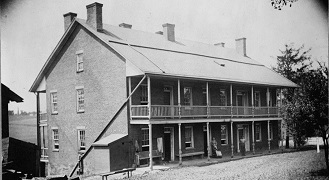 Home of Springer's namesake, Levi Springer,
near Uniontown, 1880. Library of Congress
In 1885, Springer and his brother John Henry, and perhaps others, began to perceive a brighter future for the family elsewhere, far to the west in Kansas, where the coal industry was booming. From his home in Scottdale, Westmoreland County, just north of Connellsville, John made preparations to make a scouting trip with Springer. The Sept. 4, 1885 edition of The Keystone Courier of Connellsville reported that the two brothers, along with E.C. Zack, Joseph F. Crossland, Jacob Nicholson, "leave on Monday for Kansas." By Thanksgiving of that year, they had returned with a positive report and plans for a family-wide migration.
The following year, in 1886, when Springer was age 33, he and his parents, adult siblings and one newborn nephew ventured westward to Kansas, leaving their longtime homes, and settling in Pittsburg, Crawford County, in southeastern Kansas. Their entourage numbered 10 people in all.
Trained in the rugged coal mines of Western Pennsylvania, Springer and his brothers went to work right away in the coal fields of southeastern Kansas and western Missouri. They are said to have "removed the first coal by using a slope mine, in what is now Lincoln Park in Pittsburg..."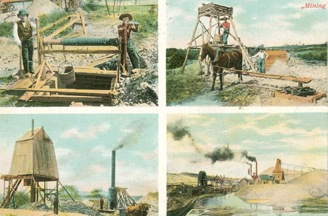 Views of the evolution of coal mining in western Missouri where Springer and his brothers are known to have toiled
According to a family memoir, Springer invented a gate "to be used in the mines, that would open and close, as the loaded coal cars was pulled into and out of the slope mines, with mule teams." That patent application, was filed on March 14, 1895, when he was living at Minden Mines, Barton County, MO. In his introduction, he wrote:
My invention relates to mine-doors, and more particularly to doors which open both toward and from the operator. The object of my invention is to produce mine-doors which are normally held closed by a yielding pressure, so that while currents of air are successfully intercepted, cut off, or confined to their proper sphere, yet at the same time the doors will be closed automatically after the passage of a car or after the force of an explosion is spent, and will also open independently of each other. A further object is to produce doors of the character referred to, which are simple, strong, durable and inexpensive of construction.
In December 1891, Springer and his brother John Henry Minerd jointly purchased two town lots in Pittsburg. The seller was George G. Warren.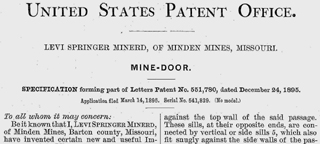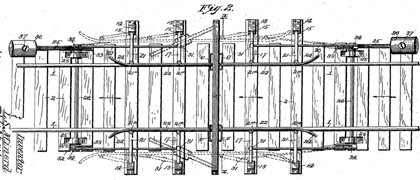 Springer's patent for a mine-door, filed on March 14, 1895, and approved on Christmas Eve 1895, when he was living in Minden Mines. Click for the full text of the U.S. Patent Office's approved summary.
Springer's mine in Minden, operating under the name "Minerd Bros. Coal Co." ultimately failed and officially closed on Dec. 31, 1895. A state mine inspector for Missouri observed that the mine was located 1.5 miles west of Minden, near the state line, and formerly was known as the Morgan mine. In his report, published in the Tenth Annual Report of the State Mine Inspectors of the State of Missouri, for the year ending June 30, 1896, he wrote: "It has a shipping connection with the K.C., Ft. S. & M.R.R.; shaft 40 feet deep, and its hoisting is done by steam-power. I inspected this mine on the 29th of October, and found the ventilation deficient, the mine in very poor condition, with very little prospect of bettering it, as it was nearly worked out."
Then in October 1897, with Levi now living in Appanoose County, IA, he and brother John Henry sold their two town lots in Pittsburg to their unmarried adult sisters Margaret and Emma.
In November 1897, Springer married Mary Marie Wolfe (1877-1923). She was a native of France, born in March 1878, and came to the United States as an infant. The wedding took place in Barton County, MO.
The Minerds bore two sons -- Samuel Minerd II and Frank Benjamin Minerd.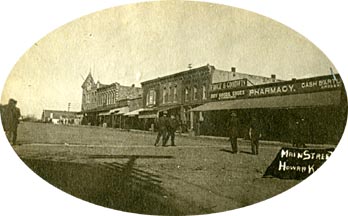 Rare postcard photograph of Howard, KS. postmarked 1906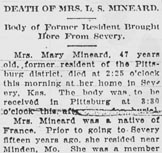 Pittsburg Daily Headlight
Springer worked as a coal inspector in Baker Township in 1900. He must have shuttled back and forth to Pittsburg, as the Pittsburg City Directory of 1900-1901 lists him as a "miner" residing there as a boarder at 303 West 9th Street.
Springer and Mary, along with his brother John Henry, jointly bought a lot in Pittsburg in mid-July 1905 for $1,500. The lot, #48, was on Joplin Avenue in Leighton's third addition to the city. The Minerds sold John his undivided one-third interest in the lot in January 1907, for one third of their original cost -- $500.
In about 1909, they moved to Severy, Greenwood County, KS, where they spent the next 15 years of their lives together. Severy is within just 12 miles of Howard, Elk County, KS, where they also are known to have resided during that time.
When the federal census was taken in 1920, the Minerds made their home in Lincoln Township, Crawford County. Springer and their sons all were listed as coal mine laborers.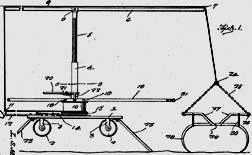 Springer's patent for hay stacking device
Heartache rocked this family on Dec. 11, 1924, when Mary passed away at home in Severy at the age of 47 on Dec. 11, 1924. The Pittsburg Daily Headlight -- misspelling her name as "Mineard" -- reported that her remains were transported back to Pittsburg for the funeral, held at the Methodist church, led by Rev. Wilbur N. Mason. Burial was in the Wolfe family plot at the Mt. Olive Cemetery. The Headlight said Mary was survived by a sister, Florence Schirard, of Windsor, MO; and five brothers, Frank Wolfe of Englevale, and A.B. Wolfe, Edward Wolfe, B.J. Wolfe and Nicholas L. Wolfe, all of Pittsburg.
Ironically, Mary's death occurred when Springer was reaching a peak in his work as an inventor. In 1924, when they resided in Howard, he filed an application for a patent for a new type of hay stacking device. A sketch is seen here, from an elevation perspective. The patent was approved on Jan. 12, 1926. In his narrative, he wrote: An object of the invention resides in providing a hay stacker or like character of device, wherein the wheeled platform carries a vertically extending standard... Another object of the invention resides in providing a wheel supported platform, on which is mounted a drum..." Click here for the full text of the patent summary as approved by the U.S. Patent Office.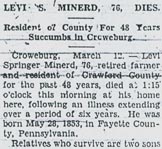 Daily Headlight, 1930
As a widower, Springer moved to Croweburg, a tiny coal mining community north of Pittsburg. It's likely that he worked at one of the the Crow Coal Company mines, as Mine 16 was less than half a mile from the Minerd homeplace. He may have been a coal mine boss as his land holdings were more than most other miners in the area. The tract remained in the family until 1964, when their heirs sold it to Joe and Elizabeth Burnick for a token dollar. His brother John Henry Minerd also made his home in Croweburg during that era.
Springer outlived his wife by six years, and endured an illness of about that same length of time. He died in Croweburg on March 12, 1930, at the age of 76. The Headlight said he was a "retired farmer and resident of Crawford County for the past 48 years..." but did not mention his inventions. Following his funeral, also held at the Methodist Church, he joined Mary in eternal repose at the Mt. Olive Cemetery. They rest directly in between the long, flat monuments of Mary's brother and sister in law, Nicholas L. and Esther Wolfe.
In September 2010, cousin Eugene Podraza and the founder of this website, joined by distant niece Melinda Brooksher and her husband Rich, paid their respects at the graves of Springer and Mary during their annual end-of-summer genealogy research trip.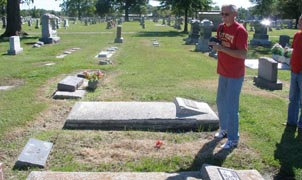 Rich Brooksher photographs the Minerd grave at Mt. Olive Cemetery in Pittsburg, KS
Copyright © 2000, 2002-2008, 2010, 2018 Mark A. Miner