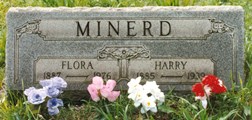 Mount Auburn Cemetery
Harry Minerd was born on Aug. 1, 1885 in Dunbar, Fayette County, PA, the son of James Valentine and Nancy (Warman) Fuller Minerd.
Of medium height and build, and with brown eyes and dark hair, he was a longtime laborer in his hometown.
On Sept. 14, 1906, when he was 20, Harry was united in matrimony with 18-year-old Flora Cole (1887-1976), a resident of Mt. Braddock, Fayette County, and the daughter of William M. and Mary Jane (Sullivan) Cole.
The six children they produced were Harry William "Pomp" Minerd, Virginia Morey Haggard, Mary Holub Roebuck, Charles "Pomp" Minerd, Nancy Brown Pierelli and Elizabeth Minerd. They also helped to raise a grandson.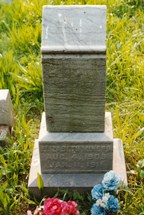 Grave of 1-year-old
daughter Elizabeth, 1911
Harry enjoyed baseball in all forms -- playing and watching. In September 1904, the Connellsville Courier reported that he and friends William White, Thomas McDowell, George McGovern, John McMillen, C.E. Harvey and Charles Richey traveled to Connellsville to attend a game between the Connellsville and Johnstown clubs. The following winter, he and his brother Bert made plans to join the newly formed Dunbar baseball team. Said the Courier: "The boys will get themselves in shape for the opening up of the season and will be ready to meet any amateur team in the county. They will endeavor to arrange for games early in the season with the following named clubs: Fairchance, Uniontown High School, Lemont and the Crescents of Connellville."
At the time of marriage, Harry was a "machine man" working at the Dunbar Furnace. A few years later, in 1910, the Minerds lived near Dunbar, where Harry was a laborer in a nearby coal mine. They also resided for awhile at Mt. Braddock and at Republic, near Uniontown, PA. Circa 1939, they made a home on Second Street on Bryson Hill in Dunbar.
Sadly, during the time that they dwelled in Mt. Braddock, their daughter Elizabeth (Aug. 4, 1909-1911) caught a deadly case of lobar pneumonia. She died at the age of one year, five months, on Jan. 11, 1911. She is buried in the Minerd family plot at Mount Auburn Cemetery in Dunbar. The cause of her untimely passing is not yet known.
Harry registered for the World War I military draft in 1918, and stated his occupation as a coal miner for the Ames Manganese Manufacturing Company of Dunbar. That same year, in October 1918, Flora's 77-year-old father passed away in the Minerd home on Bryson Hill.
When the federal census was taken in 1930, the Minerds lived in the coal mine village of Thompson, Redstone Township, Fayette County, where Harry was a coal mine laborer. They spent time in Steubenville, OH, where they lived in August 1933 at the time of marriage of their daughter Virginia, with Harry holding a mining job which would have been rare during the Great Depression.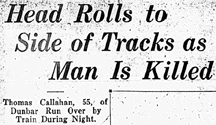 Uniontown Morning Herald, 1937
Circa 1934, when they publicly announced the marriage of their daughter Virginia to Reuben Morey, they made their home in Bryson Hill, in Dunbar.
During the Thanksgiving holiday in late November 1933, Harry and his friends Junior Emigh and Bus Bodkin traveled to their camp in Potter County, presumably to hunt. A short article in the Uniontown Daily News Standard reported their safe return home.
A news article credited Harry for making a "gruesome discovery" one morning in September 1937. He was waiting with others for a streetcar in Dunbar, on his way to work. At about 6 a.m., "in the misty dawn ... [he] saw a dark object along the Baltimore and Ohio railroad tracks 25 yards away," said the Uniontown Morning Herald. To everyone's horror, they saw that "It was a man's head, which had rolled to the side of the tracks. Just a few feet away in the middle of the tracks was the body." The victim was identified as Thomas Callahan, age 55. Said the Morning Herald, "It was evident that he had fallen on the tracks and was so dazed that he was unable to rise before a freight train about 3 a.m. snuffed out his life."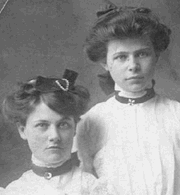 Flora Minerd, right, and her
sister Blanche Blacka
Harry died two years after the discovery, at age 54, on Sept. 27, 1939. The cause "was a complication of diseases." Following a funeral at the Dunbar Methodist Church, led by Rev. William Hamilton, he was buried at Mount Auburn Cemetery in Dunbar.
Flora is seen here, as a striking young woman, posing with her sister, Blanche (Cole) Blacka. She was a member of the Dunbar Baptist Church.
Flora outlived her husband by 37 years. She died on Sept. 18, 1976, at the age of 89, on arrival at Connellsville State General Hospital. She is buried beside Harry at Mount Auburn. Her obituary in the Daily Courier noted that she outlived two daughters, one son and one grandson, and was survived by five grandchildren and seven great-grandchildren.
[Note -- Flora's father was a cousin of Jacob Cole, who married Mary Minerd, and of Susan Cole, who married Isaac F. Minerd.]
~ Son Charles "Pomp" Minerd ~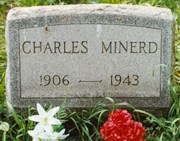 Mount Auburn Cemetery
Son Charles Minerd (1906-1943), also nicknamed "Pomp," was born on Oct. 29, 1906 at Mt. Braddock near Dunbar, Fayette County.
He was a longtime machinist in and around Dunbar, as well as a moonshiner who faced numerous run-ins in the law. He stood 5 feet, 9 inchjes tall, weighed 160 lbs. and had brown eyes, black hair and a dark complexion.
When Charles was age 23, he was listed in the 1930 federal census, living in the home of his aunt Alice (Minerd) Ellis Doughty in Dunbar, along with her children and a cousin. His occupation was listed as "driller" in a local "stone quarry."
Charles married Mary Lunch ( ? - ? ) and they made their home on Second Street in Bryson Hill in Dunbar. The couple appears to have divorced.
In March 1933, while working at the New Castle Lime & Stone Company plant in Dunbar, Charles was injured in a freak accident. Said the Connellsville Daily Courier, "Mr. Minerd was working around the air compressor and came in contact with the belt which began turning him over the axle of the machine. A fellow workman heard his call for help and extricated him." While his injuries were not considered serious, the Courier said, "they are quite painful as his face and arms and other parts of his body are badly bruised and lacerated."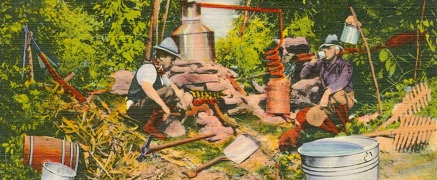 Typical moonshine operations in the heart of the mountains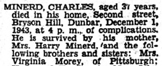 Connellsville Daily Courier
Charles and his friends Charles Harbarger, Ben Smith and Colburn Tressler kept an illegal moonshining operation in the mountains near Dunbar in the summer of 1937. One of the stills was found in Ferguson Hollow and seized by federal agents in late July or early August 1937. The other was at Tressler's cabin at Tucker Run, where, on the night of Aug. 21, 1937, Charles was given the assignment to watch out for unwanted visitors. Charles fell fast asleep at his post and stayed in this condition even while "Federal and State officers crept quietly through the shadows cast by the harvest moon," reported the Connellsville Daily Courier. "Minerd, serving as a lookout, was found asleep atop an outbuilding when offers arrived. He was sleeping so soundly that not until he had been shackled and shaken did he awake. His buddy, Charles Harbarger, was found asleep in the cabin." Officials confiscated a 100-gallon still, 11 gallons of whiskey and a supply of mash. Both men were arrested and taken to Uniontown, while Smith got away.
When the federal census enumeration was made in 1940, the 33-year-old Charles was back in his mother's household. He was marked as "single" and employed as an air driller at the Bluestone Quarry, and having lived there since 1935.
Charles at age 33 was required in 1940 to register for the military draft during World War II. At the time, he dwelled with his mother at Second Street, Bryson Hill in Dunbar, and continued his work for New Castle Lime and Stone.
Charles was afflicted with pulmonary tuberculosis which led to his demise. He passed away "of complications," reported the Daily Courier, at the age of 37 on Dec. 1, 1943. He rests near his parents in the Mount Auburn Cemetery in Dunbar. His sister Virginia provided key details for his certificate of death, which also listed his marital status as "single."
~ Daughter Virginia (Minerd) Morey Haggard ~
Daughter Virginia Minerd (1913-1997) was born on or about Jan. 2, 1913 in Fayette County.
She married her first husband, Reuben G. Morey (1905-1970), the son of George and Susan (Metz) Morey. The couple was wed in Washington, Washington County, PA on Aug. 30, 1933. At the time of marriage, they both made their homes in Steubenville, OH, where Reuben was a farmer.
The Moreys returned to Western Pennsylvania and lived in the Dunbar area, Laurel Hill and at West Leisenring, Fayette County. Reuben was a longtime coal miner and member of the Connellsville Church of the Brethren. They did not reproduce.
The Aug. 31, 1937 edition of the Connellsville Daily Courier reported that "Mrs. Virginia Morey of Dunbar spent Sunday visiting Kathleen Matthews." Then again the following winter, on Feb. 15, 1938, the Daily Courier said that "Mrs. Morey and [her sister] Nancy Minerd of Dunbar are visiting at the home of Mrs. J.A. Matthews."
Nancy and her mother in law Susan Morey were active in the Women's Work Group of the Church of the Brethren in Dunbar. In September 1938, Susan hosted a chicken dinner in her home for 23 guests, at which Virginia assisted in preparing. The social event was covered in the local newspaper.
On Nov. 11, 1939, Reuben deserted Virginia, and remained away permanently. Virginia filed for a legal separation in Fayette County Court in June 1946. Four months later, in October 1946, the divorce was granted.
Reuben went on to marry again, to Marie Berg. They resided along Route 40 (National Highway) west of Uniontown. Reuben died at the age of 65 on May 14, 1970.
Virginia later married Charles J. Haggard (Aug. 23, 1920-1987). The couple resided in Valley Station in southwest Jefferson County, KY, a suburb of Louisville. Charles had served as a U.S. Army sergeant during World War II and the Korean War. Virginia earned a living of her own as a bookkeeper, from which she retired. Their address in the 1980s was 5701 Chestnutwood Way.
Tragically, Charles killed in an automobile accident on June 21, 1987, at the age of 66. The Louisville Courier-Journal reported that while alone in his vehicle, he was driving east on the Gene Snyder Freeway at the overpass of Interstate 65. He slumped over the steering wheel, and may have become unconscious. His car " struck a bridge abutment, continued down the road, went off the left side, struck a guard rail in the median and overturned." He was partially thrown from his seat, and pronounced dead at the scene.
Virginia survived her husband by a decade. She was cared for by a dear friend, Garnetta Mercer, and went to live in Summerfield Manor. The Angel of Death swept her away on Sept. 9, 1997. They rest side by side in Bethany Memorial Cemetery in Louisville, Jefferson County, KY. Her obituary was printed in the Courier Journal, saying she was survived by several nephews and nieces.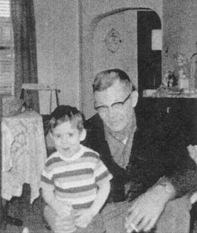 Pomp with a grandson, 1971
~ Son Harry William "Pomp" Minerd ~
Son Harry William "Pomp" Minerd (1916-1978) was born on Sept. 3, 1916 in Dunbar, Fayette County, PA.
In adulthood he stood 5 feet, 8 inches tall and weighed 150 lbs. His eyes and hair were brown, and he had a light complexion.
With good paying employment scarce during the Great Depression, noted the Connellsville Daily Courier, Harry joined the Civilian Conservation Corps (CCC) in about 1935.
Later, he married Mildred Baker (1920-2004), daughter of Freeman and Martha (Richter) Baker of Bullskin Township, near Connellsville. Harry's father in law, a coal miner and masonry laborer, was a baseball player early in life, once managing the Breakneck squad.
Harry was required at the age of 24, in 1940, to register for the military draft as World War II was looming in Europe and Asia. The Minerds did not have a telephone in their home at the time. He disclosed to the registrar that he earned a living through his labor with the Works Progress Administration. he WPA was one of the ways President Franklin Delano Roosevelt and the federal government tried to overcome unemployment and is widely considered one of the Roosevelt's largest and most ambitious undertakings of his "New Deal" to get the nation back on sound economic footing. Over the years, the WPA hired millions of out-of-work individuals to build public works projects, such as roads, bridges, retaining walls and buildings.
The Minerds resided for more than four decades in Breakneck/Hickory Bottom area of Bullskin Township, near Connellsville, and were members of the Breakneck Church of God.
They produced three children: Harry Richard Minerd, Gerald "Mike" Minerd and Marlene Kay Gaudiello.
In late October 1945, they hosted a double birthday party for daughter Marlene Kay and son Gerald. Reported the Connellsville Daily Courier, "Games were played and lunch was served by Mrs. Minerd. Favors were tiny baskets filled with candy. The honorees were the recipients of many lovely gifts."
Harry passed away in 1978, at the age of 61.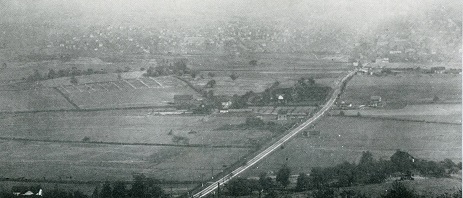 Hickory Bottom near Dunbar
Mildred outlived her husband by more than a quarter of a century, making her home in Connellsville. She was a member of the Breakneck Church of God and, said the Greensburg Tribune Review, "was a loving mother and grandmother. She enjoyed cooking and sewing and spending time with her family." She died at Sunshine Estate Personal Care Home at the age of 83 on Feb. 8, 2004, and was laid to rest in Mount Olive Cemetery in Bullskin Township.
Son Gerald Freeman "Mike" Minerd (1940-2023) was born on Oct. 27, 1940. He wed Phyllis "Bonnie" Hampshire ( ? -living), the daughter of John and Mae (Shelley) Hampshire. They have two children -- Michael and Colleen. Sadly, at the age of 83, Mike suffered from prostate cancer and was treated in a Uniontown nursing home. He died on Nov. 2, 2023. There was no obituary, and the remains were cremated.
Granddaughter Colleen Minerd received a degree in 1992 from California University of Pennsylvania. She appears to have been twice married. One spouse was Richard Shaeffer. On June 1, 1996, she married Lee DeMarco ( ? - ? ), son of David and Audrey DeMarco, with Rev. Michael J. Sciberras leading the wedding mass. At the time of marriage, Lee worked ffor DeMarco's Nursery and Landscaping. Using her maiden name, Colleen is a teacher in the Mount Pleasant Area Junior-Senior High School. As a volunteer in the community, she has collected more than 1,000 pair of socks for donation to the Welcome Home Shelter in Greensburg.
Daughter Marlene K. Minerd (1944-living) was born on Oct. 22, 1944. She attended Connellsville Joint High School and in 1962 was named an entrant in the Jaycees Spring Queen Contest, with her photo appearing in the Daily Courier. She married Michael L. Gaudiello (March 24, 1945-living), son of Betty Gaudiello, and lived at 316 South Ninth Street. Their two children are Michelle Lyn Gaudiello and Michael Gaudiello.
Granddaughter Michelle Lyn Gaudiello ( ? - ? )
Grandson Michael Gaudiello ( ? - ? )
Son Harry Richard Minerd (1939-1996) was born on March 24, 1939 in Connellsville. He drove a truck for 17 years and moved from Pittsburgh to Haines City, FL in September 1978, said the Lakeland (FL) Ledger. He married Margaret Smith ( ? - ? ), who brought five children to the marriage -- Dorsey Smith, James Brook, Willis Brook, Julene Smith and Julee Smith. He died at the age of 56 at Heart of Florida Hospital in Hanes City on Feb. 9, 1996. He was survived by 12 grandchildren and one great-grandchild. Cremation was handled by the Neptune Society of St. Petersburg, FL.
Step-grandson Dorsey Smith ( ? - ? )
Step-grandson James Brook ( ? - ? )
Step-grandson Willis Brook ( ? - ? )
Step-granddaughter Julene Smith ( ? - ? )
Step-granddaughter Julee Smith ( ? - ? )
~ Daughter Nancy (Minerd) Brown Pierelli ~
Daughter Nancy Minerd (1920-1972) was born in 1920 and was twice married.
Her first husband was John Brown ( ? - ? ). They had one son, Terry Brown, born in 1937.
They lived in Connellsville.
Later, after the Browns divorced, John made his home in Vacaville, CA. The 1940 census shows Nancy and her two-year-old son Terry in her parents' household in Dunbar.
During World War II, Nancy served in the U.S. Armed Forces.
Nancy married her second husband Patrick Pierelli ( ? - ? ). They maintained a home in Buena Park, CA. Later, she moved to Valley Station, KY to live with her sister Virginia Haggard.
Nancy died in Virginia's home at the age of 52 on Sept. 17, 1972.
Son Terry Brown (1937-1967) was born in 1937. He married Marci (?). They had three children -- Michael Brown, David Brown and Jon Brown. Tragedy rocked the family in early November 1967 when Terry, age 30, was killed in an automobile accident in Anderson, CA. News of the accident was published in the hometown newspaper, the Connellsville Daily Courier.
~ Daughter Mary (Minerd) Holub Roebuck ~
Daughter Mary E. Minerd (1922-1989) was born on June 5, 1922 in Dunbar, Fayette County.
She was twice married, first to John Finley Holub (1924-1958), son of John and Lucy (McCormick) Holub of Smock, Fayette County, and a chief petty officer second class in the U.S. Navy. They were wed in Christ Methodist Church of Uniontown on Jan. 4, 1944, with Rev. J.W. Shell officiating. The Connellsville Daily Courier reported that the "bride wore a navy blue suit with white accessories and a corsage of red rosebuds." Mrs. Henry Schiffbauer served as matron of honor. Immediately afterward, the newlyweds enjoyed a wedding dinner at Zed Francis Restaurant in Uniontown.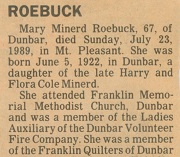 Greensburg Tribune-Review, 1989
At the time of marriage, John recently had completed eight months of service overseas during World War II, and was preparing to ship out again on Jan. 13, 1945.
The couple produced one known son, Robert Eugene Holub.
Mary was a member of the Ladies Auxiliary of the Dunbar Volunteer Fire Company, the Franklin Quilters of Dunbar and the Franklin United Methodist Church.
John returned to Dunbar after the war, and the family dwelled on High Street in Dunbar. He earned a living as a packer of gelatin explosives in a the Liberty Powder Company plant in Mt. Braddock in nearby Dunbar Township. Tragedy struck in the morning of Oct. 22, 1958 when an explosion shook the plant, heard for miles around," said the Daily Courier. The blast killed the 35-year-old John and three other men -- Leonard McGee, Robert Trimbath and Lenn Burns. The story was top headline news in the Courier, and his photograph was printed on the front page a day later. His remains were placed into eternal repose in the new section of Mount Auburn Cemetery.
After six years as a widow, Mary married her second husband, George W. Roebuck ( ? - ? ). They obtained a marriage license in October 1964. George earned a living as a machine attendant at Anchor Cap in Connellsville. In 1967, their home was at 6 Hayes Street.
Mary died at the age of 67, on July 23, 1989, in nearby Mount Pleasant, Westmoreland County. An obituary was printed in the Greensburg Tribune-Review.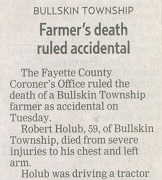 News coverage, 2006
Son Robert Eugene Holub (1946-2006) was born in about 1946. He was age 12 when his father was killed. On Sept. 9, 1967, he was united in holy wedlock with Sharon Clements ( ? - ? ), daughter of Frank C. and Isabell (Leonard) Clements of Dunbar. Rev. Raymond Snair officiated at the nuptials, held in Franklin Memorial Church in Dunbar. A reception followed at the Dunbar Lions Community Hall. At the time of marriage, Robert was employed as a draftsman in the engineering department of Connellsville Corporation, while Sharon attended the University of Pittsburgh at Greensburg. They made their home at 1015 North Jefferson Street in Connellsville. He was pictured with co-workers in the Feb. 26, 1968 edition of the Daily Courier, with an accompanying article stating that the "engineers design and detail some of the largest pieces of mining equipment in the world. They are presently engaged in the design of at least three different mine installations, each valued at over one million dollars." In all, he spent three decades with Connellsville Corp. Later, he worked for eight years as an engineer for Ketchem Construction of Hopwood. Pursuing her own career, Sharon completed the H&R Block Income Tax School and in January 1969 was named manager of Block's new office in Connellsville, located at 310 Pittsburgh Street. On Sept. 1, 1985, Robert married his second wife, Mary Ann Clark ( ? -living). Their union endured for 20 years. In all, Robert was the father of four children -- Angela A. Holub, Joshua R. Holub, Michele I. Holub and Phoenix John Holub. The pair also raised and cared for an extraordinary 65-plus foster children. Robert belonged to the Wooddale Church of the Brethren and occasionally attended services at Dawson Baptist Church. In his free time, Robert liked to fish and enjoy the out-of-doors. By the early 2000s, the Holubs lived on Ohler Road in Bullskin Township. Tragedy rocked the family on the fateful evening of Aug. 21, 2006, while Robert was helping a relative and "driving a tractor that was pulling a tractor that had gotten stuck on a hill," reported the Connellsville Daily Courier. The tractor he was riding "flipped over on him," pinning him on the ground between the seat and steering wheel, and producing horrific injuries on his chest and left arm. He was pronounced dead at the scene. A memorial service was held at the Wooddale Church of the Brethren, jointly lofficiated by Rev. Kevin Wilkins and Pastor Chip Norton of the Dawson Baptist Church. An obituary was printed in the Greensburg Tribune-Review.
Copyright © 2000-2004, 2008, 2012, 2016, 2018 Mark A. Miner.
Obituary of Charles Minerd courtesy of the Dunbar Historical Society