Thomas Michael Minerd

Thomas Michael Minerd was born on Dec. 17, 1897 in Dunbar, Fayette County, PA, the son of Thomas Watt and Theresa (Dowling) Minerd.
He was a coal miner for 51 years, and once resided in a patch town that literally sank off the face of the map. In many ways, his story symbolizes the experience of many coal miners in Western Pennsylvania.
When he was 15 years old, Thomas lied about his age and secured a job in the mines. Later in life, he forgot that he had fibbed about his age, and ended up working a year longer than he should have to be qualified for retirement.
He was a third-generation coal miner, following in the footsteps of his father, uncles and grandfather. An uncle, William H. Minerd, was the first known cousin in our family to be killed in a mining accident, in 1884.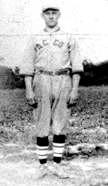 Ball player
Thomas played baseball for the teams of coal mining companies in the Uniontown area. In 1915, for example he was a catcher for the Keister club. He is seen here in the uniform of an unidentified team -- the letters on the shirt appear to read "AC CO."
Thomas registered for the World War I military draft in 1918, and stated his occupation as mine laborer for the Atlas Coke Company at Helen
On Feb. 4, 1926, at age 29, Thomas was joined in holy matrimonial union with 21-year-old Anna J. DZiak (1908-1992), the daughter of Emory and Anna (Trembach) DZiak.
The couple together bore two offspring Thomas Minerd III and Theresa Charnovich. Tragedy enveloped the family when their newborn son died at age 12 days on Sept. 21, 1926, with the cause given as "icterus" -- otherwise known as jaundice. The baby's tender remains were placed into repose in the Smock Cemetery.

News story about Tom's team
As young parents, Thomas and Anna resided in the patch town of Helen, Fayette County. The patches were built as inexpensive worker-housing by coal companies, and often their construction was of poor quality. Thomas is seen here, standing in front of the house which appears to be on a foundation made of field stones. One day the Minerds' house began to collapse. Daughter Theresa, writing in our 1999 Coal, Coke & Steel reunion booklet, said:
Dad was at work in the mine when the house we lived in began shifting and caving in on one corner. When my Mom realized what was happening, she got me (an infant) out of the baby crib then tried to open the door to get out but it wouldn't budge. She then went to the window and fortunately men were doing road work nearby so she yelled and pounded on the window to get their attention. They came running and got us out.
The house was in ruins, and it was torn down along with all the other destroyed residences. Today there's little evidence at the site that a town once existed.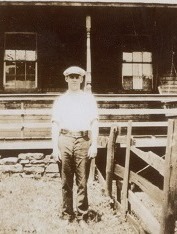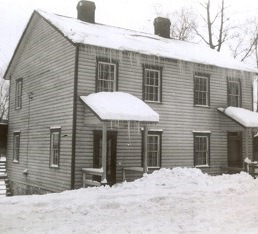 Thomas at home in Helen, PA (left) and their snowy residence in Keister
From Helen, the Minerds moved "over the hill" to the patch town of Keisterville, later shortened to Keister. Their new house, a duplex, is seen here in the midst of winter..
The Minerds were members of the St. Mary Roman Catholic Church of Uniontown, PA. Thomas always said he was "Scotch-Irish," and it probably was through the faith base on his mother's Dowling side, or his grandmother's Smiley side.
Thomas is known to have enjoyed visiting with a second cousin, Wilbert "Patsy" Minerd, who lived about two miles away, and wondered if they might be related, but never were able to make a connection. While they didn't realize at the time that they were related, their grandfathers were brothers.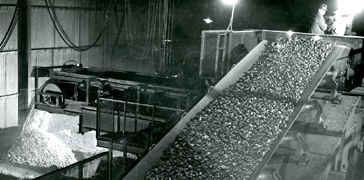 Combination belt lines distribute coal into blending bins at U.S. Steel's Robena Mine, the largest coal mine in the world at the time, near Carmichaels, Greene County, PA.

One of Tom's pay stubs, 1946
Thomas worked at several mines in Fayette and Greene Counties until they closed, such as Helen, Keister and Dearth (1946). He also was employed as a laborer at the U.S. Steel coal mines at Vesta, Sauerkraut and Robena, operated by the H.C. Frick Coke Company.
In 1926, Thomas worked in a coal mine at Waltersburg, Fayette County. In 1946, he is known to have been employed at the Dearth plant of the H.C. Frick Coke Company, a subsidiary of United States Steel Corporation.
For the year 1946, his modest net pay for two weeks of work averaged between $158 and $176, including overtime. The following year, he labored at Frick's Robena Mine. He was a longtime member of the United Mine Workers of America District 4, Local 6321.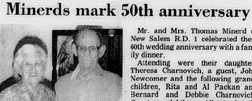 Uniontown newspaper, 1986
In 1986, the Minerds were pictured in the local newspaper when they celebrated their 60th wedding anniversary with a family dinner.
Anna passed away in Uniontown Hospital on Feb. 27, 1992.
Thomas died just about six months later, on Sept. 1, 1992. They are buried together at LaFayette Memorial Park, Brier Hill, near Uniontown.
~ Daughter Theresa (Minerd) Charnovich ~

Daughter Theresa Minerd (1927-2016) was born on Sept. 22, 1927 in Helen, Fayette County.
She married John Charnovich ( ? - ? ).
They produced three children -- Rita Packan, Bernard Charnovich and Rose Berky.
The couple later divorced, with Theresa maintaining her residence in New Salem.
Theresa was employed as a floral designer by Alpha Florist. She also was talented in design and sewing and later worked for Montgomery Ward as a seamstress in Uniontown, and later still at Kart's Ladies Store. During the 1950s and 1960s, she created "beautiful costumes" for the Jean King School of Dance.
Said the Uniontown Herald-Standard, "Theresa was a very independent lady and maintained her own home. She especially loved spending quality time with family members and told many stories of her past. She loved caring for Tuffy and taking him on daily walks. She enjoyed gardening, polkas, nature, animals, and reading."
She became a companion of John Newcomer.
Theresa opened her home to the founder of this website in the early 1990s and provide significant amounts of information and understanding about her branch. She and her family attended our national family reunions for several years.
On the fateful day of Jan. 19, 2016, the vehicle in which she and her daughter were riding was struck head-on by another vehicle operated by a driver under the influence of heroin. Theresa never fully recovered, and spent four and a half months in medical treatment. A story in the Herald-Standard said her independence had been "taken from her as she suffered for 142 days before her death, unable to talk or feed herself while receiving medical care in multiple hospitals."
She succumbed to her injuries at the age of 88 on June 9, 2016. Pastor Kenneth VanSickle officiated at her funeral service, followed by interment in LaFayette Memorial Park. The driver of the other vehicle was found guilty of homicide by vehicle and sentencd to 15 to 30 months in prison.
Daughter Rita Charnovich married Albert Packan. They reside in Uniontown. Their children are Albert Packan Jr., Angela Rugola and Aaron Packan.
Son Bernard Charnovich married Debbie. Their home is in Brier Hill, Fayette County. Their two sons are Bernard Charnovich Jr. and Andrew Charnovich. Bernard and the founder of this website once took a driving trip in and around Smock and New Salem and Dunbar, looking at old family sites and graves.
Daughter Rose Charnovich was wedded to Robert R. Berky (1953-2021), son of Abe and Ida Berky of Brownsville, Fayette County. Their union endured for 43 years. The couple produced one daughter, Sara Berky. The family resided in Westerville in the outskirts of the state capital, Columbus, OH. Robert was a 1970 alumnus of Brownsville High School and received his bachelor's degree in 1974 from the University of Pittsburgh and a master's degree in 1977 from West Virginia University. Then in 1988, he was awarded his law degree from Capital University. Robert practiced his profession for 33 years, with an office at 753 South Front Street in Columbus. He was admitted to practice before the U.S. District Court for the Southern District of Ohio. He held a membership in the Temple Beth Shalom in New Albany, OH. One of his passions was music record collecting and following the fortunes of the Columbus Blue Jackets of the National Hockey League, Pittsburgh Steelers of the National Football League and University of Pittsburgh Panthers football team. Robert endured chronic kidney disease for many years. At the age of 68, he died on Dec. 12, 2021. Services were held in the family synagogue, with funeral services held there and in Pittsburgh, with interment in Torath Chaim Cemetery in Gibsonia, PA. An obituary was published in the Columbus Dispatch.
Copyright © 2001, 2008, 2016, 2021 Mark A. Miner