Virginia 'Jennie'
(Minerd) Fisher
(1867- ? )

Perhaps Jennie?
Virginia "Jennie" (Minerd) Fisher was born in about 1867 in Wharton Township, Fayette County, PA, the daughter of James and Candace (Rush) Minerd Jr.
Little is known of Jennie's life, and the photographs seen here are thought, but not proven, to be of her.
Heartache rocked the family in 1872 when Jennie was five years old, and her mother died of tuberculosis. Jennie's father was unable to provide daily care for the children, as he was busy working in local coal mines.
Jennie's brother James was sent to live with a maternal uncle and aunt, Marcellus and Mary F. (Rush) Brougher. Jennie herself went to nearby Dunbar to live in the home of a paternal uncle and aunt, Isaac F. and Frances Caroline (Jordan) Minerd. She is shown in Isaac's household in the 1880 federal census enumeration.
Her story is silent for the next six deccades of her life.
Some 60 years later, in 1932, when her brother James died, the Uniontown (PA) Morning Standard said that Jennie was living in Savanna, Carroll County, IL, and that her name at that time was "Fisher." Her husband's identity is not yet known.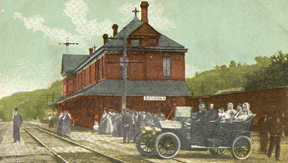 Savanna's C.B.&Q. Railroad Depot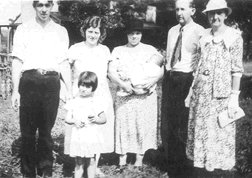 Jennie (?) at right, with the Darbys
Jennie's niece Blanche (Minerd) McCabe had a photograph in her collection, showing a group that included someone named "Aunt Jennie" who was standing at far right.
The photo was taken between 1930 and 1940, and the caption reads:
Taken on the 23 Sept. Aunt Jennie, Pap, Mary Lou, Bob, Laura Belle, Baby and my self. When you get tired of looking at these faces send them back.
Nothing further about Jennie's life, or her spouse, is known.
More will be reported here when discovered.
Copyright © 2001, 2006, 2010, 2021 Mark A. Miner