William Minerd
(1891-1918)

William Minerd
William Minerd was born on Dec. 7, 1891 in Dunbar Township, Fayette County, PA, the son of James C. and Suvina (Yauger) Minerd Sr.
Little is known of his short life. He registered for the military draft during World War I, and listed his occupation as a coal miner for the Fayette Coal and Coke Company of Shamrock, Fayette County.
At some point, William wed Amy Elizabeth Baird (1894-1956), the daughter of William and Margaret (Sullenberger) Baird Sr. of Mt. Pleasant, Westmoreland County, PA.
Amy brought a son into the marriage, John G. Trump.
During the 1910s, William was a laborer at the Keister Mine near Uniontown, Fayette County.

Obituary, 1918

In 1918, at age 26, William came down with a deadly case of typhoid fever, with hemorrhaging in his bowels. He died from its effects on Sept. 25, 1918 at his parents' home at Searight's, Fayette County.

William is buried at the Pleasant View Cemetery in Smock, Fayette County. Ironically, his grave is directly next to the grave marker of his father's first cousin, Thomas Watt Minerd.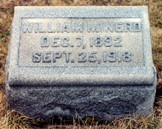 Pleasant View, Cemetery, Smock
Amy outlived her husband by nearly four decades. She resided in Fairchance, Fayette County, and was a member of the Free Methodist Church in town.
In 1956, afflicted with kidney disease in addition to breast cancer, Amy was admitted to the Weimer Nursing Home of Fairchance.
She died at the Weimer facility, at age 60, on Sept. 16, 1956. She is buried at Maple Grove Cemetery in Fairchance. Her son John G. Trump of Uniontown was the informant for her death certificate.
Copyright © 2001, 2006, 2014 Mark A. Miner