Albert 'Ross' Minor
(1896-1995)

Ross Minor
Albert "Ross" Minor was born on Jan. 23, 1896 at Pursley Creek near Waynesburg, Greene County, PA, the youngest of five sons of Elias and Elizabeth (King) Minor.
Ross was raised on a farm his father rented from a local man. He and his brothers helped to take care of large scales used to weigh livestock. People would come to their farm to sell and trade their stock, and it was rare for a rural farm to have such sophisticated equipment. Ross also hoed corn for 50 cents a day.
Once, when Ross was about age six or seven, his father took him into the Jesse L. Ross Drug Store. It was the only such store in town, Ross recalled. Eli told the druggist that his son was named after him. The druggist, quite pleased with this information, gave Ross a $1 bill, a lot of money at the turn of the 20th Century.
In about 1912, at the age of 16, Ross left home to pursue his own way. He remained in the Waynesburg area for many years. His first "real job," he said, was working at the Grossman Brothers store in Waynesburg for $10 a week. When returning home for a visit, it took him nine miles and three hours to walk. If he took a horse and buggy, it was a one-hour ride. He passed a teacher's examination and was assigned to a school across the state line, about one mile from Blacksville, Monongalia County, WV.
Always interested in sports, Ross and his brothers grew up playing baseball. Ross is seen here in a rare old studio baseball pose, standing at right, as if about to tag out a runner trying to steal a base. For a larger version of this image, click here to see our "Photo of the Month" for April 2002. (The runner, Ira Wright, later worked with Ross in the Panama Canal Zone.)
In 1916, he played with at least two local teams -- the Waynesburg "C" team and the Brave Village team in the Dunkard Valley League. He also played for the Baptist Church League, and with teams from Bluff, Oak Forest, New Freeport and Kughntown. He never played on a sandlot team unless he batted cleanup, and that he had two firm rules: "You cant win unless you score, and you can't steal first base."
In 1918, he enlisted in the U.S. Army during World War I. After basic training, he joined the 28th Division (also known as the "Keystone Division") with Company K of the 110th Infantry. He served in France, and took part in five major battles.
Afterward, he returned home without receiving a scratch, and obtained a job teaching. He was teaching at the Walnut Hill School, for $55 per month. "Teaching was one of the best-paying jobs around," he said. "People were mostly farmers. There wasn't much else to do."

Ross in his World War I uniform (second from right)
On New Year's Day 1919, Ross was baptized in the icy Monongahela River at West Point Marion, Greene County. Sarah Fye, his future wife, attended the event, and always reminded him about it years afterward.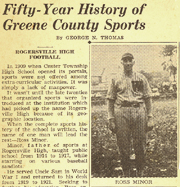 Waynesburg newspaper

He taught for three years at the school, working seven months during the year, but quit in 1921 to attend Waynesburg College. The college's old main building is seen here.

Said Ross, "I was an athlete and participated in college activities." He won letters in baseball, football, basketball and tennis. He would have won one in track, he claimed, but at the time Waynesburg did not compete with any other schools in that sport.

Ross graduated in 1925 with a bachelor of arts degree, one of the earliest college graduates in the family. He then taught science and mathematics in three different high schools. One of the schools was in the small rural community of Rogersville near Waynesburg.

He has been dubbed the "father of sports" at Rogersville High School in recognition of his efforts. On Aug. 20, 1952, the Waynesburg newspaper published a feature article, "Fifty Year History of Greene County Sports," picturing Ross wearing his Waynesburg College baseball uniform.

In 1927, at the age of 31, Ross married local teacher Sarah Fye (1906-1987). She was age 22, a Waynesburg resident, and the daughter of John L. and Hester (Mahan) Fye.

They together produced one son, Jack Fye Minor.

Circa 1936, Ross taught at the Waynesburg High School. One day, however, after overhearing that two janitors made more money than he did, he resigned to pursue more lucrative work.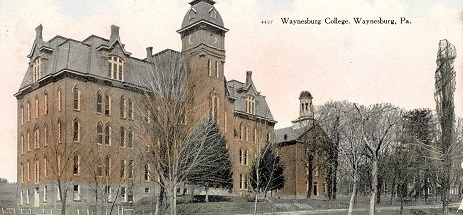 Above: Waynesburg College. Below: rare photograph of Rogersville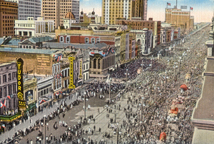 Mardi Gras in New Orleans
Ross secured employment with the federal government, and he and Sarah moved to Washington, DC. During World War II, "when the submarines invaded the Atlantic, the shipping to the Canal Zone was transferred from New York to New Orleans," he said, and he was sent there to take care of the cargo from the U.S. and Panama and vicinity.
He worked in the Treasury Department in the Panama Canal Zone for five years, with the exception of about six months in Los Angeles when enemy submarines began cruising in the Gulf.
After the war, in about 1948, he was expecting to return to Washington DC, but received an offer to stay in the Canal Zone, and accepted. He continued working for the federal government for 12 years, retiring at the end of 1959. (To see a photo of another cousin involved with the original construction of the Panama Canal, click here.)
The Minors moved back to the States in 1960, settling in the Algiers section of New Orleans to be near their son. He did some substitute teaching during the retirement years. They were members of the Woodland Presbyterian Church in Algiers.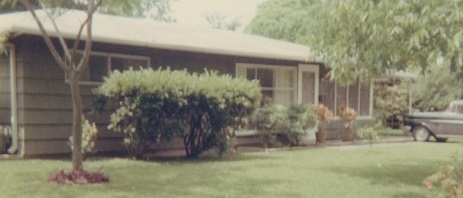 The Minors' home, New Orleans, where this website's founder visited in 1991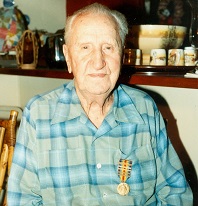 Ross in May 1991
Sadly, Sarah suffered from emphysema, and for the last few years of her life had to breathe using oxygen tanks.
She passed away at age 81 on Dec. 29, 1987. She was age 81, and was survived by her husband, their son, two grandchildren and five great-grandchildren. She was laid to rest in West Lawn Memorial Cemetery in New Orleans.
In the late 1980s, future Minerd.com founder Mark A. Miner began corresponding and talking by telephone with Ross to record details of his life. Later, in May 1991, Mark visited with Ross in his home in New Orleans, and tape recorded their conversation for posterity. Ross put on his old World War I medal for a photograph taken that evening.
Ross died in New Orleans on Jan. 25, 1995, just a few days after his 99th birthday. He rests beside his wife.
~ Son Jack Fye Minor ~
Son Jack Fye Minor (1929- ? ) was born on Nov. 25, 1929 in Waynesburg.
He was twice married. On Aug. 29, 1949, in Henderson, KY, he entered into matrimony with his first bride, Billie Neal Weber ( ? - ? ). She was a nurse and came from a family of doctors and nurses in Olney, IL.
Together, the couple produced two children -- Dr. Frank Weber Minor and Mimsie Farrar.
Jack in 1952 became employed as a petroleum engineer trainee in the engineering department of the Texas Company. News of this new position was reported in the New Iberia (LA) Daily Iberian. They spent many years in the New Orleans area.
Jack eventually was named a petroleum engineer for the Louisiana Land and Exploration Company.
The couple divorced in September 1967 in Distict Court in Albuquerque, NM. Billie continued to dwell in Albuquerque and Jack in Algiers, LA.
Then on Feb. 6, 1973, the 43-year-old Jack married Ann Gerrard (Sept. 30, 1944-2007), daughter of Robert J. and Eleanor Ann (Suzy) Gerrard of Victoria, TX. Their nuptials were held in her hometown.
Ann was a 1962 graduate of Victoria (TX) High School and a 1966 alumna of the University of Texas at Austin. After a move to New Orleans, she owned and operated her own public accounting firm, Ann Gerrard Minor CPA for more than three decades. She belonged to the Junior League of New Orleans, University of Texas Ex-Students Alumnae, Plimsoll Club, Kappa Kappa Gamma Sorority, Krewes of Iris Muses, Daughter of the American Revolution, the Daughters of the United Confederacy and the Society of Certified Public Accountants.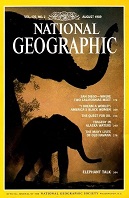 August 1989
He was pictured in the August 1989 edition of the National Geographic Magazine in a feature story entitled "The Quest for Oil." The caption of the photograph read that as a geophysicist in Houston, TX, he and a colleague were studying "a cross section of data from an offshore seismic survey that helped determine the site of the Alaska well..."
Sadly, suffering from cancer, Ann died in Touro Infirmary on Sept. 20, 2007. Her obituary was published in the New Orleans Times-Picayune. She was laid to rest in Evergreen Cemetery, with Rev. Vanessa Potter officiating at the funeral service. An obituary was published in the Victoria (TX) Advocate, in which the family requested that any memorial donations be made to the American Cancer Society.
Jack remained in New Orleans until the age of 91, when he relocated to California to be near his adult children.
Son Dr. Frank Weber Minor ( ? - ? ) was born on (?). In 1973, he wed Dorothy Odom ( ? - ? ), daughter of Leon D. Odom of Algiers, LA. The nuptials were held at Calvary Baptist Church by the hand of Rev. Hiram Campbell. In announcing the marriage, in which the couple were pictured, the Gretna (LA) West Bank Guide said that "The newlyweds reside in Baton Rouge where they both attend LSU. In September the groom will enter the LSU Medical School." He spent his career as an orthopedic surgeon in Grass Valley near Tulare, CA. In time he married Louise ( ? - ? ). They settled in Grass Valley, CA and became the parents of four sons.
Daughter Mimsie Minor ( ? - ? ) was born on (?). She grew up in Albuquerque, NM and is a 1971 graduate of Del Norte High School. At the age of 22, in about 1975, she entered into marriage with 24-year-old Gary R. Farrar ( ? - ? ), a Maine native but at the time residing in Albuquerque. News of their marriage license appeared in the Albuquerque Journal. The couple adopted a daughter, Billie Lyn Farrar, and then went on to bear three more offspring -- Carlee Farrar, Jaime Farrar and Reed Farrar. They resided in Modesto, CA. Mimsie was a longtime nurse and retired as a nurse practitioner. She was quoted in an April 2004 Modesto Bee article after taking part in Earth Day celebration with their daughter Jaime at Graceada Park in Modesto. After a divorce, Mimsie was joined in wedlock with Kenneth Schroeder ( ? - ? ). They endured the untimely death of their daughter Billie in October 2021. Mimsie graciously has provided valuable content for this biography.
Granddaughter Billie Lyn Farrar (1968-2021) was born on Nov. 20, 1968. She was a 1986 graduate of Hoover High School of Fresno, CA and resided in Modesto. Billie bore a son, Bryan Farrar. She was a single mother and was employed by attorney David Johnston. Sadly, Billie passed away on Oct. 10, 2021. She was pictured in her obituary in the Modesto Bee.
Granddaughter Carlee Farrar ( ? - ? )
Granddaughter Jaime Farrar ( ? - ? )
Grandson Reed Farrar ( ? - ? ) was united in matrimony with Lysha ( ? - ? ). They are the parents of three -- Tanner Farrar, Logan Farrar and Bryce Farrar.
Copyright © 2000, 2005-2006, 2009, 2016-2017, 2023 Mark A. Miner