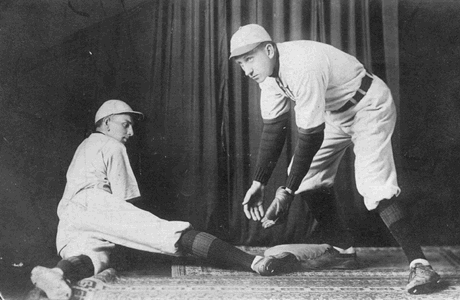 HOPE SPRINGS ETERNAL! The opening of the 2002 Major League Baseball season is a time to mark the coming of Spring and to celebrate the joy of playing and watching the National Pastime, from wiffle ball to little league, from semi-pro to the majors.
This rare studio view features Albert "Ross" Minor (right) as he prepares to receive an imaginary throw and tag the sliding runner. Ross sent this photo to a family member, writing: "Wright and Minor, Baseball Stars of the Waynesburg C Baseball team of 1916 ... Am playing ball with Brave in the Dunkard Valley League." His brother Harold Earl Minor is known to have played with the Bluff village team. Many rural Western Pennsylvania towns such as Brave and Bluff had their own baseball teams which generated great local pride and intense rivalries with other communities.
Ross was born on a farm at Pursley Creek, near Waynesburg, Greene County, PA, the son of Elias and Elizabeth (King) Minor, and the grandson of Henry and Polly (Younkin) Minerd. Ross served in the US Army in France during World War I. Afterward, he taught school near Waynesburg, PA, helped coach varsity teams and was called the "father of sports" at Rogersville High School.
Copyright © 2002 Mark A. Miner