Elias 'Eli' Minor
(1853?-1923)

Elizabeth (King) Minor
Elias "Eli" Minor was born in about 1853, the son of Henry and Mary "Polly" (Younkin) Minerd (also spelled "Miner" and "Minor"). No photographs of him are known to exist, and his wife's portrait is seen here.
Eli may have been born on his parents' ancestral farm near Kingwood, Somerset County, PA, or at Beeler Station, Marshall County, VA (later West Virginia), where his parents moved in the 1850s.
The family moved again to Greene County, PA when Eli was a boy, and that's where he grew to manhood.
In 1884, when he was 31 years of age, Eli married 19-year-old Sarah "Elizabeth" King (1865-1936), the daughter of William King of Greene County. It is not known how they met, as her girlhood home was miles away on a farm in western Greene County, near the West Virginia line.
The Minors were tenant farmers and in the late 1880s resided on a landlord's farm in Aleppo Township, Greene County. Eli's dying father came to live in their home, and he passed away there the day after Christmas 1888.
At some point the Minors moved and settled along Pursley Creek, near Oak Forest. Eli rented a small frame house on a farm owned by Tucker Spragg, about three miles from the village of Oak Forest.

Eli and Elizabeth's farm near Pursley Creek, as seen in 1990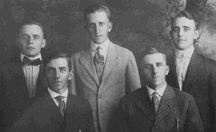 L-R: Harold, Charles, Ross,
William and Porter
Eli worked as a farmer and stock raiser, and rented a farm belonging to a neighbor who raised livestock. Elizabeth had a garden with tomatoes, potatoes, green beans and lima beans. She also had an apple orchard, including Grimes Golden, Baldwin and Early varieties, and a row of cherry trees. Once apples were picked, they were stored in holes dug out of the earth, and covered with straw. This kept them fresh for months, until they were needed for cooking or eating.
The Minors produced a family of five children, all sons -- Charles Ray Minor and William Thomas Minor in front, and Harold Earl Minor, Albert "Ross" Minor and Porter Owen Minor in back. To see a larger version of this photo, click here for our "Photo of the Month" for October 2003.
Each winter, despite the fact that they were poor, the boys received leather boots with steel toes. The boots would last all winter, but when they got wet, they would shrivel and shrink. About the first of May, son Ross recalled, the boys were allowed to take off their shoes and play barefoot in the front yard, which was grassy. "We could go without shoes the rest of the summer," he said. Often the boys carried their dirty clothes to the local spring, built a fire to boil water, and did their washing.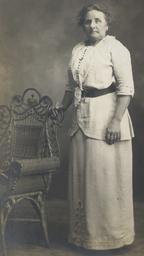 Elizabeth Minor
The house had only two rooms, and had no cellar. The cooking and washing were done in one room; the other was a living room which functioned as the sleeping room, with a wood burning stove and three beds to accommodate seven people. They had two dogs, which were never allowed indoors, and two cats. The farm also had a grainhouse, chicken and hen house, buggy shed, barn, smokehouse and an outhouse. Tax records of the early 1900s show that Eli kept three or four horses and horn cattle.
On the farm were a number of outbuildings, including a two story grainhouse, on each side of which were corn cribs, and in the middle a wagon house. There also was one chick house and hen house with nests along the wall; a buggy shed; a barn with several sections for cows, horses and a "hay mow;" and a smoke house for hams butchered in the fall of the year. Up to 12 hams would be hanging in the smokehouse at any one time.
Elizabeth did not care for beef and lamb, so she never served them as meals. Rather, she cooked pork, chicken and turkey. She also kept 20-gallon jars of sauerkraut, and baked corn pone every week.
In politics, Elizabeth favored the Republican political party although the rest of Greene County was heavily Democratic. She told one of her sons that when she was young, the Republicans favored higher tariff legislation to keep foreign goods out of the country, so that people could buy homemade goods. Her husband, however, never "bothered much" with politics or elections.
At least once, Eli is known to have once driven their son Ross by horse and buggy to Waynesburg to the homes of a sister, Nancy Farabee, and her son Clint Farabee. Clint's son, Donnus F. Farabee, remembers seeing Eli driving in a buckboard with a two-horse team as he approached the Farabee house in the Morrisville section of Waynesburg. Don watched as Eli stopped at a watering trough about a quarter mile down the hill, before proceeding to the Farabee home.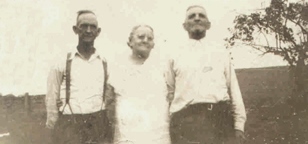 Elizabeth with her brothers. Tom King is at right.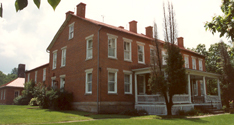 Greene County Home, where Eli died
Eli is said to have had a mustache but no whiskers, and was rather small in stature. He never disciplined his sons, but gave that responsibility, like most other family duties, to his wife. There was no fighting in the family, recalled their youngest son Ross, and there was no trouble with the neighbors.
Said the son: "He was not a 'wonderful provider' that husbands and fathers should be. My brothers grew to dislike him, and my mother asked him to leave."
Eli and Elizabeth separated in about 1906 or '08. Ross said that he "never saw him more than three or four times after he left home." Once, Ross was walking home from the post office in the town of Bluff, three miles from the Minor farm. Eli drove up in a horse and buggy, and asked Ross if he wanted a ride. The son declined, and Eli rode off alone.
As he aged, Eli was admitted to the Greene County Home. The photograph seen here shows the Home building, which has since been converted into the Greene County Historical Museum.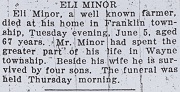 Waynesburg Republican, 1923
He died there on June 5, 1923 at the age of 70. Obituaries were published in the Waynesburg Democrat Messenger and the Waynesburg Republican. The obituary in the Republican said he was "a well known farmer" who had "spent the greater part of his life in Wayne township. Beside his wife he is survived by four [sic] sons. The funeral was held Thursday morning."
Eli was is interred in an unmarked grave at the Home's cemetery. It is unlikely that any of his family attended the burial.

With niece Gertie
Hawkins in Missouri
In the early 1990s, efforts by the founder of this website to locate the grave were not successful, despite several letters written by the family to the Greene County Commissioners.
Following her separation from Eli, Elizabeth moved to Missouri to care for one of her sisters, who resided on a farm in Memphis, Scotland County, and who was gravely ill. When the sister died, Elizabeth then married her widowed brother in law, James W. Harker.
The ceremony was performed on Oct. 20, 1915, as shown in their marriage license on file in Scotland County. (In family records, the date also has been given as 1920.) The ceremony was performed in the groom's home by Rev. D.J. Little.
The Harkers were farmers, and raised sheep. While in Missouri, Elizabeth belonged to the Christian Church of Memphis. She also cared for her niece (and new step-daughter) Gertie Harkins. The two are seen here in a portrait photograph. If James had any other children, they are not known at present, but will be reported here when learned.
Elizabeth's reaction to the death of her first husband back in Pennsylvania is lost to history.
James passed away in Memphis in 1929, after 14 years of marriage. The cause of his death is unknown, as is his final resting place.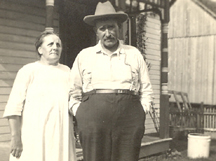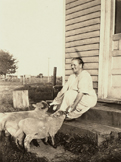 Elizabeth with her second husband, James Harker, and feeding their lambs in Missouri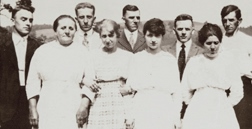 Elizabeth with her sons and their wives
Elizabeth then moved back to her old home in Western Pennsylvania. She is seen here posing with her sons and their wives at the Pursley Creek home during the mid-1920s.
At the age of 81, Elizabeth died on Oct. 5, 1936 at the home of her brother Thomas King in West Alexander, Washington County, PA. She was laid to rest at Rosemont Cemetery at Rogersville, PA.
At the time of her death, she had 11 grandchildren.
Later, her son William and his two wives would be buried beside her as well, and their names are inscribed together on the grave marker.
In 1935, when widespread research was being done by Eli's Younkin cousins coast to coast, to determine how everyone fit into the massive clan, and to organize a national home-coming reunion, Eli was mentioned in a letter authored by Charles Arthur "Charleroi Charley" Younkin. Click to see this letter, dated Feb. 19, 1935.
As well, Eli is mentioned in a lavishly illustrated, 2011 book about his brother Ephraim, who served in the Civil War -- entitled Well At This Time: the Civil War Diaries and Army Convalescence Saga of Farmboy Ephraim Miner. The book is authored by the founder of this website. [More]
Copyright © 1999-2002, 2005-2006, 2009, 2011, 2014, 2017 Mark A. Miner