Porter Owen Minor
(1892-1951)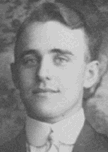 Porter O. Minor
Porter Owen Minor was born on May 7, 1892 at Pursley Creek near Waynesburg, Greene County, PA, the son of Elias and Elizabeth (King) Minor.
Porter received his middle name due to the fact that the physician who assisted in the delivery in the Minor home was "Dr. Owen."
Early in his career, Porter was a teacher, assigned to a one-room schoolhouse, presumably in rural Greene County, as enumerated on the federal census of 1910. Also about that same year, Porter worked for the Pennsylvania Department of Mines.
At an early age, wanting more, he passed a civil service examination.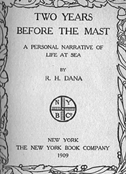 Porter's childhood book
In 1910, when he was age 18, he purchased or was given a small, hardcover book, Two Years Before the Mast, authored by Richard Henry Dana, and published by the New York Book Company. On the inside cover, in the space marked "This Book is the Property Of:", he inscribed it: "Porter Minor, Bluff, Pa., June 10, 1910."
A year or two later, he switched careers again, and was a salesman for Ruud Manufacturing Co., which made water heaters.
As with his brothers Bill, Harold and Ross, Porter loved to play baseball in sandlot leagues throughout Greene County. Although not quite of Major League caliber, he was encouraged to try out for the Pittsburgh Rebels of the rival Federal League circa 1914-1915. He turned it down because he has just begun his career with Ruud, and was not willing to take the risk. One of Porter's nephews recalls that Chilly Doyle, a sports columnist for the Pittsburgh Post-Gazette, once praised "Port Minor" in his articles.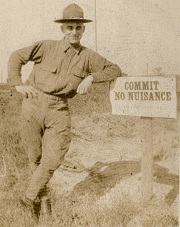 Humor at Fort Lee
Porter was a veteran of both World Wars I and II. During World War I, he was stationed at Camp Lee, VA, where the comic photo seen here was taken.
On Sept. 9, 1918, at age 26, Porter married Mary "Belle" MacDonald (1894-1982). The ceremony took place at a Presbyterian parsonage on Tab Street in Petersburg, VA.
They went on to have three children -- twins Janet Belle Minor and James Minor and John Porter Minor.
The Minors resided for several years at 26 Courtney Street in Emsworth, Allegheny County, PA, near Pittsburgh. Porter enjoyed golfing at the Shannopin Country Club.
In 1944, during World War II, Porter had to obtain a delayed birth certificate, and did so through the Orphans Court of Greene County. In the document, he acknowledged that his father had been born in Somerset County, PA, and that his father was about age 30 at the time of Porter's birth. Three relatives and friends signed affidavits attesting to the facts in the certificate -- his brother Bill and friends Pauline (Cole) Kiger and Martie Phillips. The certificate is on file today at the Greene County Courthouse in Waynesburg.
Later, he was transferred and moved to Michigan, settling in Kalamazoo, Kalamazoo County. There, Porter and Bell lived the rest of their lives, in a house on West Lovell Street.
While in Kalamazoo, Porter worked as a manufacturer's agent for Consolidated Brass Co. His business often took him to Chicago, and he and Bell considered moving there, but ultimately did not.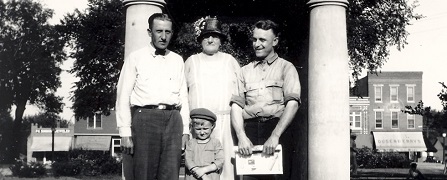 Porter (far right) with his mother, brother Ross (left), and son James, circa 1925
Porter suffered from hardening of the arteries and heart disease. He passed away due to their effects at age 59 just three days before Christmas, on Dec. 22, 1951. He was laid to rest at the Mount Everest Cemetery in Kalamazoo.
Tragically, their son James, who was married and had two young daughters, was seriously ill in 1960. James died the same day that his aunt, Esther (Hemerlin) Minor, was buried in the Cleveland, OH area. Grief-stricken, Bell had to drive back home from Ohio in a thick fog, knowing she would face even more heartache upon returning.
Bell outlived him by more than three decades, and passed away in Kalamazoo on Jan. 6, 1982. The funeral was held at the First Presbyterian Church of Kalamazoo, with burial beside her husband. Her obituary was carried in her old hometown newspaper, the Pittsburgh Press.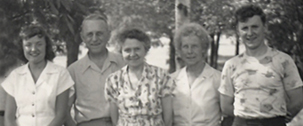 Porter and Belle, 2nd and 3rd from left, with family and friends, 1949


John and Nina Minor
~ Son John Porter Minor ~
Son John Porter Minor graduated from Kalamazoo High School in 1947. One of John's classmates, James A. McDivett, went on to become a brigadier general in the US Air Force and an astronaut who flew on the Gemini 4 and Apollo 9 space missions.
John married Nina Gancheva (1934-2015), a native of Lowetch, Bulgaria, and the daughter of stationed in the U.S. Armed Forces.
They had one daughter, Nevena "Anka" Minor.
Said the Carlisle (PA) Sentinel:
After escaping communist authoritarian rule, she immigrated to West Germany in 1965. Until her marriage to John Minor in Zweibrücken she worked as a nurse at the University Clinic in Homburg/Saar, West Germany, and moonlighted as a bartender and fine porcelain saleswoman. She honored her Eastern-European hosting tradition by always keeping her family and friends well fed with her gourmet cooking, baking and canning, using the organic produce she grew in her backyard—affectionately referred to by her family as "the jungle" or "the outdoor cafeteria", which also nourished the local wildlife. She supplemented this by feeding scraps to the skunks and opossums. Not surprisingly she loved watching Animal Planet and knitted sweaters for her daughter's dogs. She shared her love of international travel, opera and foreign films with her husband and daughter.
Nina was a devoted wife and mother. She had a tenacious spirit, off-beat sense of humor, was inquisitive, loyal, and loved learning, qualities all reflected in her daughter as well. Nina gave unwavering love and support to her husband and daughter, being their biggest advocate. Nina was multi-lingual, speaking more than 7 languages, including Esperanto, and was a member of the Foreign Policy Association of Harrisburg. She and her husband enjoyed connecting with and entertaining the International Fellows (foreign officers) attending the US Army War College in Carlisle. Nina was also a fixture in the Bulgarian immigrant community, helping newcomers get their bearings in their new life in the US. An avid music lover, she was a member of the Metropolitan Opera Association. As the parent of a Dickinson alumna, she frequently visited the College library and attended campus concerts and other cultural events.
Sadly, Nina contracted a rare, aggressive form of lymphoma. She died at the age of 81 at Thornwald Home, Carlisle, PA on Christmas Day 2015. Her remains were interred in the Indiantown Gap National Cemetery.
Daughter Nevena "Anka" Minor married Sam Puffenbarger. They reside in Washington, D.C.

Janet Minor
~ Daughter Janet Belle Minor~
Daughter Janet Belle Minor (1929-2011) was born on Oct. 9, 1929 in Pittsburgh, a twin with her brother John.
She never married. She obtained a bachelor of science degree in 1951 from Western Michigan University and spent her career as a medical technologist. She was a member of the First Presbyterian Church.
Janet dwelled during her adult life in Kalamazoo and maintained a high sense of privacy. Reported the Kalamazoo Gazette, "She loved animals and nature and had an interest in politics and social justice."
For several years, she corresponded with the founder of this website and provided key details about the history of this branch of the clan.
Sadly, Janet passed away in Rose Arbor Hospice on April 6, 2011, at the age of 81.

Janet's longtime home in Kalamazoo
Copyright © 2000, 2005, 2007, 2016-2017 Mark A. Miner