Harold Earl Minor
(1893-1983)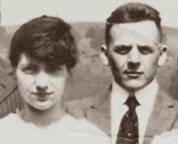 Esther and Harold Minor
Harold Earl Minor was born at Pursley Creek, near Waynesburg, Greene County, PA on Dec. 29, 1893, the son of Elias and Elizabeth (King) Minor.
When Harold was about age 15, his father left the family and moved away from home, after years of disputes and hard feelings. It's said that he was "vicious and mean, and did a lot of drinking," and that Harold's older brothers ran their father off at the point of a gun, or perhaps an axe.
Like his younger brothers Porter and Ross, Harold was an early teacher, likely in a one-room school in the rural Greene County area.
Always interested in sports, Harold played catcher for the Brave Village baseball team as a teenager, circa 1920. He also played for the local Bluff village team.
While a very small community, Brave was well known as the site of one of the largest natural gas pumping stations in the world, operated by the Peoples Natural Gas Company. (Today it's part of Dominion.) This industry would have provided employment for many local men involved in the construction of pumping facilities as well as their operation and maintenance. It's not known, however, whether Harold worked in this type of business in the years before his marriage, though several of his brothers did.
Harold, lower left, with Bluff baseball teammates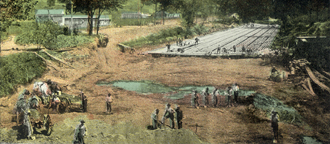 Gas pumping station construction at Brave, PA
The old photographic postcard seen here shows workers laying cooling pipes at the gas pumping station in Brave in the early 1900s.
During World War I, Harold's brothers Porter and Ross both served in the US Army. If the war had been extended, or one of the brothers would have been killed, Harold planned to be the next one to enlist.
After leaving the teaching profession, which did not pay well, Harold in about 1912 moved to Cleveland, Cuyahoga County, OH. He worked for many years as a railway mail clerk.
He also was a longtime season ticket holder for the Cleveland Browns of the National Football League. (The Browns were formed in 1946, as members of the old All America Football Conference.)
On Oct. 2, 1915, at the age of 23, Harold married Esther Hemerlin ( ? - ? ). They resided on Noble Road in Cleveland.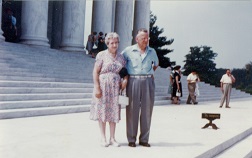 The Minors in Washington, DC
The Minors produced two children -- Donald Owen Minor and Carol Minor. The children were 19 years apart.
Harold and Esther are are known to have made occasional visits to the old Minor homeplace near Pursley Creek. The last visit was in 1928, during which Harold's brother Ross drove their son Don through the countryside in his new automobile.
Reflecting the hard feelings Harold felt for his estranged father, the topic was never discussed in the Minor home. Once, their son approached Esther and asked about this. Her response was so harsh that the subject was dropped.
Esther died in 1960. The day of her burial, the family received word that their nephew, James Minor (Porter's son), had died in Michigan.
Harold outlived her by nearly a quarter of a century. He left his apartment on Noble Road, and moved into the A.M. McGregor Home in East Cleveland, He passed away there at the age of 90 on Aug. 5, 1983. He is buried in the prestigious Lake View Cemetery in Cleveland. (At least two other branches of our extended clan, the DeMoss/Lawrence family, and the Miner/Bishop family, also are interred there.)
~ Donald Owen Minor ~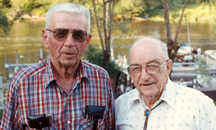 Don Minor, left, and cousin Ed Miner
Son Donald Owen Minor (1918-1998) was born on Feb. 19, 1918.
He married Shirley ( ? - ? ).
They resided in Kirtland/Willoughby, OH at 10118 Hillcrest Drive.
In June 1990, the Minors' son Don hosted a visit by his second cousin, Edward John Miner, of Washington, PA, and Ed's grand nephew, Mark A. Miner, founder of this website. Don (at left) and Ed are seen here at the marina in Mentor-on-the-Lake, Ohio. The Minors' gracious hospitality and sharing of information during this visit, and subsequent correspondence, has been very valuable in our understanding of this branch of the family.
Don passed away at the age of 80 on April 17, 1998 at Willoughby, Lake County, OH. He rests in Western Reserve Memorial Gardens.
~ Daughter Carol Minor ~
Daughter Carol Minor
Copyright © 2000, 2005, 2017 Mark A. Miner