Godfrey Guseman Murdock
(1837-1899)
Godfrey Guseman Murdock was born in 1837 in Preston County, WV, the son of John S. and Rebecca (Miner) Murdock. He apparently was the namesake of an uncle, and was called "one of [the] best known citizens" of Wheeling, Ohio County, WV, "whose name is legion" among his friends.
As a young man, Godfrey moved to Ironton, Lawrence County, OH, where several of his brothers and sisters had relocated. He stood 5 feet 5½ inches tall and weighed 155 lbs.

Governor
F.H. Pierpont
During the Civil War, Godfrey served with three military regiments. He was commissioned as second lieutenant by Governor Francis H. Pierpont, known as "one of the fathers of West Virginia." According to the Wheeling Daily Intelligencer, Godfrey "first enlisted in an Ohio regiment, at Ironton, for a three months' service at the conclusion of which he served in the Fourteenth and Fifteenth West Virginia regiments, later being transferred to the commissary department in this city."
On Aug. 11, 1863, Godfrey joined Company B of the Independent Exempt West Virginia Volunteer Infantry. His regiment also was known as "Captain West's Independent Company, WV Infantry." He was absent without leave (AWOL) on Oct. 31, 1863, though he apparently was not punished. He was discharged at Wheeling, Ohio County, WV on April 23, 1864.
On Nov. 21, 1864, at Wheeling, Godfrey married Amanda L. Stephens (1843-1900), a native of Butler County, PA. The ceremony was performed by Rev. J.B. Blakeney. At the time, Godfrey was age 28, and Amanda was 21.
The Murdocks had two daughters -- Mary F. "Mollie" Seelye (born in 1869) and Sue L. Fawcett (born 1873). They resided in Wheeling, where Godfrey was a merchant.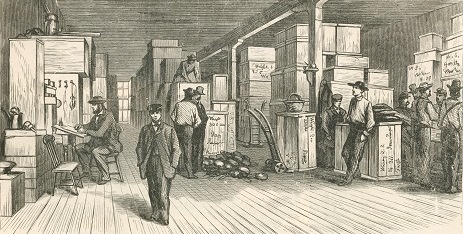 Gov. Pierpont's storeroom in Wheeling, which furnished supplies to soldiers of West Virginia regiments.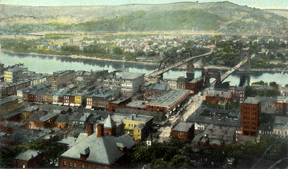 Bird's eye view of Wheeling, circa 1907
The West Virginia Argus of March 19, 1891, reported that Godfrey had served as "one of the Coroners Jury that held the inquest over the body of Dr. George Baird who was killed in Wheeling by Dr. George Garrison March 7th." The details of the murder are not known.
Later in life, Godfrey claimed to have suffered from rheumatism, hemorrhoids, impaired vision, diseased kidneys and senility due to the rigors of Army life. In the 1890s, he petitioned the federal government for a pension for his Civil War service, and was examined by a board of surgeons in Wheeling. When he was turned down by the government, he re-submitted his application, stating:
I am of opinion that there is error and injustice in the rejection of my claim for pension. I respectfully ask for another medical examination before some other Board then the Wheeling Board. I can only do the very lightest kind of manual labor . The labor I do is to attend market and do a small retail business of produce or market goods.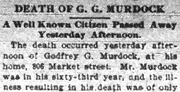 Wheeling Daily Intelligencer
According to the Daily Intelligencer, Godfrey "enjoyed the distinction of being one of the oldest, if not the oldest, members of the A.O.U.W. in this city, and for twenty-six years had been a member of La Belle lodge."
With foresight that their health would be declining, the Murdocks purchased a plot of graves at Wheeling's prestigious Greenwood Cemetery on Aug. 18, 1892. Fortunately, they would not need to begin using the graves for another seven years.
In the final full year of his life -- 1898 -- Godfrey resided with Amanda at 806 Market Street in Wheeling but owned no real estate or personal property of sufficient value to be assessed for taxes.
In mid-March 1899, Godfrey became ill of heart problems, "although his health had been poor in the earlier winter months," said the Wheeling Daily Intelligencer. After suffering for 10 days, he passed away at home, at age 62, on March 24, 1899. He was buried at Greenwood Cemetery.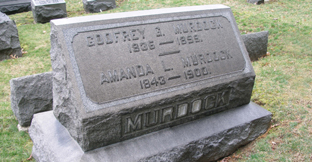 Murdock grave at Greenwood Cemetery, Wheeling, WV
Widowed at age 56, Amanda had no source of income other than about $50 cash, and household and kitchen furniture she had inherited from her husband. She successfully petitioned the government to receive a Godfrey's Civil War pension, and began receiving $8 per month.
Sadly, Amanda died a year after her husband's passing. Her death occurred on April 9, 1900, at the age of 57. In a short obituary, the Wheeling Intelligencer reported that the funeral would be held at the residence of her niece, Jessie Wells, at 38 South Broadway in Wheeling. She then was laid to rest beside her husband.
There was another prominent Fawcett family in Wheeling at the who are not thought to be related -- Dr. J.M. Fawcett, an eye, ear, nose and throat specialist whose office and residence were at 1116 Market Street. Dr. Fawcett was married to Nancy Barber (1866-1933), and had one known son, Dr. Ivan Fawcett (1889-1958).
Copyright © 2001-2003, 2008, 2019 Mark A. Miner