Sue L. Murdock (1873-1946) and
John 'William' Fawcett
(1871-1901)
Sue L. (Murdock) Fawcett was born in 1873 in Wheeling, Ohio County, WV, the daughter of Godfrey Guesman and Amanda (Stephens) Murdock.
At the age of 20, on 1893, Sue married one of her cousins, 22-year-old John "William" Fawcett (1871-1901), the son of Charles Wesley and Margaret Elizabeth (Herndon) Fawcett. Since Sue was underage, her father provided his consent to the union. Rev. A.B. Riker performed the nuptials, in Wheeling, on June 14, 1893.
Will is thought, but not proven, to have been a physician. When he was age 26, in 1897, his mother died, and his father married another cousin, Julia Hanshaw.
The Fawcetts had two children -- William "Murdock" Fawcett and Thelma M. Fawcett.
They first lived in Kingwood, Preston County, WV, where son Murdock was born in 1894. Later, the family moved to Wheeling, where they resided at 27 Virginia Street.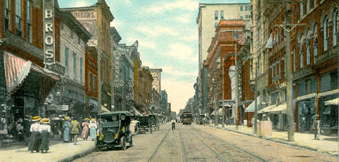 Wheeling's busy Market Street, looking up from 13th Street, turn of the 20th century.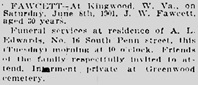 Wheeling Register, 1901
Tragedy struck when John became ill while in Kingwood in the summer of 1901. He died there at the age of 30 on June 8, 1901. The Wheeling Register reported that funeral services were held at the residence of A.L. Edwards, 16 South Penn Street in Wheeling, followed by private burial at Greenwood.
In 1910, when the federal census was taken, Sue was employed as a saleslady in a dry goods store in Wheeling, and resided with the children on North York Street. That year, 15-year-old son Murdock helped support the family by working as an errand boy for a shoe store.
Tragically, in a five-year span between 1916 and 1921, Sue lost both of her children -- Thelma to diabetes in 1916, at age 18, and Murdock to pneumonia in 1921, at age 27. See details below. At the death of her son in 1921, the Wheeling Intelligencer said that Sue was "the only immediate member of the family now living."
Sue survived alone for 35 years. She died of acute cardiac failure at the age of 73 on May 3, 1946, and was laid to rest in the Greenwood Cemetery in Wheeling. The informant for her certificate of death was brother in law Bertram Seelye of 15 Lenox Avenue, White Plains, Westchester County, NY.
~ Daughter Thelma Fawcett ~
Daughter Thelma M. Fawcett (1898- ? ) was born in 1898.
She is believed to have been employed as a telephone operator in Kingwood circa 1916.
Suffering from diabetes at age 18, she passed away in Kingwood on Nov. 14, 1916.
~ Son William "Murdock" Fawcett ~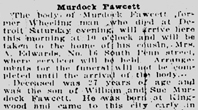 Wheeling Intelligencer, 1921
Heartache rocked the family again in the spring of 1921, when son Murdock died of pneumonia in Detroit. He had been employed as a salesman in Detroit with the Harvey Reptoe Stove Company.
He became ill while visiting in Wheeling in December 1920, and "upon going to Detroit when convalescent was again stricken," reported the Wheeling Intelligencer. "Complications set in and death resulted."
His remains were returned to Wheeling for burial, following the funeral held at the home of his cousin, Mrs. A. Edwards, at 16 South Penn Street.
Copyright © 2001-2003, 2008 Mark A. Miner