As a young girl, Jessie and her sisters were introduced to their father's cousin, Dr. Daniel Boardman Purinton, who went on to a prominent career as president of Denison University and later West Virginia University. As an old man, many years later, he wrote to Jessie's sister, saying: "I should like to know more about yourself and family, and your sisters as well. I remember you as nice, bright, promising children, and would much enjoy renewing our acquaintance."
Jessie married Alvin E. Van Zandt (1859-1935) on June 16, 1891, at the home of her cousin Frank Huggins. (He also has been recorded as having been born in 1863.) They were about 13 years apart in age. Alvin's father was a native of France, and his mother was from West Virginia.
The Van Zandts had at least nine children, five of whom lived into adulthood -- Agnes Fream, Joseph Van Zandt, John T. Van Zandt, Orlin Van Zandt and Kathryn Bias Ulery.
Circa 1908 and 1927, the Van Zandts resided in Newburg, Preston County. The federal census of 1900 shows that Jessie's widowed father, Thomas L. Purinton (spelled "Purington") lived under their roof.
Alvin was employed in Newburg in 1900 as a railroad conductor, in 1910 as a salesman in a general store, in 1920 as a store manager, and in 1930 as a janitor in a public school.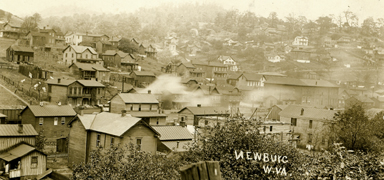 Homes perched on the steep slopes of Newburg. Click to study a larger version of the image.
In 1908, at the death of her uncle Dr. Guy Hanshaw, Jessie was entitled to a 1/32 share of the estate, which included lucrative oil and gas wells. She received an immediate payout from the estate of $57.81 in 1909. At intervals over the years, through 1942, she received royalty payments from the wells. The high point was in 1918, when she received $24.54. In total, Jessie received $267.18 in inheritance.
In September 1927, at the death of Jessie's sister Helen Manear Liady White, Jessie and her son Joe attended the funeral in Webster Springs, Webster County, WV, and were mentioned in Helen's obituary in the Webster Echo.
Alvin died in 1935.
Jessie passed away seven years later in 1942, at the age of 71. They are interred at Damon Cemetery near Newburg. Jessie's father, a Civil War veteran, rests just a few yards away.
~ Daughter Agnes (Van Zandt) Fream ~

Preston County Journal
Daughter Agnes Van Zandt (1892-1967) was born in 1892.
She wedded Howard Calvert Fream (1893-1966), a native of Thurston, NE, and the son of John B. and Sena (Howard) Fream. The wedding took place on May 9, 1921, performed by Rev. J.H. Mossburg of the Gospel Methodist Episcopal Church of Newburg.
They bore one son, John Edward Fream.
Howard was a longtime bank cashier. Agnes was "a resident of Terra Alta 35 years and was a former resident of Newburg and Albright," said the Preston County Journal. "She was a member of the Terra Alta Methodist Church, a member of Naomi Chapter 12, Order of the Eastern Star at Grafton and Justice Temple 67, Pythian Sisters Lodge at Newburg."
Howard passed away in Kingwood on June 6, 1966, at the age of 73.
Agnes died in Kingwood at the age of 75 on Nov. 4, 1967. Following a funeral at Terra Alta Methodist Church, led by Rev. William Trowbridge, Agnes was laid to eternal rest beside her husband in Terra Alta Cemetery.
Son John Edward Fream ( ? - ? ) lived in Martinsburg, Berkeley County, WV circa 1967.
~ Son Joseph "Joe" Van Zandt ~

Preston County Journal
Son Joseph "Joe" Van Zandt (1894-1970) was born on May 4, 1894.
He served in the U.S. Army during World War I.
Joseph was joined in wedlock with Leona Sharps (1897-1983), the daughter of Lewis A. and Anna Sharps of Newburg. The wedding ceremony occurred on Oct. 23, 1923, officiated by Rev. J. Alfred Selby of the Methodist church in Newburg.
They resided in Newburg and Kingwood and together bore at least one daughter, Jo Ann (Van Zandt) Howell.

Jo Ann Howell
Joseph owned and operated a general store in Kingwood. Said the Preston County Journal, Joe was "a member of the Newburg Methodist Church, Masonic Lodge No. 43 of Aurora, Newburg chapter, No. 143, Order of the Eastern Star, and the American Legion."
Joe was stricken by a heart attack and within an hour passed away on July 31, 1970, at the age of 76, in Preston Memorial Hospital. A physician wrote that he had been the victim of a "complete heart block." At the time, his only grandson, James A. Howell, was stationed with the U.S. Army in Ethiopia.
Leona moved to Middletown, Butler County, OH, where she died in 1983, at the age of 86. They are buried together at Damon/Knights of Pythias Cemetery.
Daughter Jo Ann Van Zandt was a festival princess for the annual Preston County Buckwheat Festival in Kingwood in 1946, and was pictured in that year's edition of the Festival program booklet. Among the organizers of the Buckwheat Festival in the 1940s, '50s and '60s was John "Donald" Everly, the son of distant cousin J. Ami and Lillie (Wolfe) Everly. Daughter Jo Ann married William L. Howell in 1948 and lived in Middletown, OH. They were the parents of James A. Howell.
Grandson

James A. Howell

joined the U.S. Army during the Vietnam War. Circa 1970, he was stationed in Ethiopia.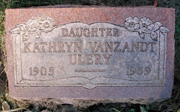 Damon Cemetery
~ Daughter Kathryn June (Van Zandt) Bias Ulery ~
Daughter Kathryn June Van Zandt (1905-1959) was born on June 25, 1905 in Newburg, Preston County, WV.
She was a public school teacher in the state school system in Preston County.
Apparently she was married twice.
On Jan. 21, 1928, at the age of 22, she wed Benjamin Franklin Bias (1903- ? ), a native of Tucker County, WV. Sadly, the marriage apparently did not last, because two years later, she was back in the household of her parents in Newburg.
Later, she married (?) Ulery.
She was living in Newburg during her final years.
Sadly, Kathryn was diagnosed with cancer in her right breast which spread to her spine and live. She suffered for 72 months. At the age of 53, Kathryn died in Kingwood's Preston Memorial Hospital on Jan. 23, 1959. She is buried with her parents at Damon/Knights of Pythias Cemetery.
~ Son John T. Van Zandt ~

Preston County Journal
Son John T. Van Zandt (1897-1966) was born in 1897.
He was unmarried and resided under his parents' roof in Newburg when the federal census was taken in 1930. His occupation that year was railroad machinist.
He married Cora Knotts ( ? - ? ) and settled in Fairmont, Marion County, WV.
They produced two children -- William Van Zandt and Betty Waggoner.
John was a veteran of World War I, and a machinist for 47 for the Baltimore and Ohio Railroad. He was a member of the Central Methodist Church in Fairmont, Newburg Masonic Lodge and Fairmont American Legion Post No. 17.
He died at the age of 69 in the University Hospital in Morgantown, Monongalia County, WV, on Aug. 19, 1966. He was laid to rest at Resthaven Memorial Gardens in Fairmont.
Son William Van Zandt ( ? - ? )
Daughter Betty Van Zandt Waggoner ( ? - ? )
~ Son Orlin Edward Van Zandt ~
Son Orlin Edward Van Zandt (1903-1968) was born on Aug. 12, 1903.
He was united in matrimony with Ruth E. Harr ( ? - ? )
The couple put down roots in Fairmont, Marion County, WV.
William earned a living as an assistant cashier at the First National Bank in Fairmont.
Sadly, at the age of 65, he suffered a heart attack and was admitted to Fairmont General Hospital. Death swept him away there three days after Christmas 1968. On the official death certificate, Orlin's parents' names were listed as "Allen E. Vanzandt" and "Rebecca Puretan." Interment of the remains was in Maple Grove Cemetery in Fairmont.
Copyright © 2004, 2006, 2008-2009, 2021 Mark A. Miner