Arthur 'Paul' Ream
(1914-1989)

Paul Ream
Arthur "Paul" Ream was born on Nov. 30, 1914 in Lower Turkeyfoot Township, Confluence, PA. He was the 13th of 16 children born to Joseph and Sarah Ellen (Harbaugh) Ream.
He always chose to use Paul, and few people knew his name was Arthur. He and his siblings affectionately referred to their mother as "Mam."
Paul was raised on the family farm, learning the self-sufficiency of the children of that time. He and his brother Norman are seen here as young boys, with Paul on the left.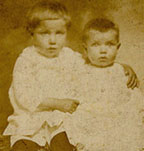 Paul (left) and Norman

He did farming and only attended school until eighth grade. He was later employed by several different timbering companies in the local mountain. He told stories of working on one which used a tram railway system to remove the logs from the woods. Also, he recalled hauling the logs by horse and sled in winter to Confluence, and loading them onto railcars for shipment. This was very dangerous on the icy roads and he spoke of the time the horses spooked when they slid on the ice, and they almost went over a very steep hillside, stopping just short of the dropoff.

Paul was always one to have fun, traveling from the Draketown area to Mill Run to a dance where he met his future wife, Alverta Mae Stull ( ? -2001). They dated a very short time, became engaged and were married on Nov. 11, 1936 in Uniontown, Fayette County. The ceremony was held at the Great Bethel Baptist Church by Rev. L.S. Clark.

The couple is seen here in a photograph from the early 1940s.
Paul and Alverta, 1940s
The Reams resided with Paul's parents for a short time, and he secured employment with a lumber company. His brother in law, Elliot Harbaugh (husband of Paul's sister Ethel), secured work at a Jones & Laughlin coal mine, and convinced him to work there. Alverta remembered moving their few belongings on a "post truck" and living in the basement of Ethel and Elliot's home until they had a paycheck and could obtain a home of their own. An old neighbor lady took them under her wing, and went with Alverta to Fredericktown, to a used furniture story, and Alverta purchased all of the furniture they needed for $16.
Paul worked at the J&L coal mine from Sept. 15, 1937 to Oct. 31, 1937. He was laid off, and went to work on the Works Progress Administration (WPA) projects for a time. The WPA was one of the ways President Franklin Delano Roosevelt and the federal government tried to overcome unemployment during the Great Depression. It's widely considered one of the Roosevelt's largest and most ambitious undertakings of his "New Deal" to get the nation back on sound economic footing. Over the years, the WPA hired millions of out-of-work individuals to build public works projects, such as roads, bridges, retaining walls and buildings.
He and Alverta moved back the Confluence area, where he secured employment with a lumber company that was supplying post for the mines, and he became a truck driver, hauling into Greene County mines.
They lived in the "shanty" at the sawmill for awhile and Alverta kept a small terrier dog for company. Once, when Alverta went to investigate why the dog was barking, she found it holding a rattlesnake at bay in the kitchen stove woodbox. After this, she would often accompany her husband on his trips to the mines, afraid to stay alone at home.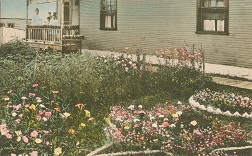 Mining families at Acosta were encouraged to
cultivate gardens at their company housing
In September 1939, Paul became employed with the Consolidation Coal Company at the Acosta mine near Somerset. They were able to move into company housing in the "patch." He secured his Pennsylvania Bituminous Mining Machine Runner's Certification, and Shot Firer's Certification, while there. His first paycheck at Acosta was for $42.31, and his last one was for $100. A slip from the Pederzolli & Sons store in Acosta showed bread costing 24 cents a loaf at that time. Paul left Acosta in March 1946 for a new job at the Saxman Coal and Coke Company in the Quecreek Mine, just down the road. (This is the same mine that became world-famous in 2002 during the coal miner rescue.) They were able to remain in the housing at Acosta at that time.
The first pay from Quecreek showed earnings of $1.00 per hour. His final pay was at the rate of $2.40 per hour, with 30 hours netting $66 -- quite a difference. He was "exempt" from military service as mining was considered a "necessary occupation" for the World War II effort. He worked at Saxman until May 10, 1955, until he was seriously injured in an accident. He was trapped in a huge roof fall with a massive piece of slate which bent him over double. The only thing preventing the slate from crushing him to death was the strength of Paul's size 7 steel toe mining boot blocking its further fall.
Paul had suffered a broken back with crushed vertebra, and this kept him from ever returning to the mine. Workman's compensation officials fought paying him compensation after a time, arguing that an operation would "fix everything." Twenty-two sets of X-rays, nine orthopedic specialists who refused to operate, and a decade of time finally yielded a settlement. During this difficult 10 years, the family used every bit of savings it had, living mainly on food grown in the garden plus chickens and a pig, plus wild game Paul was able to hunt.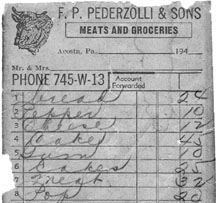 Receipt from Acosta company town store
He was an avid hunter who really missed deer season after the accident. He spent his time repairing anything he could tinker with that was broken, teaching himself to repair gasoline motors, radios and appliances. He loved to do small woodworking projects, making a large lawn nativity set with manger, and many home and lawn ornaments. He was very proficient at painting by number, doing such an immaculate job that they didn't look like they were produced by kits. Alverta amassed quite a collection of these paintings. Paul also liked to fish, taking along daughter Joan, until one day when she cast a hook that flew back and caught in her eyelid, and Alverta wouldn't let her go anymore.
Always wanting children, and not being able to have them, Paul and Alverta decided to adopt little Joan. Not wanting Joan to be raised in the "patch," they decided to purchase property at a tax sale -- five acres near Bear Run, about a mile from Alverta's parents, and not far from the world-famous house over a waterfall, Fallingwater. The property had a home not yet completed, and Paul finished the carpentry. Using a peach limb, his brother Herbert Ream found a stream of water on the property. Together, Paul and Herb dug a well that supplied water to the house using gravity flow.
Paul and Alverta enjoyed attending the annual Harbaugh Reunions. In 1996-97 and 1999-2000, after his death, Alverta continued to go, and received the "Oldest Woman Present" award each of those years. She is seen here with daughter Joan at the 2000 reunion, Alverta's last one.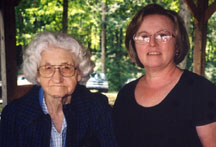 Alverta and daughter Joan, 2000
Joan's adoption was completed in March 1946, and the family moved to their new home that spring. Paul later built a two-car cement block garage and chicken coop. In 1950, he finished the attic of the home into two nice bedrooms, adding a stairway where no one thought it possible. He loved pretty flowers and had planted hundreds of spring bulbs to add to the beauty of his surroundings. He loved gardening of any type and would hand spade the entire garden every few years.
On June 24, 1967, Paul and Alverta gained the "son they never had" when Joan married Jerry Cleaver, the son of Harold and Martha (Donaldson) Cleaver. The Cleavers went on to have two daughters, Kelly and Kimberly.
Paul enjoyed taking his young granddaughters to town and loading them down with trinkets, candy and gum.
Paul suffered a ruptured aneurysm of the brain in the early 1970s, and was paralyzed for a time after a lengthy operation to repair the damage. He made a remarkable comeback, regaining his strength. Although he was not able to drive due to medication, he was able to use a chainsaw to cut wood, operate a riding mower and perform much of the home maintenance with a little assistance from his family.
Paul maintained that being child no. 13 was unlucky for him. With each new challenge, he reiterated this opinion. He suffered several small strokes later, and died from one on Nov. 24, 1989, at the age of 75. He was interred at the Indian Creek Baptist Church in Mill Run, not far from their home.
Alverta survived Paul by 12 years. She passed away on March 6, 2001.
For more information, contact the primary author of this biography, Joan Ream Cleaver.
Copyright © 2001, 2005, 2008, 2016 Joan (Ream) Cleaver and Mark A. Miner