As a 23-year-old, in 1940, Norman earned a living as a coal miner in and around Somerset County. That year, federal census records show him sharing a household with his unmarried brother Osborne and sister Irma.
In about 1941, at the age of 25, Norman married 18-year-old Mabel Annabelle Fera (1923-2006), the daughter of Antonio and Mary (Schweitzer) Fera of Confluence.
The Reams had three children -- Nancy Louise Fisher, James Richard Ream and David Duane Ream.
In the photo seen here, circa World War II, Norman walks at far left, with his brothers Harvey (center) and Paul (right). The site is the hill just above the "homeplace" near Confluence where the Reams were raised. A machine shed stands to the right, and the house was to the left, just out of view.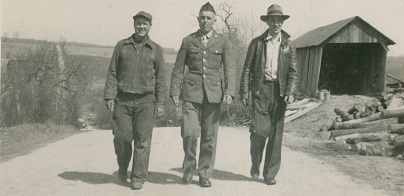 Circa World War II, Norman and his brothers Harvey (center) and Paul (right) just above the "homeplace" where they were raised.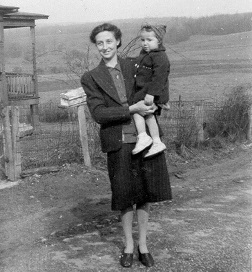 Mabel with one of her children, 1940s
The family resided in Confluence, Somerset County, and were members of the nearby Harnedsville United Methodist Church.
Norman died of a stroke on April 28, 1993, at the age of 77. He was buried at the Jersey Baptist Church Cemetery, Confluence, following a funeral led by Rev. Otis Beeler.
Mabel survived her husband by a baker's dozen of years and made her home on Turkeyfoot Road in Confluence. In 1998, she received the "Oldest Woman Present" award at the Harbaugh Reunion.
She passed away at Somerset Hospital at the age of 83 on Dec. 20, 2006. Burial was beside her husband in the Jersey Cemetery, with Rev. Dane Cramer preaching the funeral sermon.
~ Daughter Nancy Louise (Ream) Fisher ~
Daughter Nancy Louise Ream ( ? - ? ) was born in (?).
She was united in marriage with James H. Fisher ( ? - ? ), a native of Jennerstown, Somerset County, and the son of John Harold and Lula Mae (Stahl) Fisher.
They resided in Jennerstown, and their children were Dwight D. Fisher, Theresa Johnson and Glen Fisher.
James earned a living over the years as a heavy equipment operator for Berti Excavating. In his free time, he enjoyed the outdoors, cooking barbeque and driving to Chambersburg, PA to buy fresh peaches.
Toward the end of his life, James was admitted to Meadowview Nursing Center in Berlin, Somerset County. He died there at the age of 78 on Sept. 19, 2018. Rev. Kurtis Frampton officiated at the funeral service, followed by interment in Mizpah Cemetery. In an obituary, the family asked that any memorial donations be made to the American Cancer Society.
Son Dwight D. Fisher (1966-2005) was born on Sept. 24, 1966 in Somerset. He studied drafting and design at Somerset County Vocational Technical School. Said the Somerset Daily American, "He loved drawing and music and was an avid outdoorsman. he was a jolly, outgoing 'people person' who also loved animals." Sadly, he died at the age of 39 on Dec. 9, 2005. He was laid to rest in Mizpah Cemetery, with Rev. Jay Christner officiating.
Daughter Theresa Ream married Ronald Johnson and dwelled in Meyersdale and Berlin, Somerset County. Over the years, she has been active in organizing the Harbaugh Reunions.
Son Glen Fisher made his residence for many years in Jenners.
~ Son James Richard Ream ~
Son James Richard Ream (?).
He lived in Confluence in 2006.
He is believed to have founded Ream Lumber circa 1980 and to have operated the business with his brother David and also to have served as chairman of Lower Turkeyfoot Township.
~ Son David Duane Ream ~
Son David Duane Ream (1958-2020) was born in about 1958.
When he was 34 years of age, in about 1992, he was wedded to 42-year-old Judy Diane Nickelson ( ? - ? ).
She is believed to have been married previously and to have brought these three children into the second union -- Ed Nickelson, Janet Friend and Janice Nickelson.
They made their home in Addison, Somerset County. David was a co-owner and operator of Youghiogheny Restaurant and Lounge in Addison. He went on to employment with Quality Life Services as dietary director. He enjoyed his membership in the Masons lodge in Meyersdale and held the post of master.
In more recent years the couple relocated to Carthage, NC.
The cloak of sadness covered the family when David died on Nov. 6, 2020 at the age of 62. A memorial service was held at the Addison Methodist Church.
Stepson Ed Nickelson married Brynn.
Stepdaughter Janet Nickelson wed Ronnie Friend.
Stepdaughter Janice Nickelson was a companion of Joshua Scully.
Copyright © 2001-2002, 2006, 2013-2014, 2016, 2018
Doris (Sands) Hawker and Mark A. Miner