Oliver Shaw Stoner
(1898-1985)

Oliver Shaw Stoner was born on Oct. 29, 1895, likely in Somerset/Fayette County, PA, the eldest son of Nathan C. and Letitia (Harbaugh) Stoner.
As a boy, Oliver moved with his parents to Sistersville, Tyler County, WV, where his father ran a business manufacturing and installing oilfield pumps. Later, they moved again to Robinson, Crawford County, IL.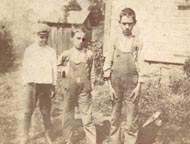 Oliver enjoyed boyhood visits with his cousins back home in Western Pennsylvania. The photo seen here shows Oliver at far left with his cousins Warren (center) and Gus Younkin, likely taken at the Younkin homeplace near Clay Run, Fayette County.
Oliver enjoyed friendships with his cousins into adulthood, and had a special connection with Warren Younkin, as they appear together in photographs.

During World War I, Oliver served in the Rainbow Division, Company B, Battery A, Field Artillery. He is believed to have returned home without injury.
Circa 1935, Oliver moved to Plainfield, Hendricks County, IN, a suburb of Indianapolis. He worked as a salesman for food companies, a field in which his cousins David, Osborne and Charles Younkin were also active. From 1940 to 1965, he was a security guard for Lucas Herald Corporation.
Oliver was married four times but had no children. At first, his mother began writing his marriage data in her personal copy of the Harbaugh History book, but then becoming irritated at having to change it so often, tore out the pertinent page, and while the book today is otherwise intact, the whereabout of the page is unknown.
One of Oliver's early wives was Cora Yean. Nothing further about her is known.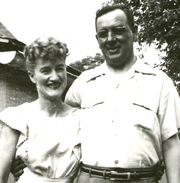 His fourth wife was Audria L. Beck (1896-1997). She is seen with him at both right (younger) and below left (older). They resided in Plainfield, where they were members of the Plainfield First Baptist Church. Audria worked at an insurance company for many years, and retired late in life.

Oliver passed away on April 17, 1985, as he neared his 90th birthday.
Audria outlived him by 12 years, and on Sept. 15, 1996, celebrated her 100th birthday. She remained active until the end, often found on a ladder painting, or engaged in other household tasks. She died the following year, on April 28, 1997.
They are buried together at Maple Hill Mausoleum in Plainfield.
Copyright © 2005, 2009 Mark A. Miner