Arley Zachariah Swearingen
(1882-1950)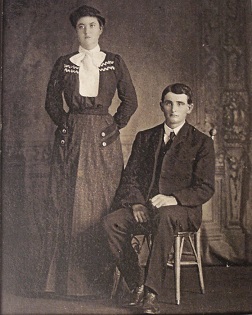 Wedding portrait?
Arley Zachariah Swearingen was born on Feb. 11, 1882 near Concordia, Cloud County, KS, the son of Thomas J. and Laura Catherine "Kate" (Johnson) Swearingen.
When the federal censuses were taken in 1900 and 1910, when Arley was age 18 and 28, respectively, he was unmarried and worked as a laborer on his parents' farm south of Concordia.
On Feb. 8, 1911, when he was age 29, Arley was united in holy matrimony with 22-year-old Anna Eliza Fudge (Aug. 8, 1887-1957). The nuptials took place at the Concordia Evangelical United Brethren Church, where they were members. In reporting on the wedding, the Concordia Blade-Empire noted that his parents "will hold a reception for them Thrusday. We wish them a happy and prosperous journey through life."
Anna was a native Kansan, born in Jamestown, Cloud County, and was the daughter of Jacob Harrison and Sarah Elizabeth (Comer) Fudge. She was six years younger than her husband.
The couple did not reproduce.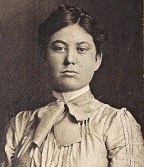 Eliza Ann
The 1920 census shows the couple residing near Arley's parents, married sister Maude Mansfield and unmarried aunt Lillian Mana Johnson near Concordia. His occupation was listed as "farmer."
He continued his occupation of farming for many years, as confirmed by the census of 1930. The Swearingen farm was located in Union Valley in Section 33, Township 6, Range 3.
Over the years, Arley is known to have supported the American Red Cross with donations. They often spent weekends visiting with relatives, as reported in the gossip columns of local newspapers.
Arley was ill for several months toward the end of his life. Admitted to St. Joseph Hospital, he passed away at the age of 68 on April 6, 1950. He was buried in the family plot at Pleasant Hill Cemetery. In an obituary, The Kansan said he was a "lifelong resident of Center township."
As a widow, Anna outlived Arley by seven years. She moved from their farm into the town of Concordia, where she made her home at 703½ East Seventh Street and continued as a member of the Women's Society of World Service (WSWS) of their church. She wrote her will on July 28, 1955.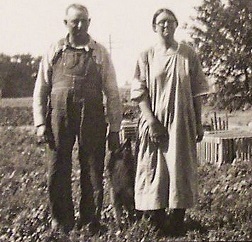 The Swearingens on their farm later in life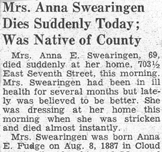 Obituary, Concordia Blade, 1957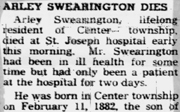 Obituary, The Kansan, 1950
Suffering from ill health in the spring of 1957, she appeared to rally. But on June 11, 1957, at the age of 69, she "was dressing at her home this morning when she was stricken and died almost instantly," reported the Concordia Blade Empire. Following a funeral at the church, led by Rev. Donald Hines, she was laid into repose with her husband for eternity.
In her will, Anna named her adult siblings as heirs -- Otto Joseph Fudge and Myrtle Scott, and the 13 children of her dead siblings Harry, Raymond, Adam and Andrew Fudge and Josephine Bray -- living far and wide in the United States, including in such places as Miami, FL; San Jose, CA; Saudi Arabia; Skamokawa, WA and Mesquite, TX.
In the inventory of her possessions, in addition to their farm, was one share in the Farmers Union Co-Operative Creamery Company, two Series E savings bonds, and cash held in checking and savings accounts at the First National Bank of Concordia.
The photograph of their grave marker in Concordia was made by the founder of this website in September 2010.

The Swearingens' grave at Pleasant Hill Cemetery in Concordia
Copyright © 2010, 2018 Mark A. Miner
The Cloud County (KS) Genealogical Society furnished the Swearingen obituaries. Photo portraits courtesy Judy Mayfield, Find-a-Grave volunteer.