Mamie W. (Swearingen) Haley
(1863- ? )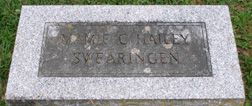 Cemetery in Butler, MO

Mamie W. (Swearingen) Haley was born in 1863 in Tarlton, Pickaway County, OH, the daughter of John S. and Eliza J. (Miner) Swearingen. On her grave marker, seen here, her married name is spelled "Hailey" and appears as though it were her middle name.
As a girl, in the 1870s, Mamie migrated westward with her parents and siblings to Missouri, settling in Butler, Bates County.
When the federal census was taken in 1900, the 27-year-old unmarried Mamie made her home with her sister and brother in law Anna and George McReynolds on Walnut Street in Rich Hill, Osage Township, Bates County.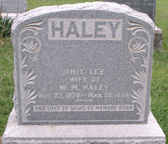 William's 1st wife

Mamie married William M. Haley (1869-1926), a Chicago native, whose parents William and Ann (Goss) Haley were immigrants from Ireland. The wedding took place during the decade between 1910 and 1920.

William was an apparent widower whose first bride was Onie Lee Haley and who had two sons together. Sadly, Onie died on March 20, 1904, at the age of 25. Her grave marker at Crescent Hill Cemetery in Adrian, Bates County, is inscribed with a popular mourning psalm of the era: "Tho' lost to sight, to memory dear." Onie's well-preserved grave marker is seen at right.

Mamie and William did not reproduce.

The Haleys may have initially lived in Nevada, Vernon County, MO. By 1920, they had moved to Kansas City, Jackson County, MO. Their home was at 4119 East 26th Street. William's occupation was listed as "furniture packer." Another source shows him working as a shipping clerk for Robert Keith.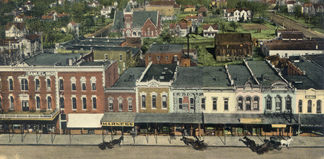 Nevada streetscape, facing north, lined by a hotel, harness shop, dry goods store, grocery shop and drug store.
William passed away in Kansas City at the age of 57 on Aug. 16, 1926. His death was caused by acute heart disease. The Adrian Journal reported that his sister Mamie Hill and brother Richard Haley went to Kansas City to escort the body back to Adrian for burial at Crescent Hill Cemetery. The Journal added that William was "survived by his widow and two sons. The sons live in California.".
By 1930, the widowed Mamie resided on Custer Avenue in Delphos, Ottawa County, KS. She made a living as a chicken farmer, and took in boarders for extra income, among them Otto M. Hoseli in 1930.
Mamie's fate after that is unknown.
At her death, at a date not yet determined, she was laid to rest beside her parents in Butler.
Copyright © 2000, 2004, 2008-2009 Mark A. Miner