Ruby (Thurston) Faith Davis
(1896-1963)

Ruby (Thurston)
Faith Davis
Ruby (Thurston) Faith Davis was born on April 28, 1893 in Stauffer near Mount Pleasant, Westmoreland County, PA, the daughter of Charles and Emma (Minerd) Thurston.
At the age of 19, on May 6, 1914, Ruby married 22-year-old clerk Ross W. Faith (July 27, 1892- ? ), the son of Mary A. Faith of Southwest. The marriage ceremony was held in Southwest, officiated by A.P. Kelso.
They had at least two children -- Emma Jean ("Imogene?") Faith and James T. Faith.
When the federal census was taken in 1920, the Faiths made their home on Church Street in Mount Pleasant. Ross was employed as a salesman in a grocery store.
By 1930, Ross's career was progressing, and they moved to Dallas, TX, where he worked as district superintendent of a grocery chain. Their home was on Hampton Road. Ross's mother Mary A. Faith lived with them that year.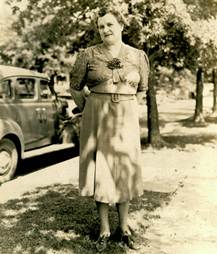 Ruby (Thurston) Faith Davis
In 1932, the Faiths traveled from Dallas to Mount Pleasant for the annual Thurston reunion. Ruby also brought her children back to Mount Pleasant in June 1937 for a vacation. She attended the Kennel-Miller family reunion at Kalp's Grove near Champion, Fayette County on July 31, 1940, and was named in a related story in the Connellsville Daily Courier.
Circa 1935, they lived in Oklahoma City and by 1940 in Waxahachie, Ellis County, TX. While in Oklahoma City, she received a visit in Oct. 1935 from Ruby's cousin, Mattie (Crosby) Bowman.
Ross is believed to have died sometime during the latter 1930s. Ruby is marked as a widow in the 1940 federal census.
Ruby later married John E. Davis ( ? - ? ) and returned to her old home area of Western Pennsylvania. Circa 1952, she dwelled in Greensburg, Westmoreland County, at the time of death of her brother James Loren Thurston.
The Davises resided in St. Cloud, FL circa 1963.
Ruby died at the age of 67 in St. Cloud on Oct. 21, 1963. Her remains were returned to Mount Pleasant for burial at the Middle Presbyterian Cemetery in Middle Churches. [Find-a-Grave]
John's fate is not yet known.
~ Daughter Emma Jean (Faith) Adams ~
Daughter Emma Jean Faith (1923- ? ) was born in about 1923 in Mount Pleasant. She relocated to Texas with her parents as a young girl.
At the age of 17, in 1940, she earned a living as a shipping clerk for a nursery products company.
She married R.H. Adams ( ? - ? ).
They made their home in St. Petersburg, FL in 1963.
~ Son James T. Faith ~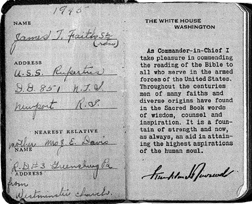 James' WWII pocket testament
Son James T. Faith (1927-1990) was bon on May 10, 1927 in Youngstown, Fayette County. News of his birth was published in the Latrobe Bulletin.
He joined the U.S. Navy during World War II and served aboard the U.S.S. Rupertus, D.D. 851, based in Newport, RI.
As part of his service in 1945, he was given a standard issue pocket Bible with an inspirational message from President Franklin D. Roosevelt, reading:
As Commander-in-Chief I take pleasure in commending the reading of the Bible to all who serve in the armed forces of the United States. Throughout the centuries men of many faiths and diverse origins have found in the Sacred Book words of wisdom, counsel and inspiration. It is a fountain of strength and now, as always, an aid in attaining the highest aspirations of the human soul.
After the war, James moved to San Clemente, Orange County, CA and resided there in the early 1960s.
James died in Orange County on Oct. 28, 1990, at the age of 63.
Copyright © 2001, 2008, 2018 Mark A. Miner