Robert Eugene Townsend
(1918-1950)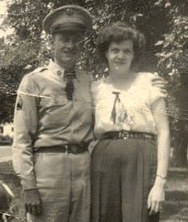 Robert and Rubye
Robert Eugene Townsend was born in 1918 in either Pittsburg, Crawford County, KS, or Joplin, Jasper County, MO, of unknown parents.
As a young boy, he was brought into the home of widow Margaret "Hester" (Minerd) Jackson in Joplin. Their home was on Highland Avenue. At the time, Hester provided home and board for several needy children. In fact, the census-taker of 1920 lists her as "care taker of children at home" and lists the following children under her roof -- Loyd Hess (age 9), Thelma Hall (5), Robert McQueen (5) and Robert U. Townsend (1 year, 1 month).
Robert served as a staff sergeant in the U.S. Army during World War II and later during the Korean War.
He married Hester's grand-niece, Harriet Rubye (Minerd) Smith, daughter of Orville Baldwin and Ethyl (Turley) Minerd of Mulberry, near Pittsburg, Crawford County.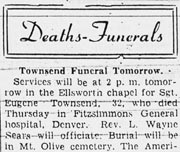 Obituary, 1950
In 1950, while stationed in Denver, Robert had a mole removed from his ear, only to learn that it was cancerous and malignant. He only lasted a month, and died in Fitzsimmons General Hospital in Denver during the first week of December 1950, at the age of 32.
His remains were returned to Pittsburg for funeral services at the Ellsworth Chapel, followed by burial at Mt. Olive Cemetery, with full military rites conducted at the graveside by the American Legion. Rev. L. Wayne Sears officiated at the interment.
After Robert's untimely death in 1950, Rubye married for a third time, to World War II veteran Ben Jones ( ? - ? ). They had one daughter, Rebecca Lynn Swenson.
Rubye passed away on June 17, 1986, at the age of 57.
Copyright © 2000, 2010, 2012, 2018 Mark A. Miner