Samuel V. Warner
(1859-1942)
Samuel Warner
Samuel V. Warner was born on Sept. 12, 1859 in Millersport, Fairfield County, OH, the son of Benjamin and Nancy Jane (Bateson) Warner. As a youth he migrated to Central Illinois with his parents, settling in the farming town of Arcola.
Samuel did not marry until later in life, when he was age 37. His bride was 26-year-old Cynthia May Cox (1870-1924), a native of Bloomington, IN. They were united in marriage on July 26, 1896 and were 11 years apart in age.
The couple produced one son, Glenn Harry Warner, who was born in 1899. They resided in the Arcola area.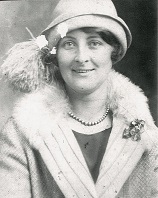 Clara Bell Warner
When the federal census was taken in 1910, Samuel, Cynthia and son Glenn resided together on their farm near Arcola. Also living under their roof was Samuel's 48-year-old, unmarried sister Rebecca Catharine "Kate."
The 1920 census shows the family unit in Arcola, but Samuel's sister no longer made her home with them.
Cynthia passed away at the age of 54 on June 11, 1924. She was laid to rest in the Arcola Township Cemetery.
Samuel outlived Cynthia by 18 years.
He married again, in about 1928, to 58-year-old Clara Bell (Eisele) Shelton (1870-1944). She was a native of Miltonville (or "Middletown"), Butler County, OH, and had been married once before to Robert Anderson Shelton.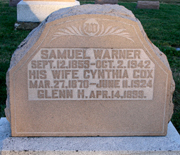 Arcola Township Cemetery
The federal census of 1930 shows them together on the family farm.
Samuel joined his first wife in the grave on Oct. 2, 1942, at the age of 83.
Clara Bell followed him into death in Arcola on Nov. 18, 1944, when she was 74 years of age.
~ Son Glenn Harry Warner ~
Son Glenn Harry Warner (1899-1961) was born on April 14, 1899. As a young man, he was of medium height and build, with blue eyes and black hair.
When required to register for the military draft during World War I, Glenn stated he was age 19 and employed "helping farming at home." He continued to be a farmer for decades.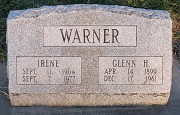 Arcola Township Cemetery
He married Irene (?) (1904-1977) in about 1922, when he was age 23 and she 18. They had four known children -- Dale J. Warner, Robert Samuel Warner, Harry "Maynard" Warner, Glennadine Clough Fuller, LPN and Cynthia "Marie" Robinson, LPN.
When the federal census was taken, the Warners made their home in Bowdre, Douglas County, IL, with Glenn's occupation marked as "farmer."
The children all attended Hindsboro High School in southeastern Douglas County.
Glenn died on Dec. 17, 1961, at the age of 62. He was laid to rest in Arcola Township Cemetery.
Irene survived him by nearly 16 years. She passed away on Sept. 7, 1977, just four days before her 73rd birthday. She joined her husband in eternal repose in the township cemetery.
Son Dale J. Warner (1922- ? ) was born in 1922.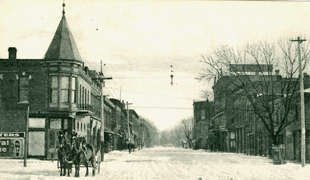 Arcola's Main Street at the turn of the 20th century
Son Robert Samuel Warner (1924-1994) was born in 1924. He died in 1994, at the age of 70.
Son Harry "Maynard" Warner (1926-2000) was born on Nov. 4, 1926. He married Georgann Rodgers (1931-1995), daughter of Albert and Josephine Rogers. He resided in or around Mahomet, Champaign County, IL. Georgann passed away on March 31, 1995, with her obituary appearing in the Champaign News-Gazette. Maynard died on Aug. 11, 2000. Burial was in Payne Cemetery in Brocton, Edgar County, IL.
Daughter Glennadine Warner (1929-2006) was born in 1929. She was a licensed practical nurse (LPN), a designation which she obtained on Feb. 2, 1977. Glennadine was twice married. Her first husband was believed to have been William Clough. Her second husband was (?) Fuller. She resided in Yorba Linda, Orange County, CA. She died on Sept. 18, 2006.
Daughter Cynthia "Marie" Warner (1931-2002) was born on April 12, 1931. As did her sister Glennadine, Marie obtained her LPN designation. She was married to (?) Robinson. Her home was in Charleston, Coles County, IL. She died on Oct. 1, 2002, with an obituary published in the News-Gazette.
Copyright © 2006-2007, 2012, 2015, 2018 Mark A. Miner