Rebecca Catherine 'Kate' (Warner) Roberts
(1862- ? )

Kate Roberts
Rebecca Catharine "Kate" Warner was born in January 1862 in Fairfield County, OH, the daughter of Benjamin and Nancy Jane (Bateson) Warner.
In 1869, when Kate was a young girl, she and her parents and siblings left Ohio and ventured westward on an overland voyage to Illinois. On the trip, said the Arcola (IL) Record-Herald, "the family was fording a river in their wagon, when the couple's three-year-old daughter, Katherine, who was sleeping [in] the rear of the wagon, rolled out and fell into the water. Her father rescued her from the water and laid the child on Mrs. Warner's lap, who succeeded in reviving her." The awful memory stayed with the mother for the rest of her life.
Kate thus grew up in and around Arcola, Douglas County, IL.
She was unmarried and employed as a pastry cook circa 1900, when the federal census was enumerated.
By 1910, she was single and at age 48 resided in Arcola with her married brother and sister in law, Samuel and Cynthia Warner. The census-taker recorded that she was a nurse in "private homes."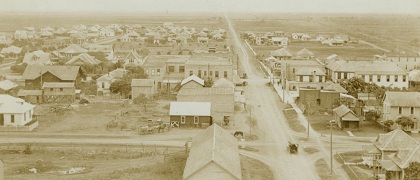 Bird's-eye view of San Benito, Texas, early 1900s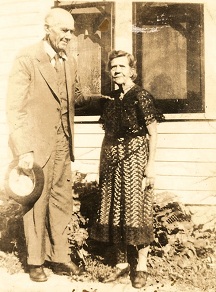 Charles and Kate Roberts
When her father died in 1914, she was named in his newspaper obituary as "Miss Kate Warner of Arcola."
She married Charles Roberts ( ? - ? ) sometime between 1914 and 1933. Her whereabouts have not yet been located in the 1930 census of Illinois, or Texas.
Kate migrated to Texas and in 1933 in made her home in San Benito, Cameron County, TX. Her name at that time was "Mrs. Kate Roberts."
Several of Kate's cousins also resided in San Benito over the years, including Alora (Bush) Johnson, who moved there in the early 1900s and resided at 474 North Reagan Avenue; Mary (Bush) Anderson, who moved in with the Johnsons in about 1926, and died at their home in 1938; and Civil War veteran Henry Bush, who died in the Johnsons' home in 1933.
On June 27, 1933, Kate's mother died in Illinois at the age of 95. Kate made plans to travel to the funeral, but became seriously ill just before leaving, and could not make the trip.
Nothing more about Kate and Charles is known.
Copyright © 2006-2007, 2012, 2013, 2015, 2018 Mark A. Miner