John 'Homer' Whetzel
(1890-1958)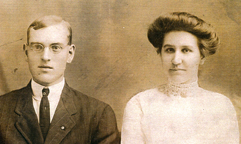 Homer and Mary Ann
John Homer Whetzel was born on March 26, 1890 at Dawson, Fayette County, PA, the son of Delmar and Mariah J. (Minerd) Whetzel.
He went by his middle name of "Homer" and apparently was named after an uncle, who also went by the name "Homer."
Wedding portrait
As a 20-year-old, Homer was employed as an electrical lineman in performing construction. That year, he made his home with his father and mother in Brownsville, Fayette County.
On Aug. 9, 1914, Homer married Mary Ann Roley (1891-1969). Their wedding portraits are seen here. He was age 24, and she 23, and the time of their marriage.
Homer is said to have been "well over" six feet tall, and was well built.
Their two children were Vera Mae Jenkins, born in 1915, and Edith Jane Cunkelman, born in 1920. There was a five-year difference between the girls.
The Whetzels lived at Belle Vernon, Fayette County, when the federal census was enumerated in 1920. Homer's occupation was as a laborer in local coal mines. According to the census, their home was on Columbus Avenue in Belle Vernon.
Among the other extended Minerd cousins who resided in the Belle Vernon area over the years were the families of Joseph and Emma (Minerd) Greene, George and Emma (Frick) Cramer, James "Robert" and Greta (Lyons) Mills and Theodore Roosevelt and Viola (Moreland) Turner.
Other than his wife and children, Homer did not associate much with his brothers and sisters over the years.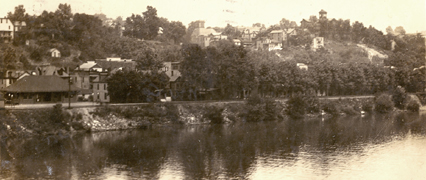 River towns where the Whetzels made their home over the decades. Above, Belle Vernon and Monongahela River, early 1900s. Below, Saltsburg, with the Kiskiminetas River in the background.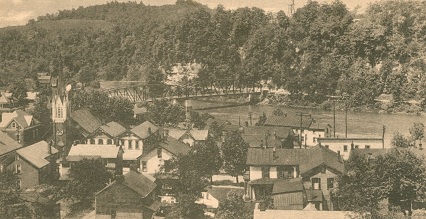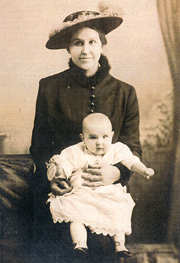 Mary Ann and Vera
The photographic image seen here shows Mary Ann holding her younger baby Vera in an early mother-daughter portrait.
Again in 1930, the census shows the family in Belle Vernon, making their home on Mulberry Street. Homer, age 40, worked as a laborer on a river-lock system.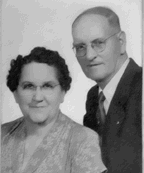 Homer and Mary Ann
Homer was a member of the First Christian Church of Brownsville, and Mary Ann a member of the First Christian Church of Belle Vernon.
In 1940, they left Belle Vernon and in 1947 moved to Saltsburg, Conemaugh Township, Indiana County, PA, where Homer had found employment as a maintenance worker on the Loyalhanna Flood Control Dam.
The photo, seen here, shows Homer and Mary Ann in later years, when they were grandparents bestowing love on their grandchildren.
Suffering from pulmonary cancer, Homer was admitted to Indiana Memorial Hospital. He died there six days later, at the age of 68, on Jan. 10, 1958.
Mary Ann lived another 11 years, and endured the death of her adult daughter Vera Jenkins in the winter of 1969.
Just after Christmas that same year, Mary Ann passed away at Latrobe (PA) Hospital, on Dec. 28, 1969. They are buried at Belle Vernon Cemetery.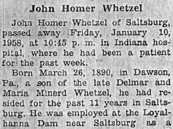 The Whetzels' newspaper obituaries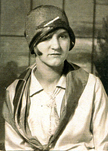 Vera Jenkins
~ Daughter Vera Mae (Whetzel) Jenkins ~
Daughter Vera Mae Whetzel (1906-1969) was born in 1906.
She became valedictorian of her high school class, and was a graduate of what is now California University of Pennsylvania. She became an early teacher in the Belle Vernon area school system.
Vera married Charles Bentley Jenkins (1908-1990), the son of Robert and Sarah (Barringer) Jenkins, of of Monongahela, PA.
They had two children -- Marilyn Mae Prinzing and Charles John Jenkins.
Vera "had a photographic mind and was an extremely intelligent woman," recalled her daughter. "She enjoyed life immensely and had many friends."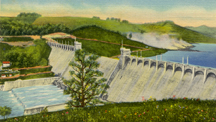 Tygart Dam, Grafton, WV
The family lived in Belle Vernon and circa 1933-1938 resided for a time in Grafton, Taylor County, WV, where Charles helped build the Tygart Dam. (Cousin Tillison Forrest Minard in Grafton deeded land to the federal government for the dam, while others including Ressie "Ray" Kennedy and Uley Leo Mayle also labored at the construction site.)
Charles was a student of American politics with a knack for predicting the outcome of elections. He also held an advanced amateur radio license, using the call letters W3KGER. Charles loved to entertain his children and later his grandchildren with storytelling and family background in vaudeville.
Suffering from multiple myeloma, a fatal blood disease, Vera died "much too soon" at the age of 52 in Pittsburgh on Feb. 6, 1969. "It is really a coincidence that many of her high school classmates have died of blood disorders of various types as well," said her daughter. "There once was a great deal of pollution from the steel mills in Monessen, PA. No one can say if the pollution affected these poeple."
Charles outlived her by 11 years and moved to Illinois, where his married daughter made her home in Libertyville. He passed away at the age of 82 on Jan. 17, 1990. His remains were returned to Belle Vernon to join Vera in eternal sleep.
~ Daughter Edith Jane (Whetzel) Cunkelman ~
Daughter Edith Jane Cunkelman (1920) was born on Aug. 17, 1920 in Belle Vernon.
She married Dorman R. Cunkelman (1918-1990), the son of George W. and Mary (Coleman) Cunkelman, and a native of Conemaugh Township, Indiana County, PA. Their nuptials took place on Nov. 19, 1950.
They had one daughter, Edith "Elaine" Hess.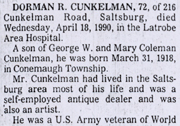 Dorman's obituary, 1990
Said a newspaper, Dorman "lived in the Saltsburg area most of his life and was a self-employed antique dealer and was also an artist. He was a U.S. Army veteran of World War II."
Dorman died on April 18, 1990, at age 72, in Latrobe Hospital. After funeral services led by Rev. David L.H. Carlisle, he was laid to rest in Edgewood Cemetery, Saltsburg.
Edith and daughter Elaine opened an antiques business in Saltsburg. She was a member of the Saltsburg Presbyterian Church, Saltsburg Historical Society and Indiana Rainbow Glass Club. After 17 years as a widow, Edith passed away at the age of 87 on Sept. 20, 2007, in Excela Health Latrobe Hospital. Her obituary was printed in the Greensburg Tribune-Review.
For more information on this branch, contact granddaughter Marilyn (Jenkins) Prinzing.
Copyright 2000, 2002, 2010, 2012, 2015, 2019 Mark A. Miner